2010 ELECTIONS: Eric Chu fights off Tsai's challenge for Sinbei City
Chinese Nationalist Party (KMT) candidate for Sinbei City mayor Eric Chu (朱立倫) yesterday beat back a strong challenge from Democratic Progressive Party Chairperson Tsai Ing-wen (蔡英文), handing his party a symbolic victory in the nation's most populous municipality.
Overcoming low approval ratings for his predecessor, KMT Taipei County Commissioner Chou Hsi-wei (周錫瑋), Chu waged a campaign based on lavish spending promises and his record in both the local and central government.
Speaking shortly after the results were released, Chu pledged to carry out his election promises, telling voters that their trust was not misplaced.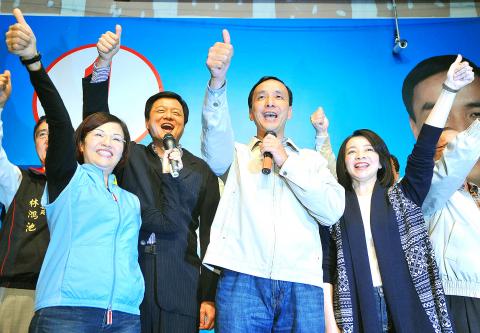 Victorious Chinese Nationalist Party (KMT) Sinbei mayoral candidate Eric Chu, center, accompanied by his wife, Kao Wan-ching, center right, and County Commissioner Chou Hsi-wei, center left, thanks supporters at his campaign headquarters in Banciao last night. Chu won more than 1.1 million votes.
PHOTO: LIU HSIN-DE, TAIPEI TIMES
"I will not forget the support and expectations given throughout all corners of this municipality both to me and Sinbei City," Chu told a cheering crowd of about 200 supporters gathered inside his campaign headquarters. "Your vote of confidence has given me determination."
Major cable news networks called the race for Chu shortly after 7pm, following a consistent lead over his opponent for much of the evening.
Chu, 49, a former vice premier and considered a rising star within KMT ranks, won 52.61 percent of the vote, against Tsai's 47.39 percent. Chu won 1,115,536 votes, while Tsai garnered 1,004,900 votes.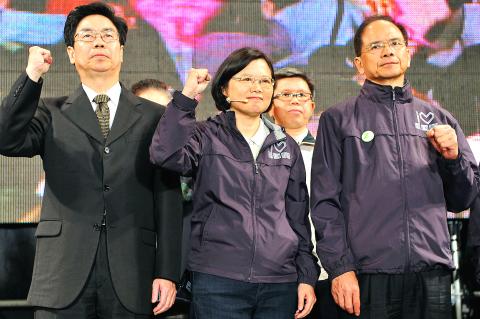 Democratic Progressive Party Chairperson Tsai Ing-wen, center, is joined by former premier Yu Shyi-kun, right, and other members of her team as she apologizes to supporters for her defeat in yesterday's Sinbei mayoral election.
PHOTO: CHU PEI-HSIUNG, TAIPEI TIMES
His win was a relief for the KMT, which had expected to narrowly hold on to three mayorships after an energetic campaign by the DPP. Chu's lead narrowed to 5.22 percent, from the 10.57 percent difference in favor of the KMT in 2005.
Chu will become the first mayor of Sinbei City when Taipei County is administratively upgraded and renamed late next month. Winning control over the municipality of 3.9 million people is expected to give the KMT a boost when President Ma Ying-jeou (馬英九) runs for re-election in 2012.
Taking the reins from his embattled predecessor, who lost to him during the party primaries, Chu will preside over a municipality known as a "snapshot of Taiwan" for its urban districts, rural townships and nature reserves. He held his festivities in Banciao (板橋), the seat of the county government that will remain the center of government for Sinbei City.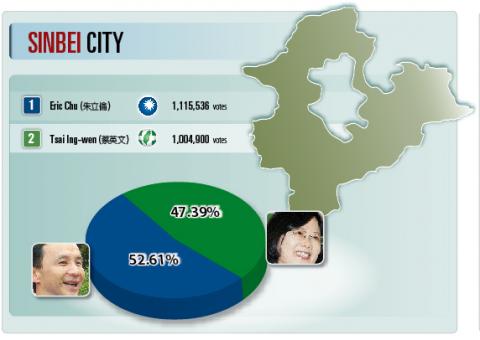 GRAPHIC: TT
"We will continue to fight for our development and for our economy," Chu told the crowd while holding hands with his wife. "Speaking with the president, I told him we would need support from the central government to accomplish all that we have set out to do."
Voters appeared to agree with his policies on upgrading the area's transit system, which has lagged behind Taipei City in recent years. Other key issues included urban renewal, new community housing and support for the Economic Cooperation Framework Agreement (ECFA) with China.
"I think he's capable of carrying out his election promises," a woman surnamed Lai (賴) said at Chu's campaign headquarters. "Voters finally chose him because his policies really connected with a lot of people."
Chu initially enjoyed a wide lead over Tsai, who was making her first bid for office, but his lead gradually shrank over the last month. His campaign hoped to appeal to undecided voters, a crucial voting bloc in an area that has fluctuated between KMT and DPP control for the past two decades.
He accused Tsai of using the mayoral race as a springboard for a presidential bid in 2012. In an eleventh-hour set of ads released on Friday, he said a vote for her would be "a vote wasted."
Tsai had repeatedly denied running for the Sinbei job as a prelude to seeking the presidency two years from now.
Political observers also say that the election eve shooting of KMT member Sean Lien (連勝文) likely skewed the result by swinging sympathetic voters in Chu's favor. Son of former vice president Lien Chan (連戰), Sean Lien survived after being shot in the face while campaigning for a KMT Sinbei city council candidate.
The Sinbei race was closely watched, with a resurgent DPP aiming to move closer to the Presidential Office by 2012 and gather momentum ahead of next year's legislative elections. Tsai called on voters to support the DPP's effort to become a viable opposition party once again as she focused on the party's ambitions after conceding defeat last night.
"We did our best this election. We didn't fight an emotional campaign or a partisan battle, but we fought on issues and policies," she told supporters outside her campaign office. "I don't want to see anyone lose their confidence in Taiwan's politics because of my loss."
"Even if we did not succeed this time around, we will succeed the next time, and if not then, the time after," she said. "We have only become stronger and more determined."
Her narrow loss was not expected to affect her standing in the party, which she has led since 2008. Her defeat opens the possibility of a run for the presidency in 2012, something DPP politicians have encouraged her to do.
Still, her supporters said the loss was devastating for the county's residents. Hundreds of visibly dejected voters stood on the streets outside her campaign office, insisting she would have made a "great mayor."
"I cannot think of a single criticism I have over her entire political career. She's done nothing wrong. It's upsetting that the election turned out this way," a man surnamed Chen (陳) said. "I guess some factors were just out of her control."
Comments will be moderated. Keep comments relevant to the article. Remarks containing abusive and obscene language, personal attacks of any kind or promotion will be removed and the user banned. Final decision will be at the discretion of the Taipei Times.