China tries to reassure neighbors
AP, HANOI
China worked to calm nerves yesterday among Asian neighbors jittery over its recent attempts to assert greater control over disputed waters, while the US stressed its national interest in keeping those seas free for commerce.
US Secretary of Defense Robert Gates said the US has a stake in the growing number of disputes about ownership of Asian island chains and ship routes through waters China claims.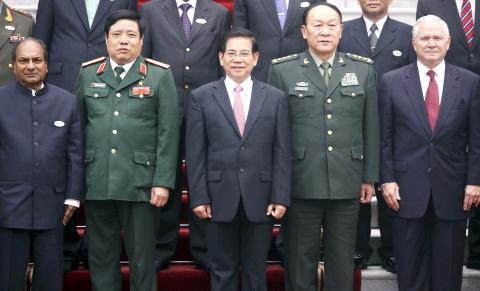 From left to right, Indian Defense Minister Shri A K Antony, Vietnamese Minister of Defense Phung Quang Thanh, Vietnamese President Nguyen Minh Triet, Chinese Minister of National Defense Liang Guanglie and US Secretary of Defense Robert Gates pose for a group photo at the signing ceremony of the Adoption of Joint Declaration of the first ASEAN Defense Ministers Meeting Plus at the National Convention Center in Hanoi yesterday.
Photo: REUTERS
"We have a national interest in freedom of navigation, in unimpeded economic development and commerce and in respect for international law," Gates told an ASEAN defense ministers' forum in Hanoi.
The message was strong and the audience unmistakable, but Gates avoided a direct confrontation with China. He never mentioned the country by name during a brief address to the group, which included his Chinese counterpart, General Liang Guanglie (梁光烈).
Several Asian countries have expressed concern over increasingly aggressive maritime moves by Beijing, including its response to a ship collision last month off disputed islands — known as Senkaku in Japan and Diaoyutai (釣魚台) in Taiwan and China — that plunged relations between China and Japan to a five-year low.
China tried to ease tensions yesterday by reassuring its neighbors that it wants to work together.
"China pursues a defense policy that is defensive in nature. China's defense development is not aimed to challenge or threaten anyone, but to ensure its security and promote international and regional peace and stability," Liang said in his speech to the forum. "Security of a country relies not only on self-defense capabilities, but also on mutual trust with others."
ASEAN defense ministers, along with their counterparts from the US, China, Russia, Japan, Australia, New Zealand, India and South Korea attended the meeting.
"The United States has always exercised our rights and supported the rights of others to transit through, and operate in, international waters," Gates said. "This will not change, nor will our commitment to engage in activities and exercises together with our allies and partners."
Meanwhile, a senior US defense official said in Hanoi yesterday that Beijing appears to be adopting a slightly more conciliatory tone over territorial disputes in the South China Sea, backing away from describing the area as part of its "core interests," putting the issue on a par with Tibet or Taiwan.
"They now, at least in some of our interactions with them, appear to have backed away somewhat from the 'core interest' argument," said the official, who spoke on condition of anonymity.
Chinese leaders seem "to be seeking to come up with other ways to articulate their approach to these issues," the official told reporters. "It is probably fair to conclude that there is some internal debate in Beijing about exactly how they approach this set of issues."
Comments will be moderated. Keep comments relevant to the article. Remarks containing abusive and obscene language, personal attacks of any kind or promotion will be removed and the user banned. Final decision will be at the discretion of the Taipei Times.