Quake, tsunamis ravage Pacific islands, 141 dead
WAVES OF DESTRUCTION Villages and holiday resorts have been destroyed. The death toll is expected to rise.Obama declared a major disaster in American Samoa
A series of tsunamis smashed into the Pacific island nations of American and Western Samoa on Tuesday, killing at least 141 people, washing some out to sea, destroying villages and injuring hundreds, officials said yesterday.
Monster waves that witnesses and officials said measured between 3m and 8m high pounded the islands after a magnitude 8 undersea quake struck in the early morning southwest of American Samoa.
While the quake toppled buildings and sent thousands fleeing to high ground as the tsunami approached, many others were hit by the walls of water that swept people and cars out to sea and obliterated coastal settlements.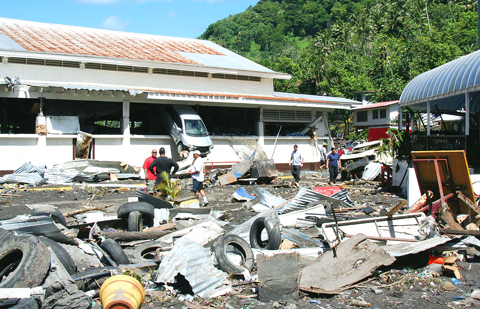 Residents view the damage and debris in Pago Pago, American Samoa, on Tuesday after a magnitude 8 quake and tsunami struck in the early morning. Tsunamis devastated the Samoa islands and Tonga, killing at least 141 people.Photo: AFP
US President Barack Obama declared a major disaster in American Samoa, a US territory, and ordered federal aid to help recovery efforts, with a US C-130 military transport aircraft due to leave Honolulu for the tiny South Pacific islands.
TV images showed homes ripped apart, cars submerged in the sea or lodged in trees and large fishing boats hurled ashore.
Australian Prime Minister Kevin Rudd said at least 60 people had been killed in Western Samoa. Local media said there were three Australians among the dead.
Twenty villages on the southern shore of the island of Upolu were reportedly destroyed, including Lepa, the home of Samoan Prime Minister Tuilaepa Sailele Malielegaoi. The area is also the main tourist area, and the waves destroyed some resorts.
Malielegaoi said he was "shocked beyond belief."
"So much has gone. So many people are gone," he told the Australian news agency AAP. "I'm so shocked, so saddened by all the loss."
"Thankfully the alarm sounded on the radio and gave people time to climb to higher ground. But not everyone escaped," he said.
In American Samoa at least 24 people were killed and 50 injured, American Samoa Governor Togiola Tulafono said from Hawaii, with the southern portion of the main Tutuila island "devastated." The death toll there may also rise, officials said.
In Washington, Obama issued a statement of condolence and said the US was ready to help American and Western Samoa respond.
"We will continue to provide the resources necessary to respond to this catastrophe, and we will keep those who have lost so much in our thoughts and prayers," he said.
New Zealand said there were also serious concerns about Tonga after a 4m wave hit its northern coast. Tongan officials confirmed seven people were killed, while three were missing yesterday.
Small tsunamis also reached New Zealand, Hawaii and Japan.
Taiwan yesterday pledged to offer humanitarian aid to the South Pacific islands after an assessment of the damage has been made.
"We don't have diplomatic ties with Samoa but we do offer our utmost sincere concern for the victims. Our embassies in Kiribati and the Marshall Islands are closely monitoring the situation to assess how we can best help," Ministry of Foreign Affairs spokesman Henry Chen (陳銘政) said.
No Taiwanese have been reported injured, Chen said.
ADDITIONAL REPORTING BY JENNY W. HSU
Comments will be moderated. Keep comments relevant to the article. Remarks containing abusive and obscene language, personal attacks of any kind or promotion will be removed and the user banned. Final decision will be at the discretion of the Taipei Times.