MORAKOT: THE AFTERMATH: Patience running out in clean-up effort
STRANDED More than 10,000 people are still trapped in isolated townships around the nation, running out of food and water, while hundreds are feared dead
Pressure mounted on the government yesterday to speed up operations as patience ran thin among relatives waiting for news of the thousands of residents trapped by mudslides, collapsed bridges or raging rivers in remote mountainous villages — with some feared buried alive — in the aftermath of Typhoon Morakot.
Kaohsiung County Commissioner Yang Chiu-hsing (楊秋興) said yesterday that about 300 people in Xiaolin Village (小林) in Jiasian Township (甲仙) were feared dead.
Xiaolin was one of the areas hardest hit by the flooding and landslides brought by Morakot.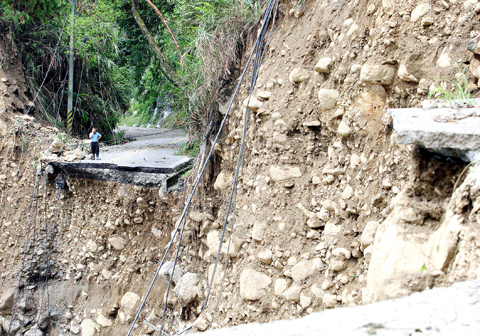 A resident of Nantou County's Sinyi Township yesterday stands by what remains of a road that was flushed away in a landslide caused by the torrential rains brought by Typhoon Morakot.
PHOTO: CNA
The village was almost completely flattened by landslides — of 395 houses, only two remain.
Although more than 200 Xiaolin villagers have been rescued in the past two days, Yang said yesterday afternoon that the county government feared the worst.
As the county government compared the number of rescued Xiaolin villagers and those who are confirmed to be alive but are awaiting rescue to the number of people living in Xiaolin, Yang said: "I'd say the number of people unaccounted for was probably somewhere around 300."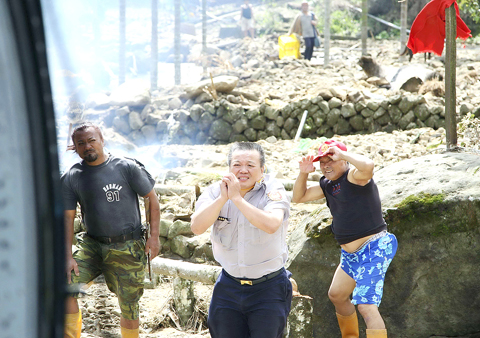 A police officer at an Aboriginal community shows his gratitude as a military helicopter arrives to bring supplies and to remove victims after the village was damaged by Typhoon Morakot in Laiji Village, Chiayi County, yesterday.
PHOTO: AP
Meanwhile, about 1,000 people in Taoyuan Township (桃源) and 1,500 in Namasiya Township (那瑪夏) are believed to be trapped.
"Everybody is paying attention to Xiaolin Village and Namasiya Township, and nobody cares about the thousands of people trapped in Taoyuan Township. There is a reservoir of water that was caused by a landslide that has dammed a river upstream. I don't know if it has eroded away yet," a Taoyuan Township resident said in tears. "I only hope that it will stop raining."
What the survivor was worrying about did happen — a landslide that had dammed the upstream section of the Laonong River (荖濃溪) eroded away by noon yesterday. Fortunately, downstream villagers fled the area minutes before it burst.
However, the resulting flash flood destroyed a warehouse for explosives used in construction, flushing about 8,000kg of explosives into the ­Laonong River. While experts said the explosives would not likely cause any immediate danger, authorities warned people who live downstream and rescuers to watch out for the explosives.
Several survivors in Liukuei Township's Sinfa Village (新發), standing next to a collapsed bridge that connected the community to the outside, signaled for help to rescuers that flew by in helicopters.
A rescue team tried to cross the river, but the raging waters prevented them from doing so — one rescuer almost drowned.
According to the emergency operation center in Chiayi, approximately 10,200 people were still trapped in Alishan (阿里山), Meishan (梅山), Chuchi (竹崎), Jhongpu (中埔) and Fanlu (番路) townships as of 2pm yesterday. A representative told the Taipei Times that the number was calculated based on information from the Household Registration Office.
Despite the fact that most structures have collapsed in Taiho Village (太和) and Meishan Township, a Chiayi Fire Department rescuer said that all villagers — except for four who died — are safe and will soon be rescued.
However, in Fanlu, a man surnamed Ma (馬) said in a news clip broadcast by SET-TV that they were running out of food.
"We only have about one or two days of food supplies," he said. "A helicopter came a couple of days ago to drop off food and other supplies, but it happened only once."
A storm survivor who has been stranded for six days in Taitung County's Jinfong Township (金峰) sent out an e-mail yesterday saying that about 1,000 survivors of a massive mudslide in the mountainous area were on the verge of starvation.
"Even greens and taro roots gathered in the wild have been consumed," Lin Feng-shu, an elementary school teacher, said in the e-mail.
Lin sent the e-mail yesterday after Taiwan Power Co and Chunghwa Telecom managed to restore Internet services, which were disrupted by Typhoon Morakot after it struck Taiwan last Friday.
"Please help us quickly," Lin's message said.
Taitung County Government said that as of yesterday about 16,000 people in Taimali (太麻里), Jinfong, Dawu (大武) and Daren (達仁) townships were cut off from the outside world because of the surging water in the Taimali River (太麻里溪). However, they had received supplies by helicopter, officials said.
Residents there had begun to clean up their homes by hand and on empty stomachs, a staff member of a local government office said.
The military yesterday said it had deployed 4,000 more soldiers to the rescue effort, bringing the total to 38,000, after criticism that the government was too slow in mobilizing rescue efforts. The government said its operations had been hampered because many areas of the country were cut off when roads and bridges collapsed.
Anger at the authorities, however, was apparent among surviving villagers, who said more victims could have been saved if the government had moved sooner and faster.
"How can they be so slow? Clearly they should be sending more helicopters, right?" said Yan Min-rong, 29, as he pored over lists of survivors at a rescue hub in Kaohsiung County's Cishan Township (旗山).
"It's too slow," said Chen Fu-rong, head of a funeral association in Kaohsiung, as she stood alongside the bodies of victims. "They don't care about the south. They just care about the north."
President Ma Ying-jeou (馬英九) was confronted by relatives complaining about his government's handling of the crisis yesterday when he traveled to Yunlin County to inspect relief efforts.
TV footage showed dozens of people surrounding Ma, with one man angrily asking: "What is the government doing? It's too late, they cannot be saved."
Since the weather was good for most of yesterday, 113 helicopter flights were able to drop off food, water and other necessities at devastated areas in Liukuei and Namasiya, while 878 more survivors were rescued.
Meanwhile, rescuers yesterday morning confirmed 6,500 people who had been stranded near Alishan (阿里山) and more than 700 in Liukuei. But hundreds of villagers said that many more people could have been buried alive because some villages were either flattened or badly damaged in the typhoon.
While numerous bridges were severely damaged by mudslides and debris washed down the rivers, and many roads were rendered impassable in mountainous regions, the Directorate-General of Highways (DGH) reported that of the 132 damaged and blocked roads, 59 had been reopened.
Vice Minister of Transportation and Communications Yeh Kuan-shi (葉匡時) said the DGH had identified eight key areas that could not be accessed by any road at this time.
"Highways leading to these areas must be opened first so that food, goods and other resources can be delivered to the victims," he said.
The roads on the list include Highway 18 to Alishan, which was severely damaged by mudslides, making it completely inaccessible until at least Oct. 15.
DGH contractors still cannot cross the section of Highway 21 from Jiaxian to Xiaolin and Namasiya. The contractors are also unable to pass the section of Highway 20 from Liukuei to Laonong (荖濃), Baolai (寶來), Taoyuan and Meishan villages, he said.
The sections of road between Maolin (茂林) and Duonah (多納), between Lidao (利稻) and Meishan on Highway 20, between Sandimen (三地門) and Wutai (霧台) on Highway 24, and between Taimali and Fonggang (楓港) on Highway 9 are also severely eroded. They won't become accessible until next week.
"The typhoon damage is different from the damage caused by the 921 Earthquake," Yeh said. "As soon as we clear debris, landslides come to undo our work."
On Wednesday, two excavators that were on Highway 27 were washed away by the mudslides.
The Taiwan Railway Administration (TRA) said the South Link (南迴鐵路) will not resume full operation for another five months because the Linbienshi Bridge (林邊溪橋) and two other bridges were inundated by water. Currently, trains can operate between Pingtung and Nanchou (南州) as well as between Taitung and Taimali.
As of 10pm yesterday, the death toll from Typhoon Morakot had climbed to 116, with 59 people listed as missing and 45 injured, the Central Emergency Operation Center said.
Comments will be moderated. Keep comments relevant to the article. Remarks containing abusive and obscene language, personal attacks of any kind or promotion will be removed and the user banned. Final decision will be at the discretion of the Taipei Times.