Morakot devastates southern regions
DOWNGRADED Although the storm weakened after it made landfall and has moved away from the nation, CWB forecasters predicted several days of heavy rain
Typhoon Morakot slammed into Taiwan overnight, pounding the nation with strong winds and downpours. Southern Taiwan in particular was drenched with more than 1,500mm of rainfall that submerged houses and streets.
The typhoon made landfall in Hualien County late on Friday night, unleashing powerful winds that swayed high-rise buildings, and uprooted trees and road signs in many places. With a radius of 250km and packing maximum winds of 119kph, the typhoon had weakened considerably by the time the eye hit the Hualien coastline at 11:50pm on Friday and was downgraded to a tropical storm yesterday afternoon as it moved north-­northwestward away from Taiwan, the Central Weather Bureau (CWB) said.
Forecasters, however, warned the public to guard against torrential rain, which they said would continue nationwide for days to come.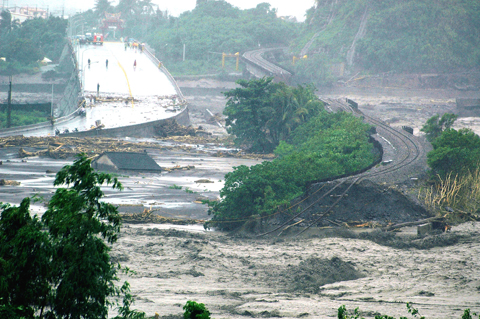 The Taimali section of the southern link freeway and railway in Taitung County is washed away by flooding triggered by torrential rains brought by Typhoon Morakot yesterday. About 600m of both the freeway and railway were destroyed by the flooding, severing the main southern connection between eastern and western Taiwan.
PHOTO: CNA
The torrential rain, coinciding with the monthly high tide along the coastline of southern Taiwan, triggered flooding in a number of areas.
At 9pm yesterday, Pingtung County's Wei Liao Mountain (尾寮山) topped the nation with 2,051mm of rainfall since Thursday, the CWB said. Other areas in the county such as Chiatung (佳冬) and Wen-feng (塭豐) saw floods that reached two stories deep.
TV footage showed torrential downpours had submerged houses and streets in the county, cutting off electricity and phone services.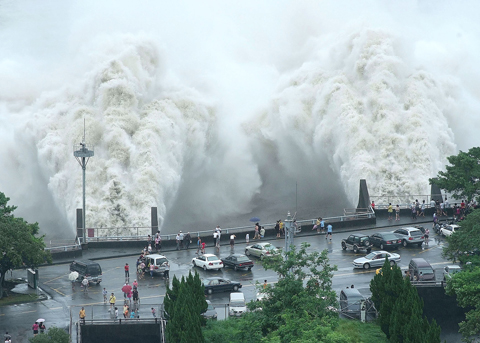 Water is released from the Shihmen Reservoir in Taoyuan County yesterday after torrential rain brought by Typhoon Morakot.
PHOTO: CNA
"The flood started this morning and the water is more than two stories high in most places," said a policeman from Chiatung Township, one of the worst-hit areas in Pingtung. It is home to 10,000 people
Five major bridges in the county have been closed to traffic and roads leading to mountainous regions have also been closed because of landslides.
There was also flooding in many districts of Kaohsiung City, with the areas adjacent to Sizihwan (西子灣), Love River (愛河) and Chienchen River (前鎮河) heavily affected. The water level rose knee-high in some streets in the Chienchen District (前鎮).
Dozens of homes were flooded in Taimali Township (太麻里) in Taitung. Residents of five villages in Taimali evacuated their homes and 40,000 households had no power.
Mudslides were reported in mountainous areas in the counties of Nantou, Pingdong and Taitung, forcing the closure of some bridges during the storm.
At its peak strength on Friday, the storm caused power outages for 896,833 households and electricity grid workers had to brave strong winds and heavy rain to fix the power system, Taiwan Power Company said. At noon yesterday, 163,075 households were still without power, the company said.
The storm also wreaked havoc on air and sea ­transportation, ­forcing airlines and shipping companies to cancel all outbound flights and marine services until yesterday noon. By yesterday afternoon, about 80 percent of domestic and international flights had resumed.
A 67-year-old woman died late on Friday when she drove her motorcycle into a ditch during heavy rain in southern Kaohsiung County, the National Fire Agency said in a statement on its Web site.
A 47-year-old man slammed his car into a train in torrential rain in Ilan County late on Friday and died on the spot. Four people were missing and feared dead, the National Fire Agency said, adding that two were fishermen whose boat capsized off the coast of ­Pingtung County.
Another man who was fishing onshore in Taitung County fell into the sea and has not been recovered, the agency said. A villager, also in Taitung, set off on a fishing expedition early on Friday as the storm approached, but no one has been able to contact him since, it said.
National Taiwan Normal University yesterday issued a press release saying that a group of five people, two of its students and three alumni, who were scheduled to descend Dabajian Mountain (大霸尖山) yesterday, remained missing.
Two policemen were trapped on a power line pole for more than three hours when they tried to rescue residents of Taitung's Taiho Village (太和), who were reportedly stuck in their houses because of flooding, the Central Disaster Emergency Operation Center said.
Before the approach of Typhoon Morakot, at least four counties had begun rationing water. But as of yesterday morning, Shihmen Reservoir in Taoyuan County, which was almost half empty last week, had to open its floodgates as Morakot had filled it up in just one day.
The Council of Agriculture (COA) said that at 3pm yesterday, the nation had sustained NT$832 million (US$25.4 million) in losses in crops, animal stocks, fish, forestry and agricultural equipment.
The highest loss came from crops, with bananas particularly hard-hit, the COA said, as more than 11,145 hectares of farmland had been hit by the typhoon.
Kaohsiung, Pingtung and Hualien counties met guidelines for the Agricultural Natural Disaster Relief Regulations (農業天然災害救助辦法), the COA said, adding that farmers in the county were eligible for cash relief funds and low-interest mortgages.
The Ministry of Finance (MOF) said yesterday that tax payers could claim deductions for property damaged by Typhoon Morakot once they had proper documentation.
Property owners are eligible to file their tax deduction applications with local tax offices within 30 days and must attach detailed reports of the damage and legal verification of ownership, the MOF said.
Once the applications have been approved by tax officials, who are required to conduct on-site inspections, property holders and business owners can list their damaged commodities or products for tax deductions when they file their income or business tax returns next year, it said.
A wide range of personal property such as private cars, scooters, houses and land damaged by Morakot are included on the list of tax deductible items, MOF officials said. Deduction rates vary, they said.
ADDITIONAL REPORTING BY SHIH HSIU-CHUAN
Comments will be moderated. Keep comments relevant to the article. Remarks containing abusive and obscene language, personal attacks of any kind or promotion will be removed and the user banned. Final decision will be at the discretion of the Taipei Times.