Urumqi descends into mob violence
SILENCE Officials said they could not provide a breakdown of how many of the people who have died in Xinjiang were Han and how many were Uighurs
Scattered mobs of Muslim Uighurs and Han Chinese roamed the streets and beat passers-by yesterday as the capital of China's Xinjiang region degenerated into communal violence, prompting the government to impose a curfew in the aftermath of a riot that killed at least 156 people.
Members of the Uighur ethnic group attacked people near Urumqi's railway station and women in headscarves protested the arrests of husbands and sons in another part of the city. Meanwhile, for much of the afternoon, a mob of 1,000 mostly young Han Chinese holding clubs and chanting "Defend the country" tore through streets trying to get to a Uighur neighborhood until they were repulsed by police firing tear gas.
Panic and anger bubbled up amid the suspicion. In some neighborhoods, Han Chinese armed themselves with pieces of lumber and shovels to defend themselves.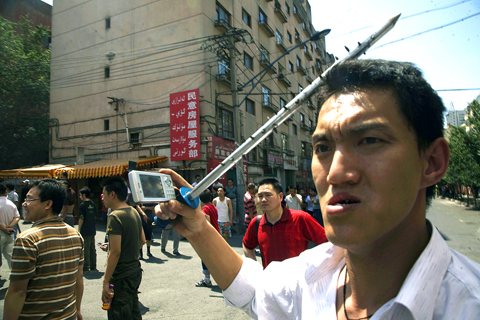 A Han Chinese man carries a spiked steel bar while using his cellphone to take photos as he joins a mob of Han Chinese men attacking Uighur properties in Urumqi yesterday.
PHOTO: AP
People bought up bottled water out of fear, as one resident said, that "the Uighurs might poison the water."
The outbursts happened despite swarms of paramilitary and riot police enforcing a dragnet that state media said led to the arrest of more than 1,400 participants in Sunday's riot, the worst ethnic violence in the often tense region in decades.
Trying to control the message, the government has slowed mobile phone and Internet services, blocked Twitter — whose servers are overseas — and censored Chinese social networking and news sites. It also accused Uighurs living in exile of inciting Sunday's riot. State media coverage, however, carried graphic footage and pictures of the unrest — showing mainly Han Chinese victims and stoking the anger.
A Uighur woman and her daughters cry during a protest in Urumqi yesterday. Authorities said at least 156 people were killed in unrest in the Xinjiang autonomous region.
PHOTO: EPA
Wang Lequan (王樂泉), Xinjiang's Communist Party secretary, declared a curfew in all but name, imposing traffic restrictions and ordering people off the streets from 9pm yesterday to 8am today "to avoid further chaos."
Sunday's riot started as a peaceful demonstration by Uighurs over a deadly fight at a factory in eastern China between Han Chinese and Uighur workers. It then spiraled out of control, as mainly Uighur groups beat people and set fire to vehicles and shops belonging to Han Chinese.
After retreating from the tear gas, some among the Han Chinese mob were met by Urumqi's Communist Party leader Li Zhi, who climbed atop a police vehicle and started chanting with the crowd.
Li pumped his fists, beat his chest, and urged the crowd to strike down Rebiya Kadeer, a 62-year-old Uighur leader exiled in the US whom Chinese leaders accuse of being behind the riots.
About 200 people, mostly women, took to the streets in another neighborhood, wailing for the release of their sons and husbands arrested in the crackdown and confronting lines of paramilitary police. The women said police came through their neighborhood on Monday night and strip-searched men to check for cuts and other signs of fighting before hauling them away.
The protesters briefly scuffled with paramilitary police, who pushed them back with long sticks before both sides retreated.
Groups of 10 or so Uighur men with bricks and knives attacked Han Chinese passers-by and shop-owners at midday outside the city's southern railway station, until police chased them off, witnesses said.
Li, the Communist Party official, told a news conference that more than 1,000 people had been detained as of early yesterday and suggested more arrests were under way.
The official Xinhua news agency said earlier yesterday that 1,434 suspects had been arrested, and that checkpoints had been set up to stop rioters from escaping.
Officials at the news conference said they could not give a breakdown of how many of the dead were Uighurs and how many were Han.
Sunday's riot started as a demonstration by 1,000 to 3,000 people protesting the deaths of Uighur workers killed in a brawl in the southern city of Shaoguan last month.
Also See: ANALYSIS: Beijing afraid fractures in Xinjiang could split China
Also See: PRC asks Spain to stop inquiry
Also See: Uighur leader wants probes into Xinjiang
Also See: EDITORIAL: Xinjiang and Taiwan's silence
Comments will be moderated. Keep comments relevant to the article. Remarks containing abusive and obscene language, personal attacks of any kind or promotion will be removed and the user banned. Final decision will be at the discretion of the Taipei Times.