Seoul plans for huge counterattack
South Korea's Joint Chiefs of Staff (JCS) have briefed President Lee Myung-bak on plans for a huge counter-attack on North Korea if it fires missiles at its navy ships, defense officials said yesterday.
The contingency plan was reported to Lee when he visited an air base in Osan on Saturday, JCS officials said.
"North Korea's firing of ground-to-ship missiles at our navy ships would prompt counter-attacks simultaneously from surface, air and sea," a spokesman quoted JCS chairman Kim Tae-young telling Lee.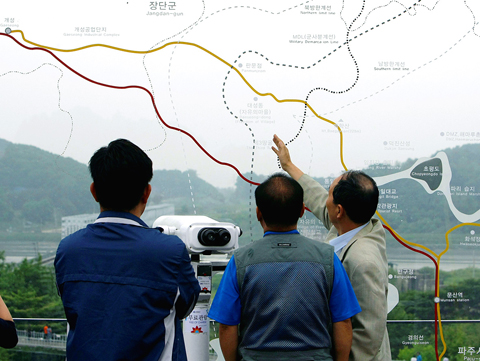 Tourists look at a map of the border area of the two Koreas in Paju, near the border village of Panmunjom, South Korea, yesterday. North Korea warned that any war moves by the South would be "shattered to smithereens."
PHOTO: AP
Defense officials in Seoul said the South had prepared K-9 self-propelled cannons, naval destroyers and F-15K aircraft armed with cruise missiles and precision bombs near the sea border with North Korea in the Yellow Sea.
Lee said on Saturday that South would not make any compromises in the face of North Korea's military threats and called for Pyongyang to return to six-party nuclear disarmament talks.
Hours later, the North's communist party newspaper Rodong Sinmun restated that the South's decision to join a US-led drive against the proliferation of weapons of mass destruction was a "declaration of war."
Tensions have escalated since North Korea conducted its second nuclear test on May 25 and then launched a series of short-range missiles before renouncing the 1953 truce that ended hostilities in the Korean War.
Comments will be moderated. Keep comments relevant to the article. Remarks containing abusive and obscene language, personal attacks of any kind or promotion will be removed and the user banned. Final decision will be at the discretion of the Taipei Times.