CDC confirms first domestic flu case
YEH STAYS HOME Taiwan's new case is a woman who had a dinner party attended by two infected people. The health minister will not join Ma's diplomatic tour
The Centers for Disease Control (CDC) issued a phase 3 alert yesterday after the first domestic infection of A(H1N1) influenza was confirmed. Two more imported cases were also confirmed, bringing the total number to nine.
News of the first domestic case led Department of Health (DOH) Minister Yeh Ching-chuan (葉金川) to change his mind on accompanying President Ma Ying-jeou (馬英九) to Central America. Yeh said he would remain in Taipei to oversee epidemic prevention.
"I realized that it was important for me to stay to comfort the public and assure them that everything is OK. Although it would make no difference if I stay or went, I decided to stay," he said.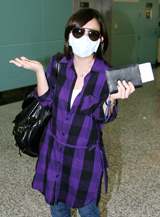 Mindful of an increasing number of A(H1N1) influenza cases, Fish Leong wears a pair of sunglasses and a face mask in Taipei yesterday before leaving for Beijing for a concert.
PHOTO: CNA
Department of Health Deputy Minister Sung Yen-jen (宋晏仁) will join Ma on the trip instead, he said.
The epidemic alert was raised to the third stage — yellow — meaning imported cases have caused a second wave of infections, CDC spokesman Shih Wen-yi (施文儀) said yesterday.
More people with A(H1N1) could enter Taiwan or were already here, so the chances of a community epidemic were increasing, but there was no need to worry, he said.
"We have done a good job in terms of fighting the virus so far and will continue to do so," Shih said.
He said case No. 7 was a 40-year-old woman who had been infected by contact with a mother and daughter who were confirmed as cases four and six on Friday.
The mother and her five-year-old daughter were infected during a trip to the Philippines from May 16 to May 20, Shih said.
They later attended a dinner party at the home of the woman identified as case No. 7, where they stayed for six hours.
Case No. 7's husband, who has not developed any flu symptoms, has been told to stay home and to take flu medication, Shih said.
Shih rebuffed concerns over a local epidemic.
"This was the first patient to be infected domestically. So we will hold off talk of 'local epidemics' for now," Shih said.
The two other new cases are Taiwanese graduate students who arrived from San Francisco on Saturday on EVA Airways flight BR007, Shih said.
The man and the woman were taken to the Hsinwu branch of Taoyuan General Hospital by a taxi driver, he said.
"They did not show any signs of a fever so they were not screened at the airport," he said.
"On their way home, they told the taxi driver that they had returned from the US and they were feeling uncomfortable. The driver dropped them off at the hospital," Shih said.
The pair are studying at a San Francisco area university and came back home for the summer.
Shih said the pair said they had a fever last Tuesday and Wednesday but did not have a fever when they landed in Taiwan Taoyuan International Airport.
They had worn facemasks during their flight, he said, and sat in seats 23K and 23H.
Shih encouraged passengers who had sat near those seats to contact CDC officials by calling 1922.
The taxi driver and EVA cabin crews were contacted and have begun a 10-day drug regime.
In related news, Yeh told lawmakers on the Social Welfare and Environmental Hygiene Committee yesterday morning that the WHO would separate Taiwan's confirmed cases and register them under the name "Chinese Taipei" on its Web site.
"It is my understanding that the WHO separated cases from Taiwan from China's figures yesterday," he said.
"I believe 'Chinese Taipei' will be seen on its latest statistics, which will be made public at 4pm today," Yeh said.
As of press time, the changes Yeh mentioned had appeared on the WHO's Web site but its figures had not been updated.
Yeh also told lawmakers that Taiwan has ordered 6 tonnes of Shikimic acid, a key ingredient in Tamiflu, the primary drug used to treat swine flu.
This would allow the government to produce 1 tonne of Tamiflu, enough doses for 1 million people, he said.
The government would also procure 10 million doses of vaccine, he said.
"We are planning to buy 2.5 million doses from foreign manufacturers. Another 7.5 million doses will be produced by local manufacturers," he said.
Commenting on his clash with students protesting Taiwan's status at the WHA meeting in Geneva last week, Yeh said he did not show enough EQ (emotional intelligence) in Geneva, but he would not apologize because he had done nothing wrong.
"What I did in Geneva was to introduce Taiwan to the world. What is wrong with that?" he said.
He lost his temper with the students because he had a little to drink, he said.
The minister added that he did not want to discuss the incident again.
"It is not worth discussing. And I want to forget about it as soon as possible," he said.
He told lawmakers that joining the WHA as "Taiwan" or "Republic of China" was the goal, but "Chinese Taipei" would always be the bottom line.
"At least, we had the chance to contribute during an international event," Yeh said.
ADDITIONAL REPORTING BY CNA
Comments will be moderated. Keep comments relevant to the article. Remarks containing abusive and obscene language, personal attacks of any kind or promotion will be removed and the user banned. Final decision will be at the discretion of the Taipei Times.