Racism talk boycott upsets UN chief
Iranian President Mahmoud Ahmadinejad was heckled as he gave a speech at the opening of a five-day conference on racism yesterday, with delegates streaming out of the auditorium as he spoke.
UN Secretary-General Ban Ki-moon opened the conference earlier saying he was "profoundly disappointed" at boycotts by some Western countries, while all forms of racism persist.
Ban also released a statement condemning those who might deny or minimize the Holocaust as the conference began in Geneva.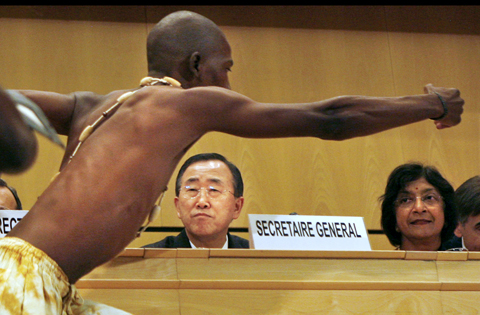 UN Secretary-General Ban Ki-moon, center, and UN High Commissioner for Human Rights Navi Pillay, right, watch a performance by African dancers at the start of the UN Racism conference at UN headquarters in Geneva, Switzerland, yesterday.
PHOTO: AP
"We dream of moving in a new direction yet too many of us cling to the past," the UN chief said.
"We speak of finding a new unity as times demand. Yet we remain weak and divided and stuck in old ways," he said, adding that he was "profoundly disappointed" about mutual recriminations and absent countries.
"Some nations who by rights should be helping us to forge a path to a better future are not here. Outside these halls, interest groups of many political and ideological stripes shout against one another in acrimony," he said.
"They too should be with us here," Ban said. "I deeply regret that some have chosen to stand aside. I hope they will not do so for long."
Poland yesterday joined the US, Israel, Canada, Australia, Germany, Italy, the Netherlands and New Zealand in boycotting the UN meeting over fears that it would degenerate into a forum for anti-Semitic views.
Ahmadinejad has on previous occasions called for Israel to be "wiped off the map" and described the Holocaust as a "myth."
A UN spokeswoman said Ban "condemns Holocaust denial and those who minimize the importance of the Holocaust."
Ban pointed out that in 2007, the UN General Assembly adopted a resolution saying that "ignoring the historical fact of those terrible events increases the risk they will be repeated," to mark the beginning of Holocaust Remembrance Day.
He later met Ahmadinejad on the sidelines of the conference, which is to review progress in combating racism since a gathering in Durban, South Africa, in 2001.
Ban also told the meeting that the Holocaust was also a reminder that racism may be institutionalized.
"Alternately it may express itself less formally as the hatred of a particular people or class — as anti-Semitism, for example, or the newer Islamophobia," he said.
Comments will be moderated. Keep comments relevant to the article. Remarks containing abusive and obscene language, personal attacks of any kind or promotion will be removed and the user banned. Final decision will be at the discretion of the Taipei Times.