PRC dissident detained on sensitive anniversary
Chinese dissidents reported being detained and harassed yesterday as authorities clamped down on the 20th anniversary of a reformist leader's death that triggered the 1989 Tiananmen protests.
The anniversary is seen as the start of an ultra-sensitive period for Chinese Communist Party leaders as they will be forced to revisit the June 4 crackdown that killed hundreds, if not thousands, of people.
Qi Zhiyong (齊志勇), a well-known Chinese dissident who lost a leg when he was shot during the military crackdown, said yesterday he had been taken away by police.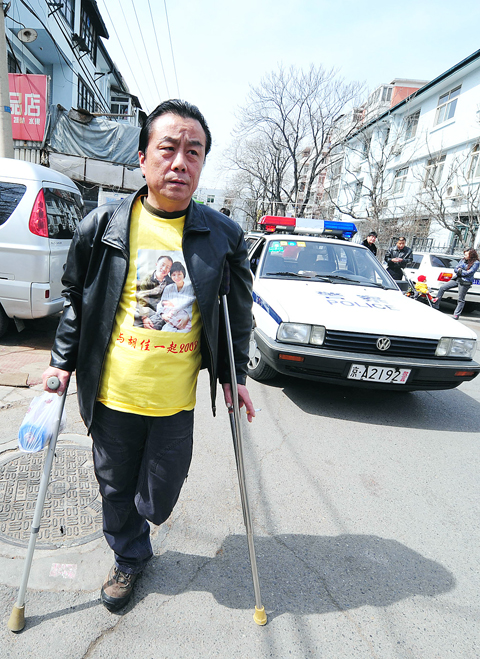 Chinese dissident Qi Zhiyong, wearing a t-shirt with an image of fellow dissidents Hu Jia, his wife, Zeng Jinyan, and their baby, is pictured moments before being taken away by police after meeting with foreign journalists in Beijing on March 26.
PHOTO: AFP
"When I went out at seven o'clock to take my child to school, I was forced into a police car by state security police," Qi said in a text message. "They have taken me to the outskirts [of Beijing]."
Qi said the detention was related to yesterday being the anniversary of the death of former communist leader Hu Yaobang (胡耀邦), who was purged in 1987 for his perceived weak response to student protests and died on April 15, 1989.
His death sparked calls for political reforms that led to the massive democracy protests in and around Tiananmen Square, which the Chinese military brutally quashed on June 4.
Other dissidents and a rights group also reported increased scrutiny yesterday.
Wang Songlian, research coordinator at activist group Chinese Human Rights Defenders, said a number of dissidents had told her of heightened tensions on the day of the anniversary.
"Today is a day when police have started putting people outside dissidents' homes and following them," she said, declining to immediately reveal their names before getting their permission.
"We have a number of people that have been subject to increased surveillance and some have been told not to go to meetings today where they could see other dissidents," she said.
Jiang Qisheng (江棋生), a Beijing-based activist who was jailed for more than a year for participating in the 1989 protests, said police were watching him constantly in his native Jiangsu Province, where he had been staying for more than a week.
"They stand at the gate of my house guarding me without my permission and wherever I go they follow me," he said by telephone.
"When I return to Beijing, I think it will be the same as it is getting nearer June 4," he said.
Jiang, who was jailed again in 1999 after urging people to commemorate the 10th anniversary of the Tiananmen crackdown, said he had started coming under police scrutiny during the nation's annual parliamentary session in March.
Some netizens, meanwhile, posted comments online about Hu, widely admired because he tried to rehabilitate the victims of the tumultuous Cultural Revolution and admitted mistakes in the handling of Tibet.
"The older generation's opinion of him is good, it's just a shame that afterwards at school we have not ever really heard of him," said one posting on a popular Web portal.
Also See: Hong Kong students vote on Tiananmen motion
The Taipei Times ran an interview with Qi Zhiyong in its April 14 edition. Please see: The Tiananmen ache
Comments will be moderated. Keep comments relevant to the article. Remarks containing abusive and obscene language, personal attacks of any kind or promotion will be removed and the user banned. Final decision will be at the discretion of the Taipei Times.