SEF releases itinerary for ARATS trip
IT'S A SECRET The meeting between President Ma Ying-jeou and Chairman Chen Yunlin may take place on Thursday afternoon, as that time was left unscheduled
The Straits Exchange Foundation (SEF) yesterday announced a rough itinerary for Association for Relations Across the Taiwan Strait (ARATS) Chairman Chen Yunlin's (陳雲林) visit to Taipei, setting his meeting with SEF Chairman Chiang Pin-kung (江丙坤) for Tuesday.
The SEF, however, declined to reveal the details of President Ma Ying-jeou's (馬英九) meeting with Chen, saying that the meeting was still being planned by the National Security Bureau and the SEF. It said it would make the details public as soon as they were finalized.
It is possible that the Ma-Chen meeting will take place on Thursday, as Chen does not have any public events lined up for that afternoon, but Chiang refused to confirm this.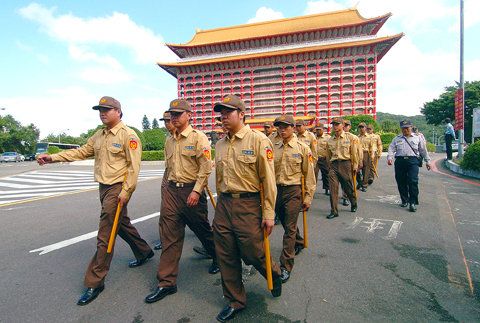 Police yesterday inspect the area around the Grand Hotel in Taipei after Vice Chairman Zheng Lizhong and other delegates from China's Association for Relations Across the Taiwan Strait checked in the day before.
PHOTO: CHIEN JUNG-FONG, TAIPEI TIMES
"According to SEF and ARATS' negotiations, we can only make part of the schedule public ... The [Ma-Chen meeting] is not yet finalized," Chiang said yesterday during a press conference.
Chen is scheduled to arrive in Taipei tomorrow and will stay in the Grand Hotel during his five-day visit.
Chen will visit Cecilia Koo (辜嚴倬雲), the widow of former SEF chairman Koo Chen-fu (辜振甫), tomorrow after his arrival in Taipei, while ARATS and SEF vice chairmen will proceed with preparatory negotiations in the afternoon, SEF Secretary-General Kao Koong-lian (高孔廉) said.
The Chiang-Chen meeting will be held on Tuesday morning, and the two are expected to sign four agreements in the afternoon.
Chiang and Chen met for the first round of talks in June in Beijing. That meeting was the first between the two sides since a meeting held in Singapore in 1993.
Mainland Affairs Council Chairwoman Lai Shin-yuan (賴幸媛) will also meet Chen on Tuesday, while former Chinese Nationalist Party (KMT) chairman Lien Chan (連戰) will host a banquet for Chen on Tuesday night.
KMT Chairman Wu Poh-hsiung (吳伯雄) and People First Party Chairman James Soong (宋楚瑜) will meet Chen at two separate banquets on Wednesday.
Chen and Chiang will also hold forums with industry, commerce and financial groups on Wednesday.
Lien and Chen will meet again during a ceremony on Thursday to formally announce that Beijing will send two giant pandas it has promised to the Taipei Zoo. Chiang and Kao declined to comment on whether the two giant pandas were offered by China as a "unification tool," while Kao said it was unlikely that the date of the pandas' arrival would be finalized during the ceremony.
"The event was arranged by the zoo. As for me, I would like to take my grandson to see the pandas after they are here," Chiang said.
Lien is expected to represent Taiwan in accepting the two pandas, and the zoo would give Beijing Formosan sika deer and Formosan serow in return.
Kao denied that China had pressured Taiwan to not reveal the times and places of part of Chen's schedule, and said SEF and national security bodies had put great effort into making sure no incidents occur during Chen's visit.
"We urge the people to be pragmatic and rational, demonstrate the hospitality of the Taiwanese and treat our guests with courtesy," he said.
Chen will return to Beijing on Friday morning.
Democratic Progressive Party (DPP) Chairwoman Tsai Ing-wen (蔡英文) told a press conference that the DPP would soon propose a law stipulating that individuals and political parties that participate in cross-strait negotiations must declare any investments and economic interests in China they might have so they can be supervised by the public.
Also yesterday, the DPP released details of a four-day demonstration planned to protest against Chen's visit.
DPP spokesman Cheng Wen-tsang (鄭文燦) told a press conference yesterday that the series of demonstrations, called the "Yellow Ribbon Siege" included a three-day sit-in protest on Jinan Road near the Legislative Yuan beginning tomorrow at 7pm and running through Wednesday, followed by an evening rally that day.
Cheng said protesters would tie yellow ribbons around their heads.
The "siege" will start on Thursday at 3pm and protesters will walk to the Taipei Guest House on Ketagalan Boulevard and besiege Boai District (博愛), chanting slogans and using horns, bells, whistles and other objects to generate noise.
They will also tie yellow ribbons on the barbed wire fences set up by the police.
Cheng said the party hoped the demonstrations would be peaceful.
Meanwhile, the DPP's Taipei branch yesterday said it would form a 250-member taskforce to stage surprise protests against Chen.
The branch was also preparing to release 1,200 balloons daubed with anti-China slogans near the Grand Hotel.
The pro-independence Northern Taiwan Society meanwhile said that it would offer cash prizes to anyone who could hit Chen with an egg.
"We will offer NT$1,000 to protesters who hit Chen's body with eggs, and NT$10,000 to anyone who can hit Chen's face," vice chairwoman Michelle Wang (王美琇) said.
Wang said that her organization was opposed to the more than 1,000 missiles China deployed against Taiwan.
In response to the planned protests, the police yesterday said that they were ready for any potential "situations" that may arise during Chen's visit.
"We are prepared for many different scenarios," said a high-ranking National Police Agency officer who wished to remain anonymous.
The officer said that as soon as Chen's plane lands tomorrow, a police escort would be deployed from the airport all the way to the hotel.
The officer said that the police would form a "human shield" around Chen if any unexpected attacks or protests were carried out near him.
"We will avoid creating more chaos by assigning officers with weapons and shields. We will try to stay low-profile while carrying out our duties to avoid aggravating any protesters," he said.
The Chinese-language Apple Daily reported yesterday that there would be more than 800 police officers guarding the Grand Hotel throughout Chen's stay. In addition, it said Chen would be escorted and protected by 40 Special Forces officers wherever he went. The officer would not confirm the figures but said that security for Chen "will be very tight."
"We need to ensure no incidents occur during his visit. It has nothing to do with politics," he said.
Despite the increased security measures, one man carrying a Republic of China flag managed to put on a brief protest inside the heavily guarded hotel.
"We used to fight the commies, but now [the government] is protecting them," the man grumbled before being chased away by police officers.
ADDITIONAL REPORTING BY AP
Comments will be moderated. Keep comments relevant to the article. Remarks containing abusive and obscene language, personal attacks of any kind or promotion will be removed and the user banned. Final decision will be at the discretion of the Taipei Times.