Ma promises no Strait war in next four years
MILITARY COMMITMENT The president told Ministry of National Defense officials that a strong defense was still necessary, even though he was confident of peace
President Ma Ying-jeou (馬英九) said yesterday there would not be war in the Taiwan Strait in the next four years, but his administration would nevertheless earmark a "reasonable and sufficient" budget to maintain a strong military.
Ma made the comment at a workshop in Taoyuan County for senior military officials. He told the officials that he had forecast during the presidential campaign that there would be no war in the Strait during his presidency and he was more confident than ever that his vision would come true.
"But without war, do we still want a national defense?" Ma asked. "Do we need equipment? Do we need training reform? The answer is yes."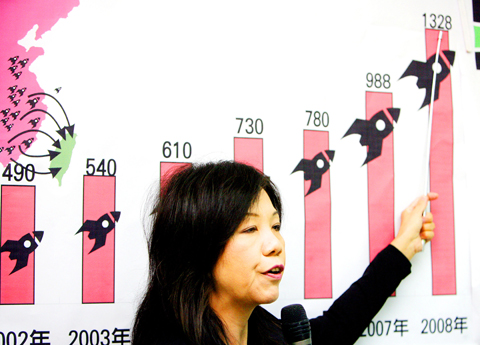 DPP Legislator Yeh Yi-ching points to a chart showing the rising number of Chinese missiles pointed at Taiwan at a press conference in Taipei yesterday.
PHOTO: CNA
He said the government must adopt new thinking and reassess its cross-strait strategy in response to China's political and military transformation because relations had undergone fundamental changes.
The rise of China will produce a great opportunities for Taiwan if it can take advantage of China's political and economic development, Ma said.
"The very existence of the mainland is an important opportunity, but also a serious threat," he said. "As the president and chief commander of the armed forces, I am duty bound to maximize the opportunity and minimize the threat. Your responsibility is to help me minimize the threat to the country."
Ma said that he would like to maintain the "status quo" in the Strait under the framework of the Republic of China (ROC) Constitution. He promised not to discuss unification with Beijing during his presidency, not to pursue or support de jure Taiwan independence and to oppose the use of military force to resolve cross-strait disputes.
Given peaceful cross-strait relations, Ma said he wanted to push a series of political and economic reforms to build Taiwan into a beacon of civilization and progress for the Chinese people.
Ma urged the military to protect the dignity and sovereignty of the ROC, the Constitution and the integrity of the 23 million people of Taiwan.
"Only by doing so can we have a peaceful environment. Then the ROC can continue to grow and thrive on Taiwan and the Chinese people can have the power to move forward," he said.
With a strong military, any country planning to attack Taiwan would have to think twice, making cross-strait negotiations proceed more smoothly, he said.
"The stronger we are, the more likely that cross-strait negotiations will be conducted on equal footing," he said. "A military balance in the Taiwan Strait is an important factor in achieving peace."
To sustain a strong military, Ma said the government would map out an accurate strategy, provide reliable weapons and cultivate outstanding soldiers.
Ma asked the Ministry of National Defense to propose a "new and effective" strategy and called workshop participants to provide input for such a strategy, which would be the basis for the deployment of troops and weapons procurement.
The president promised to move ahead with his campaign promise to replace the conscription system with a recruitment system, saying it was the way to cultivate quality soldiers and make the organizational structure more effective.
Premier Liu Chao-shiuan (劉兆玄) defended Ma's comments to lawmakers yesterday, telling Democratic Progressive Party Legislator Hsueh Ling (薛凌) during a question-and-answer session that Ma's promise of peace was a prime example of the president's vow to put aside controversy and create a win-win cross-strait solution.
"[Ma's remarks] meant that we can all anticipate cross-strait peace," Liu said.
Asked by Hsueh whether the Ministry of National Defense (MND) should be abolished if Ma were to pursue a peace agreement with China, Liu said maintaining a defensive capability would still be necessary even after Taipei signed a peace agreement with Beijing.
Meanwhile, Chinese Nationalist Party (KMT) Legislator Wu Den-yih (吳敦義) lauded Ma remarks.
He said Ma's speech should not be interpreted as a sign of surrender to China, but a strategy to pursue prosperity and security.
"President Ma has repeatedly stated that he will take a Taiwan-centered approach and do anything that is beneficial for the people. Under these circumstances we only have to strengthen our defensive capability," Wu said.
Democratic Progressive Party (DPP) Chairwoman Tsai Ing-wen (蔡英文), however, accused Ma of surrendering to China.
"The president should stand up for our sovereignty instead of giving in and negotiating," Tsai told reporters during a press conference at DPP headquarters. "Vanishing without a fight is a strategy that worries the public."
She also criticized Ma's redefining the cross-strait relationship as "district to district" as a show of goodwill ahead of the planned visit by Association for Relations Across the Taiwan Strait Chairman Chen Yunlin (陳雲林).
"Taiwan is an independent country with its own sovereignty and that sovereignty belongs to its people. The DPP cannot accept what Ma said," Tsai said.
Comments will be moderated. Keep comments relevant to the article. Remarks containing abusive and obscene language, personal attacks of any kind or promotion will be removed and the user banned. Final decision will be at the discretion of the Taipei Times.