Lawmakers accuse each other of attacking health chief
A press conference at the legislature yesterday on behalf of bakeries that have suffered losses in the wake of the melamine food scare turned into a clash between blue and green lawmakers, ending with the health minister checking into a hospital.
Chinese Nationalist Party (KMT) and Democratic Progressive Party (DPP) lawmakers accused each other of grabbing Yeh Ching-chuan (葉金川), minister of the Department of Health, by the neck and throttling him.
KMT Legislator Chang Shuo-wen (張碩文), who was with Yeh when the scuffle erupted, said DPP lawmakers tried to prevent Yeh from leaving the legislative floor after a meeting with bakery owners and lawmakers over the government's response to the public health scare caused by melamine-contaminated food imported from China.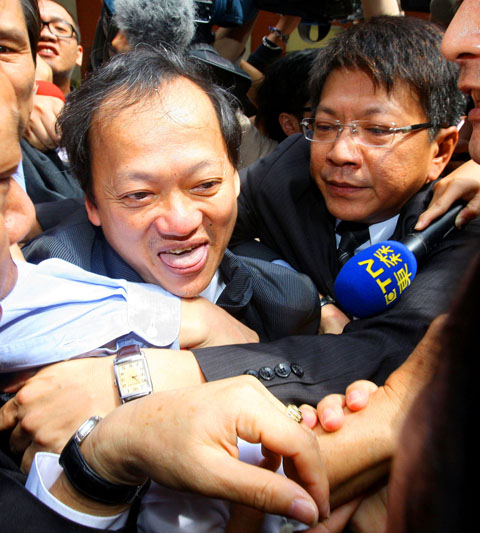 Department of Health Minister Yeh Ching-chuan, left, is caught in a scuffle between Chinese Nationalist Party (KMT) and Democratic Progressive Party legislators at the Legislative Yuan in Taipei yesterday.
PHOTO: CNA
Chang accused DPP caucus whip Pan Men-an (潘孟安) and DPP Legislator Su Chen-ching (蘇震清) of starting the scuffle.
"I went up there to protect Yeh. Although I didn't see anyone throwing a punch, I was sorry about the chaos and felt uncomfortable because DPP lawmakers were also pulling at my tie," Chang said.
BREATHING PROBLEM
"We condemn the DPP ... Someone grabbed the minister by the neck and he could hardly breathe," he said.
KMT caucus whip Lin Yi-shih (林益世) also demanded that DPP lawmakers apologize for intruding into the press conference hosted by KMT lawmakers.
The DPP caucus denied its lawmakers grabbed Yeh by the neck.
Pan said he was just trying to ask Yeh why he declined to attend the caucus' meeting yesterday morning to give a briefing on the melamine controversy.
Pan said that Lin's wife, Peng Ai-chia (彭愛佳), a reporter with China Television Co, was to blame for the clash because she began yelling: "Why hit people? How could you hit people?"
"I didn't hit anybody. KMT Legislator Chang Sho-wen put his hands on Yeh's neck and DOH official Luo Mu-tsai (羅木才) grabbed Yeh's hands," Pan said.
Yeh, who assumed the post of health minister, was suffering from dizziness, cardiopalmus and high blood pressure when he arrived at the National Taiwan University Hospital, hospital spokesman Tan Ching-Ting (譚慶鼎) said, adding that Yeh's blood pressure rose to 160/100mmHg.
Doctors recommended that Yeh stay in the hospital for further observation, Tan said.
"We condemn any form of violence. The public would not want to see this kind of behavior in the legislature," Premier Liu Chao-shiuan (劉兆玄) told reporters after visiting Yeh at the hospital.
The Citizen Congress Watch (CCW) staged a protest outside the legislature yesterday afternoon, accusing the lawmakers of behaving inappropriately.
CCW executive director Ho Tsung-hsun (何宗勳) said that some lawmakers "have used vulgar language in questioning officials" earlier and "even engaged in a physical clash" yesterday.
He said this type of behavior reflects badly on the legislature and shows that the "legislature still has a long way to go before becoming 'civilized.'"
Ho said he believed those who clashed yesterday "have their reasons for doing so, but whatever those reasons may be, differences in opinion should be resolved through talk and debate, not violence."
"No one benefits from violence — the lawmakers wouldn't get the conflict settled and the public wouldn't know what they were fighting over either," he said.
DPP caucus whip Ker Chien-ming (柯建銘) said yesterday that Yeh had repeatedly ignored the caucus' invitation to brief them on the food contamination scandal.
"We invited him sometime last week, but he never replied or visited us although he came to the legislature several times," Ker said. "He is way too arrogant."
Yeh was sworn in as health minister after Lin Fang-yue (林芳郁) resigned to take responsibility for the government's inconsistent response to the crisis over melamine-spiked dairy products from China.
ADDITIONAL REPORTING BY JIMMY CHUANG, LOA IOK-SIN AND SHELLEY HUANG
Comments will be moderated. Keep comments relevant to the article. Remarks containing abusive and obscene language, personal attacks of any kind or promotion will be removed and the user banned. Final decision will be at the discretion of the Taipei Times.