Cambodia's ruling party claims victory at the polls
The ruling Cambodian People's Party (CPP) claimed an expected victory in yesterday's general election, giving another five years in power to former Khmer Rouge guerrilla Hun Sen, prime minister for the last 23 years.
Party spokesman Khieu Kanharith said the one-time communist, but now firmly free-market CPP, was on course to win 80 of the 123 seats in parliament.
But opposition leader Sam Rainsy of the Sam Rainsy Party (SRP) called for a rerun of the elections in districts around the capital Phnom Penh, saying voters were wrongly struck from the rolls.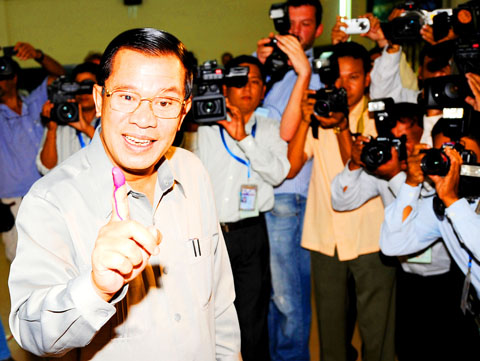 Cambodian Prime Minister Hun Sen shows the indelible ink on his right finger after casting his vote at a polling station in Phnom Penh yesterday.
PHOTO: AFP
He also disputed claims by the CPP that it was leading in 80 of the country's 123 constituencies.
"Neither party won more than two-thirds of the seats," he told reporters.
Sam Rainsy, whose party held 24 seats in the last parliament, claimed that 200,000 of Phnom Penh's 722,000 voters had not been able to cast ballots because of irregularities with the electoral lists.
"We don't accept the result in Phnom Penh," he said. "I demand a rerun of the election in Phnom Penh to bring justice to voters. I call for a demonstration in Phnom Penh. I appeal to all people whose names were unfairly deleted — please hold a huge protest in Phnom Penh."
Election observers said they had confirmed cases of voters having their names removed from the rolls, but said they doubted the problem was as widespread as Sam Rainsy claimed.
"The atmosphere for the election day is better than past elections. But the most prominent point is that the turnout was low and a lot of names disappeared" from the rolls, said Hang Puthea, head of the group of election monitors. "I can't believe that as many as 200,000 names went missing. I could believe the number is maybe 20,000."
Full results from yesterday's poll, which passed off largely without incident in a country where democratic politics have frequently been marred by violence, were not expected until late today.
Comments will be moderated. Keep comments relevant to the article. Remarks containing abusive and obscene language, personal attacks of any kind or promotion will be removed and the user banned. Final decision will be at the discretion of the Taipei Times.