Kalmaegi leaves 13 people dead
DISASTER Residents in the central and southern parts of the country struggled as the storm dumped 400mm to 1,000mm of rain, leaving severe flooding in its wake
Tropical Storm Kalmaegi lashed central and southern Taiwan with torrential rains yesterday, triggering flash floods and landslides that left at least 13 people dead and several missing as it moved toward China.
Although Kalmaegi brought only mild to moderate wind levels, damage was widespread as it dumped 400mm to 1,000mm of rain on the central and southern areas over the past 24 hours.
The downpour caused landslides and flooding in mountainous regions and brought knee-deep floods in some city streets.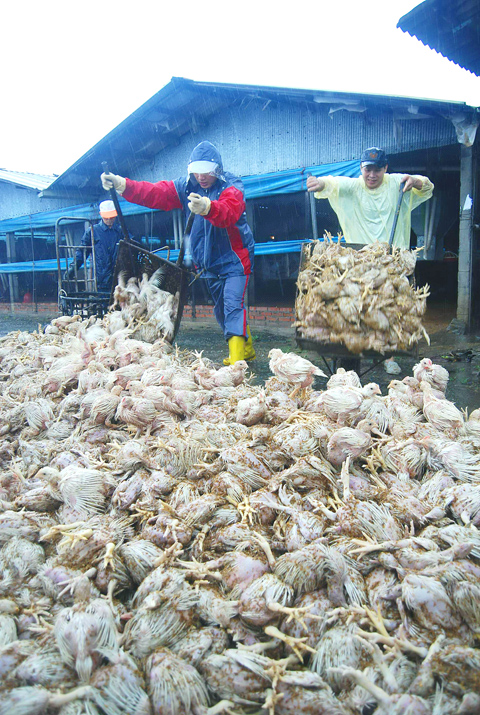 Workers at a chicken farm in Shetou Township in Changhua County use wheelbarrows to move some of the 17,000 chickens that drowned when the farm was flooded yesterday.
PHOTO: YEN HUNG-CHUN, TAIPEI TIMES
Places that had never or rarely suffered floods, including Hsinchu City, Taichung County's Taiping City (太平市) and Tainan County's Baihe Township (白河) saw floods reaching one-story high.
As of press time, Kalmaegi had left 13 dead, eight missing and eight injured, the Central Emergency Operation Center said.
An army officer who was inspecting the barracks in Taichung County died after slipping into a ditch. A man and a woman who were rescued from their home by a police motorboat went missing after the boat overturned in flood waters in Tainan County, the center said.
Television showed firefighters using ladders to rescue several people trapped in a flooded house in Yunlin County, and several drivers being rescued after hollering for help on top of their trucks in a flooded freeway in Taichung.
One homeowner atop a hill in Chiayi County's Chu-chi Township (竹崎) saw her yard collapse and slide down the mountain in a mudslide, the Central News Agency (CNA) reported.
Another homeowner, surnamed Chi (紀), in Miaoli City, saw his kitchen and bathroom wash down the river. Chi lashed out at the government for ignoring his complaints in the past two years. He had demanded that repairs be done around his home after the Guishan Bridge was renovated, which he said had affected the foundation of his house.
"Does somebody have to die before the government takes us seriously?" he asked.
Down at the nation's southern tip, Pingtung County received 692mm of rainfall, with many of its coastline villages flooded as high as 80cm, CNA reported.
The county government ordered the evacuation of residents of Donggang Township's (東港) Dapeng Village (大鵬) — which is right next to the Niupu Creek (牛埔溪) — to a nearby Buddhist temple.
Kaohsiung County was also one of the severely affected regions, with 76 cases of flood-related emergencies as of 6pm yesterday, the center said.
A private residence beside the Paolai Bridge in Liugui Township (六龜) was buried in a mud and rock slide, the county said.
While the homeowner escaped with his four-year-old daughter, his one-year-old daughter, his pregnant wife and his brother-in-law were buried alive, the center said.
No major damage, deaths, or injury were reported in Taipei County, Keelung and the East Coast area.
Nationwide, electricity was cut off in 40,000 homes, mostly in Nantou County, Taichung City, Taichung County, Tainan County and Kaohsiung County, the center said.
The center added that 673,000 households had no tap water, including about 500,000 in Tainan and 160,000 in Kaohsiung County.
Kalmaegi
Continued from page 1
In terms of road blocks, 50 roads, including national highways, city roads and mountain roads, were damaged by the flood, with 47 of them remaining disconnected as of 6pm yesterday, the center said.
The damage on Provincial Highway 20 and Kaohsiung County Highway 133 left 350 tourists stranded in the Baolai (寶來) hot spring area. Approximately 700 tourists were also grounded in the Sun Moon Lake and Lishan (梨山) scenic areas.
DELAYS
Kalmaegi also disrupted the nation's transportation systems yesterday, forcing dozens of domestic flights and trains to be canceled.
Taiwan Railway Administration (TRA) announced delays in commuter train services yesterday morning as wind knocked down a power line near Jhongli (中壢) station.
The TRA's Express trains departing before 4pm were all canceled.
The Taiwan High Speed Rail Corp was forced to cancel some of its trains as well.
The airports in Makung (馬公), Green Island (綠島), Lanyu (蘭嶼) and Hengchun (恆春) were closed yesterday.
A total of 74 flights departing from Taiwan Taoyuan International Airport and Songshan Airport in Taipei were either canceled or delayed.
No damage was reported in the airport facilities.
The canceling of shipping also left 260 tourists stranded on Green Island and Little Liuchiou (小琉球).
The eye of the storm crossed the northern tip of Taiwan yesterday morning, heading toward China's Fujian Province.
The Central Weather Bureau (CWB) lifted the land alert for Taiwan proper at 2:30pm yesterday, but had yet to lift the alert for Matsu as of press time. Sea vessels operating near the north coast remained under sea alert.
The prices of vegetables — particularly leafy ones — are expected to rise in the coming weeks as several major agricultural production areas were flooded, Taipei Agricultural Products Marketing officials said.
The company estimated that at least 30 percent of vegetable plots, flower gardens and fruit farms were flooded, adding that the damage could turn out to be greater by the time the storm has passed.
Premier Liu Chao-shiuan (劉兆玄) and several Cabinet officials made separate inspection trips to flood-hit counties and cities in central and southern Taiwan yesterday.
Saying that the Cabinet needed to concentrate on relief work, Executive Yuan Spokeswoman Vanessa Shih (史亞平) said the Cabinet had also postponed a two-day conference, originally scheduled for this weekend, of senior Cabinet officials to intensify coordination among various agencies to achieve policy goals.
President Ma Ying-jeou (馬英九) yesterday morning cut short his physical checkup at National Taiwan University Hospital in the wake of reports of serious flooding in central and southern Taiwan.
He headed to the national disaster response center to hear disaster response reports. He then visited flooded areas in Tainan County in the afternoon.
The Cabinet said it would publish advertisements today detailing a series of disaster relief measures the government has in place.
If somebody dies or is declared missing as a result of the tropical storm, the government will pay the victim's family a maximum of NT$800,000 (US$26,400) in compensation, Cabinet officials said.
The government will pay compensation of up to NT$250,000 to each seriously injured person and a maximum of NT$150,000 per stricken family, they said.
The Council of Economic Planning and Development will also offer loans of up to NT$2 million each to help families repair their homes, officials said.
TAX RELIEF
The Ministry of Finance said yesterday that individuals and companies that suffered damage caused by Kalmaegi may file for tax breaks within a month.
Individuals and companies should report their income and property losses with taxation authorities in their districts and deduct the amount of loss for their income tax next year, the ministry said in a statement.
People who lost real estate property to the storm may apply for house and land tax discounts, the statement said.
Additional reporting by Shih Hsiu-chuan, Mo Yan-chih,
Crystal Hsu and agencies
Comments will be moderated. Keep comments relevant to the article. Remarks containing abusive and obscene language, personal attacks of any kind or promotion will be removed and the user banned. Final decision will be at the discretion of the Taipei Times.