WTO rules against China in US-EU tariff complaint
China suffered its first defeat at the WTO after it upheld a complaint by the US, EU and Canada over import tariffs on car parts, sources close to the case said.
WTO judges have handed China and the plaintiffs a confidential decision condemning the Chinese import rules, diplomats said, speaking on Wednesday in Geneva on condition of anonymity.
The case is the first time China has been the subject of a complaint that went all the way through to the WTO's Dispute Settlement Body since it joined the organization in 2001.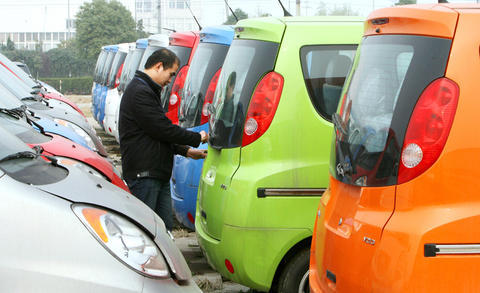 Chinese automotive workers check vehicles at a Wuhu, Anhui Province, factory on Dec. 7. China suffered its first defeat on Wednesday at the WTO after it upheld a complaint by the US, EU and Canada over import tariffs on car parts.
PHOTO: AFP
Beijing has a minimum local content requirement of 60 percent for home produced cars. If this is exceeded, it then levies the same tariff on the vehicle as it would if it was imported completely built.
China has said the rules aim to prevent tax evasion by companies who import whole cars as spare parts to avoid higher tariff rates.
The plaintiffs argued this measure violates China's WTO accession agreement, which pledged a progressive opening up of its markets.
"It's a move in the right direction," Canada's Trade Minister David Emerson said of the WTO's ruling.
China's commerce ministry did not immediately comment.
"We heard about the case ... and we're looking into it now," a commerce ministry official said.
China is increasingly the focus of WTO complaints after keeping a relatively low profile in its first few years in the organization.
In 2004, the US said it planned to lodge a complaint at the Disputes Settlement Body over tax breaks for Chinese computer chip makers, but the two sides negotiated a solution four months later without the need for WTO arbitration.
Since then, Washington has lodged several other complaints against China with the WTO, including its record on protecting intellectual property rights in October last year.
Comments will be moderated. Keep comments relevant to the article. Remarks containing abusive and obscene language, personal attacks of any kind or promotion will be removed and the user banned. Final decision will be at the discretion of the Taipei Times.