Prosecutors set to appeal Ma verdict
The Taipei District Prosecutors' Office yesterday decided to appeal the Taipei District Court's ruling on former Taipei mayor Ma Ying-jeou's (馬英九) corruption case and bring it to the Taiwan Supreme Court.
Ma, the Chinese Nationalist Party's (KMT) presidential candidate, was accused of misappropriating NT$11 million (US$333,000) from his mayoral special allowance fund during his eight-year tenure as Taipei mayor. He was found not guilty of corruption on Tuesday by the Taipei District Court.
Yesterday, Taipei District Prosecutors Office spokesman Lin Jinn-tsun (林錦村) said: "Taipei prosecutors have decided to appeal Ma's case to the High Court."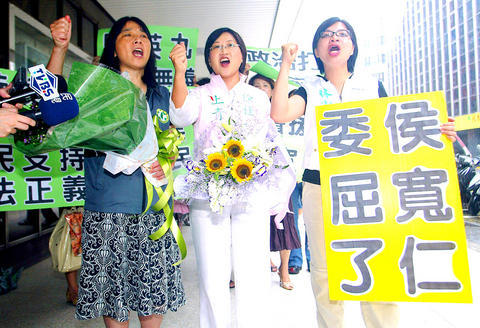 Democratic Progressive Party (DPP) legislators Lin Shu-fen, right, and Huang Sue-ying, center, and DPP Taipei City Councilor Hsu Chia-ching hold up a sign saying that Taipei District Court Prosecutor Hou Kuan-jen had been humiliated. They chanted ''Hou Kuan-jen, go, Ma Ying-jeou apologize'' when paying a visit to Hou at his office in Taipei yesterday.
PHOTO: CNA
The Taipei District Prosecutors Office made the decision after a meeting yesterday afternoon, Lin said.
Reasons for the appeal include the court's interpretation of the definition of special allowances and its criticism of Prosecutor Hou Kuan-jen (侯寬仁), who was in charge of the case, Lin said.
Judges accused Hou of deliberately mistranscribing a trial witness' statements.
Taipei District Court judges are unfamiliar with investigation practices and they misunderstood Hou's actions in the case, Lin said.
In the trial, Ma admitted he had taken half of his monthly special mayoral allowance for personal use, but said he believed that government officials' special allowances should be treated as income, not as public funds.
The court on Tuesday ruled that government officials' special allowances should be treated as a substantial subsidy, or income, so Ma had not embezzled public funds.
Comments will be moderated. Keep comments relevant to the article. Remarks containing abusive and obscene language, personal attacks of any kind or promotion will be removed and the user banned. Final decision will be at the discretion of the Taipei Times.