Three sentenced to death in Iraqi genocide trial
ATROCITIES A cousin of Saddam Hussein was among those convicted for using chemical weapons against Kurdish villages during the war against Iran
Two decades after Iraq's military laid waste to Kurdish villages, the Iraqi High Tribunal yesterday sentenced Ali Hassan al-Majid, known as "Chemical Ali," and two others to death for their roles in the bloody campaign against the Kurds.
Al-Majid, a cousin of executed president Saddam Hussein, was convicted of genocide, crimes against humanity and war crimes for ordering army and security services to use chemical weapons in an offensive said to have killed approximately 180,000 people during the 1980 to 1988 Iran-Iraq war.
The defendants in what was known as the "Anfal" case, for the code name of the anti-Kurdish campaign, had claimed they were acting on orders at a time when the Baghdad leadership, under Saddam, viewed the rebellious, independence-minded Kurds as allies of Iran during the 1980s war.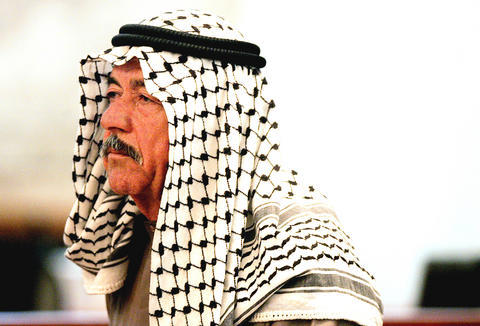 Late Iraqi president Saddam Hussein's cousin Ali Hassan al-Majid, also known as ``Chemical Ali,'' stands in court as he listens to the verdict being pronounced yesterday in Baghdad. He was sentenced to death by hanging for genocide over the mass slaughter of Kurds in 1988.
PHOTO: AFP
Saddam had been a defendant in the case but was executed on Dec. 30 after his conviction for the killing of 148 Shiite Muslims in Dujail after a 1982 attempt on his life.
Al-Majid, who had headed the then-ruling Baath Party's Northern Bureau Command in the 1980s, stood silently for the verdict.
"Thanks be to God," he said as he was led from court.
Two others sentenced to hang for anti-Kurdish atrocities were former defense minister Sultan Hashim Ahmad al-Tai and Hussein Rashid Mohammed, a former deputy director of operations for the Iraqi armed forces.
Interrupting the judge as the verdict was read out, Mohammed said the defendants were defending Iraq against Kurdish rebels.
"God bless our martyrs. Long live the brave Iraqi army. Long live Iraq. Long live the Baath party and long live Arab nations," he said.
Two other former regime officials -- Sabir al-Douri, former director of military intelligence, and Farhan Mutlaq Saleh, who was head of the military intelligence's eastern regional office -- were sentenced to life in prison.
All charges were dropped against Taher Tawfiq al-Ani, a former governor of Mosul, because of insufficient evidence.
As the verdicts were read out in Baghdad, to the north some 10,000 US troops were in their sixth day of a major offensive to oust al-Qaeda fighters from the city of Baqubah.
Brigadier General Mick Bednarek, of the Army's 25th Infantry Division, said troops have cleared about 60 percent of western Baqubah of militants, but Iraqi forces are "not quite up to the job" yet of holding the gains long term.
The operation in Baqubah is part of a quartet of US offensives to oust al-Qaeda groups from the capital's outskirts.
Bednarek said US forces now control about 60 percent of Baqubah's west side, but "the challenge now is how do you hold onto the terrain you've cleared? You have to do it shoulder-to-shoulder with Iraqi security forces. And they're not quite up to the job yet."
Also see stories:

Iraq's orphans struggling with poor care
Comments will be moderated. Keep comments relevant to the article. Remarks containing abusive and obscene language, personal attacks of any kind or promotion will be removed and the user banned. Final decision will be at the discretion of the Taipei Times.