Thousands back saving Losheng Sanatorium
PRESERVE AND PROTECT More than 100 groups took part in yesterday's demonstration, busing people in from around the country to join the rallies
Thousands of people took to the streets of Taipei yesterday to support preserving the Losheng (Happy Life) Sanatorium.
After speeches, musical performances and a play by individuals and groups, the crowd marched 2km from the Chiang Kai-shek Memorial Hall to Ketagalan Boulevard in front of the Presidential Office where another rally followed.
Losheng is a sanatorium in Taipei County completed in 1930 under Japanese colonial rule where thousands of people with Hansen's disease, or leprosy, have been secluded for life.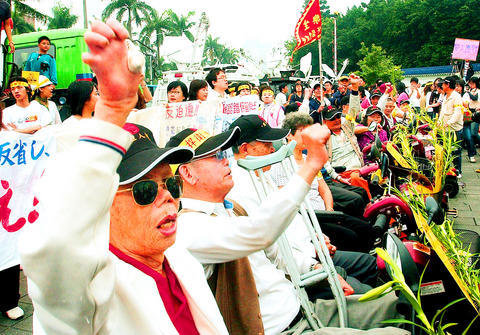 Leprosy sufferers raise their hands and shout during a protest in Taipei yesterday against the government's plan to demolish the Losheng (Happy Life) Sanatorium. Thousands of activists took part in the protest.
PHOTO: CHIANG YING-YING, AP
Plans to tear down most of the buildings to make room for a Mass Rapid Transport (MRT) maintenance depot have sparked heated debate.
The sanatorium still houses 45 elderly lepers who refuse to move.
Last month, the Taipei County Government announced that today would be the deadline for the residents' mandatory eviction.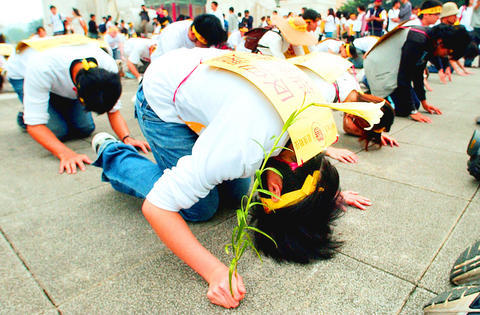 Students kowtow during yesterday's protest in Taipei against the government's plan to demolish the Losheng Sanatorium.
PHOTO:CHIANG YING-YING, AP
However, having faced tremendous public pressure, Premier Su Tseng-chang (蘇貞昌) said last Wednesday that the deadline would be postponed.
Although the premier's decision has given Losheng a temporary reprieve, the sanatorium's future is still uncertain.
"Through the march, we want to put pressure on the government on all levels ? so that Losheng's preservation can be assured," said Hsia Chu-chiu (夏鑄九), a professor of urban planning at National Taiwan University.
A UK-based construction consulting firm has proposed a plan in which 90 percent of the sanatorium's buildings can be preserved with only a few months' delay to the completion of the MRT line.
"Preserve 90 percent of Losheng -- no delay to the MRT" the crowd chanted as they marched.
At the tail end of the march was a group of about 100 "disciplinants," mostly of university students.
Four people leading the team walked while dragging metal barrels with burning coals.
Those who followed kneeled down on the street after every six steps and kowtowed.
"I do so to get a feeling of what it is like to be a disadvantaged person in a society, and to try to feel how hard life was for the elderly people [of Losheng]," said Lou Nai-chieh (樓乃潔), a university student who participated in the disciplinant team.
"I want to thank you all for holding out your hands and offering us your warm help," Chou Fu-tsu (周富子), a Losheng resident, said while kneeling down in front of the demonstrators.
More than 100 civic groups around the nation participated in the demonstration, according to Hsu Po-jen (許博任), a member of the Youth Alliance for Losheng, one of the main sponsors of yesterday's march and rally.
To bring demonstrators from outside of Taipei into the city, the sponsors organized a "Losheng bus" program in which people pooled their money to hire buses.
"There are four buses that brought us here from Kaoshiung and Pingtung," said a demonstrator surnamed Kao from Meinong (美濃), Kaohsiung County.
"We're here to join forces with others and express our opposition to a bad decision," Kao said.
Comments will be moderated. Keep comments relevant to the article. Remarks containing abusive and obscene language, personal attacks of any kind or promotion will be removed and the user banned. Final decision will be at the discretion of the Taipei Times.