APEC ends with vow to revive Doha trade talks
HANOI DECLARATION The leadership summit focused on trade and security issues, but made no mention of North Korea
The 2006 APEC Economic Leaders' Summit concluded yesterday with a joint "Hanoi Declaration" that aimed to construct a secure and favorable business environment and to enhance security.
The declaration also reaffirmed that reviving the Doha Round of global trade talks remained a top priority of APEC and establishing a free-trade area of the Asia-Pacific was "a long-term prospect."
The declaration warned of "grave" consequences if the Doha talks, aimed at slashing trade barriers in order to boost global growth and alleviate poverty, fail.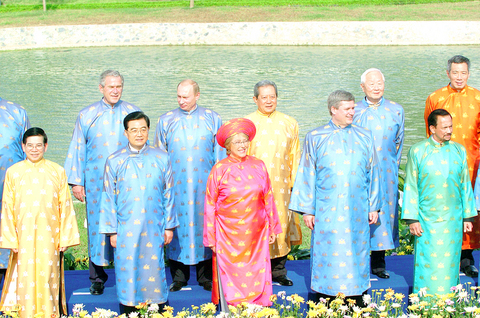 APEC leaders pose for the customary group photo dressed in traditional Vietnamese costume yesterday on an island in front of Hanoi's National Convention Center.
PHOTO: FANG PIN-CHAO, TAIPEI TIMES
"We should, therefore, spare no effort to break the current deadlocks and achieve an ambitious and overall balanced outcome," the declaration said.
APEC also pledged to fight terrorism, weapons of mass destruction and other security threats that jeopardize the region's stunning economic growth.
The declaration, however, included no mention of North Korea's nuclear weapons program, which has dominated proceedings in Hanoi all week.
Vietnamese President Nguyen Minh Triet formally announced the Hanoi Declaration that ended the summit, and then all the leaders, wearing the Vietnamese traditional dress called ao dai, lined up for a group photo outside the National Convention Center.
Different from the body hugging ao dai worn by Vietnamese women, the dress for APEC leaders was tailored to a more loose-fitting shape.
President Chen Shui-bian's (陳水扁) special representative, Morris Chang (張忠謀), said he interacted with each of the leaders present when meeting and taking pictures, particularly with US President George W. Bush, Chinese President Hu Jintao (胡錦濤) and Singaporean Prime Minister Lee Hsien Loong (李顯龍).
Before entering the lobby where Nguyen read the summit declaration, Bush once again showed his friendliness to Chang by chatting with him as they walked toward the photo platform.
Chang told a news conference after the photo session that he and Bush had much in common since he had lived in Texas for 25 years.
Chang described his interactions with Hu as "friendly, warm and constructive."
Chang said that he has "fulfilled all the missions" that Chen assigned him during the APEC meeting, but he declined to reveal what those missions were.
Additional reporting by AP
also see stories:

Russia, US sign trade deal at APEC

Analysts suggest APEC is becoming less important
Comments will be moderated. Keep comments relevant to the article. Remarks containing abusive and obscene language, personal attacks of any kind or promotion will be removed and the user banned. Final decision will be at the discretion of the Taipei Times.