Chao remains free on higher bail
The Taipei District Court yesterday released the president's son-in-law, Chao Chien-ming (趙建銘), on NT$17 million bail (US$518,900) after the Taiwan High Court asked it to review its decision to grant bail to Chao.
On Monday, the high court asked the Taipei District Court to review its decision last week to grant bail to Chao, along with former Taiwan Development Corp (TDC) chairman Su Teh-jien (蘇德建) and businessman Yu Shih-yi (游世一).
Chao's wife, Chen Hsing-yu (陳幸妤), attended yesterday's hearing, making her first public appearance since giving birth to their third son earlier this month.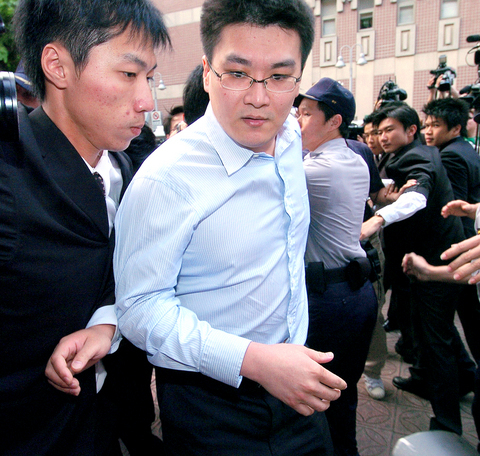 President Chen Shui-bian's son-in-law, Chao Chien-ming, leaves the Taipei District Court after a bail hearing in connection to the Taiwan Development Corp insider-trading scandal. Judges allowed him to remain free on bail, but upped the amount by NT$7 million. Inset, Chao's wife, Chen Hsing-yu, is escorted out of the court after attending the hearing. The hearing was Chen Hsing-yu's first public appearance since giving birth to their third child earlier this month.
PHOTOS: WANG MIN-WEI, TAIPEI TIMES
Prosecutors said they were concerned that Chao might flee the country to avoid trial since he had booked a flight to Japan last month after the scandal broke and a few suspects have been summoned for questioning.
Yesterday morning Chen Hsing-yu issued a statement saying "the plan to take a trip to Japan was my idea, not Chao's. I was annoyed about the media reports saying my mother [first lady Wu Shu-jen (吳淑珍)] was involved in the Sogo Department ownership struggle, so I decided to travel abroad with my husband."
She added that Chao had never planned to flee the country.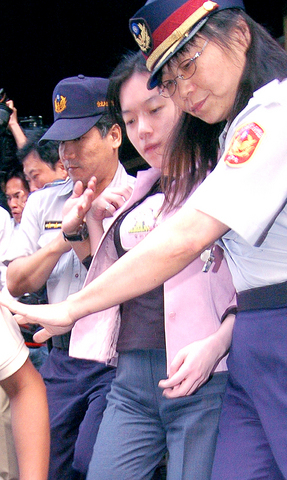 Prosecutors had hoped the three defendants would be ordered into custody again, but if the judges decided to let them remain then at least the amounts of their bonds would be increased.
The hearing began at 4pm and lasted about two hours. At 7pm, the judges decided to allow Chao to remain free, but increased his bond by NT$17 million.
They did not raise the bail for Yu or Su. Yu was freed last week on NT$10 million bail, while Su's was NT$5 million.
Chao was indicted a week ago Monday -- along with his father, Chao Yu-chu (趙玉柱), and three others -- for violating the Securities Transaction Law (證券交易法).
The scandal dates back to last summer, when Su and Chang Hwa Commercial Bank officials dined on two occasions with Chao Chien-ming and Yu at a Japanese restaurant in Taipei. Prosecutors believe they discussed confidential information about TDC.
Comments will be moderated. Keep comments relevant to the article. Remarks containing abusive and obscene language, personal attacks of any kind or promotion will be removed and the user banned. Final decision will be at the discretion of the Taipei Times.