Despite delays, high-speed rail begins test runs
ON SCHEDULE? Despite running into investment problems and delays, Taiwan's bullet train began a series of tests designed to work out technical glitches
After four months of delays, the Taiwan High Speed Rail Corp (THSRC) began its first test run of Taiwan's bullet train yesterday, hoping to begin regular service by the end of October, as orginally scheduled. \n"Only months from now, people in Taiwan will see the trains flying along the west coast of Taiwan," said THRSC chairwoman Nita Ing (殷琪) at a test-run inauguration ceremony at the yet-to-be-completed Tainan station yesterday. "This is a milestone for us." \nOver the next four to six weeks, THSRC will test the train on a 60km-track between Kaohsiung and Tainan, starting at the speed of 30kph, and then gradually gearing up to 120kph. \nKazuo Sato, chairman of the Taiwan Shinkansen Corp, who also attended the inauguration, said the train has passed tests running at 300kph in Japan, and that the company will help THSRC to resolve technical problems, allowing the train to roar along at the same speed on Taiwan's tracks. \nThe 700T train, based on the Japanese Shinkansen 700 Series, has been modified to accommodate Taiwan's environment, and has 12 carriages, including nine motor cars and three trailer cars that can carry a total of 989 passengers. THSRC has ordered 30 complete train sets, which will be delivered to Taiwan by the end of September. \nTHSRC has completed 78 percent of the 345km project, which connects the northern and southern parts of the country, but the progress seems to be slow, given the Oct. 31 deadline for completion that the company has set. \nIng was noncommittal as to whether the company can meet the deadline, saying: "As the leader of this project, I have to have confidence that it will be completed on time ... We can't predict the future, but we will try our best." \nFormosa Plastics Group chairman Wang Yung-ching (王永慶) on Wednesday said that Ing had asked for him to invest in the project, but when asked about this subject, Ing repeated that the company is required to keep the buyers of its preferred shares confidential. \nTHSRC failed to meet its target of NT$7.5 billion (US$236.6 million) in investment by the end of last year, and is keen to find potential investors to resolve its burgeoning financial crisis. \nAccording to Arthur Chiang (江金山), THSRC's vice president of public affairs, the company needs to raise NT$6 billion by the end of March and NT$7.5 billion by May through an issuance of preferred shares, and NT$12.5 billion by September and another NT$12.5 by December through an issuance of common shares. \nIng dismissed media reports that the Taiwan high-speed railway is a hybrid mix of Japanese and European systems with many safety concerns. Chiang explained that THSRC only uses larger turnouts -- a type of track structure necessary for switching to parallel rails -- made in Germany on four steep slopes, as required by the Taiwan High Speed Rail Bureau, while the rest of the parts and components are from the Japanese Shinkansen system. \nThe turnouts have passed tests in Germany, and thus pose no threat to passenger safety, Chiang said.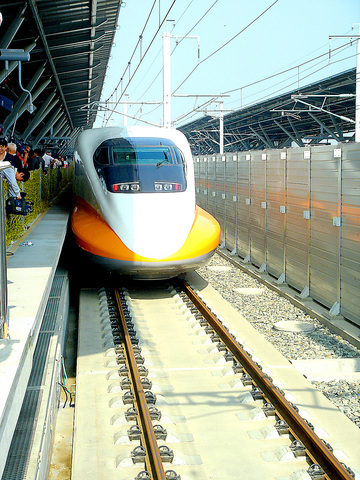 Taiwan High Speed Rail Corp introduces its 700T train at Tainan Station, yesterday. The train will run a series of tests on a 60km-long stretch of track between Kaohsiung and Tainan before official service begins on Oct. 31.
PHOTO: JESSIE HO, TAIPEI TIMES
Comments will be moderated. Keep comments relevant to the article. Remarks containing abusive and obscene language, personal attacks of any kind or promotion will be removed and the user banned. Final decision will be at the discretion of the Taipei Times.