MOFA denies dollar diplomacy claim
DEVELOPMENT AID The minister of foreign affairs said that recent scandal involving Costa Rica's former president and bribes allegedly from Taiwan was an internal affair
Minister of Foreign Affairs Mark Chen (陳唐山) yesterday denied allegations that the ministry was conducting dollar diplomacy under the guise of foreign aid to Costa Rica. \nChen said that the foreign aid was clearly earmarked for specific uses and that he had not even heard of the Friendship Company, an organization believed to have made "donations" on the government's behalf, which is at the center of the controversy in Cosa Rica. \nChen made the remarks in response to inquiries from the media regarding the ministry's stance on former Costa Rican president Miguel Angel Rodriguez' having returned home on Friday to face corruption allegations, after just two weeks as head of the Organization of American States (OAS). \nReports have implicated the ministry's foreign aid programs in the scandal. \n"I don't think these allegations are true. Every country has its own loves and hates in politics. We can't interfere with [Costa Rica's] internal politics. However, from the ministry's point of view, we hope that the aid we give will reach [those who need it.] This is our primary goal," Chen said yesterday, while attending a seminar on global trends in international development. \nChen denied the validity of the allegations, saying that all foreign aid is allocated with funds earmarked with specific goals in mind. \n"In cooperating with our diplomatic allies, there is a set plan. For example, we plan to build a bridge or a hospital. These you can see," Chen said, pointing to the aid that Taiwan had recently given to Grenada to boost that nation's hurricane reconstruction. \n"Foreign aid is given in accordance with set procedures. We sign an agreement with the local government, but what happens for sure, we do not know. For us, none of [the allegations] could have happened ... when something like this comes up, we are completely in the dark because we don't engage in this type of conduct," Chen said. \nHe said that the ministry's embassies in relevant nations would be "working to understand the situation" in more detail. \nHe was unaware of the reported irregularities involving foreign aid funds, saying that he had never heard of the Friendship Company when pressed by reporters. \n"I've never heard of it, never even heard of it," he said. \nRodriguez is accused of improperly taking US$200,000 in 2001 from the foreign ministry, and another US$200,000 in 2002 from the Republic of China Embassy in San Jose, while he served as president, according to Costa Rica's Channel 7 news and La Nacion newspaper. \nThe reports also detail payments of up to US$1 million to the Panama-based firm Denisse from the Friendship Company in 1999. \n"This is their domestic affair and it is not appropriate for me to make comments, especially since they are our diplomatic allies ... I trust that their judicial process will make a decision on the matter," Chen said. \nUpon arrival in Costa Rica on Friday, Rodriguez was detained by officials who want to question him about the allegations that he accepted kickbacks from Taiwan and other sources. \n"I am calm, I am not afraid. I have a lot of faith in God," Rodriguez told reporters on the plane. "I have come back to defend myself and prove my innocence." \nRodriguez is also accused of having pocketed US$500,000 in a scandal involving French telecommunications company Alcatel. Rodriguez admits to having taken US$140,000 on loan. No formal charges have been brought against the former president.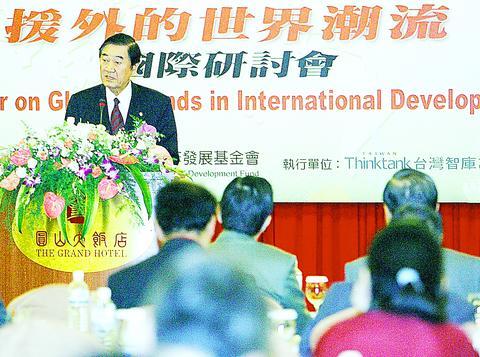 Foreign Minister Mark Chen speaks yesterday morning at a seminar on global trends in international development organized in Taipei by Taiwan Thinktank and the International Cooperation and Development Fund.
PHOTO: WANG YIH-SUNG, TAIPEI TIMES
Comments will be moderated. Keep comments relevant to the article. Remarks containing abusive and obscene language, personal attacks of any kind or promotion will be removed and the user banned. Final decision will be at the discretion of the Taipei Times.