Team Taiwan takes silver in taekwondo
CONSOLATION PRIZE Huang Chih-hsiung hoped to bring back Taiwan's third Olympic gold but, in a fight with a tough Iranian opponent, it was not to be
Huang Chih-hsiung (黃志雄) narrowly missed being the third member of Team Taiwan to bring home a gold medal yesterday, being beaten by Iran's Hadi Saei Bonehkohal in the final of the taekwondo competition's men's under-68kg category at the Olympic Games in Athens. \nNevertheless Hung's silver still marks extraordinary sucess for the nation's taekwondo team, coming in the wake of the victories of his team mates Chu Mu-yen (朱木炎) in the men's under-58kg event and and Chen Shih-hsin (陳詩欣) in the women's under-48kg event on Thursday. \nBack home, the entire country yesterday celebrated the victories of Chu and Chen. President Chen Shui-bian (陳水扁) paid a visit to the home of Chu's family in Taoyuan and Chen Shih-hsin's family in Taipei to honor the two sports heroes' outstanding achievements. \nEncouraged by their teammates' extraordinary success, the 28-year-old Huang and his female teammate, 22-year-old Chi Shu-ju, (紀淑如), also made their attempts to be recognized as the best athletes in their weight categories. \nHuang, was already soething of a national hero after winning numerous gold medals during his 16-year taekwondo career. \nChu fought in the women's under-57kg category. \nHuang easily defeated Egypt's Tamer Hussein with a score of 8-1 during the preliminary round and entered the quarterfinal to fight with Austria's Tuncay Caliskan, who won his first victory by knocking out his opponent with a strong roundhouse kick to the head. \nHuang fell behind Caliskan with a score of 1-3 after the end of first round, but he adjusted his tactics to made several successful offensive kicks to reverse the score at the end of the second round, finishing 6-5. \nIn the final round, Huang used his left foot to achieve three points consecutively, leaving the score 9-6. Then Caliskan began a more aggressive pattern of attacks, which revealed his weak defensive abilities and gave Huang another opportunity to score. \nHuang won the match 10-8, entering the semifinals. \nIn the semifinal round, Huang defeated his opponent, Guatemala's Gabriel Sagastume with a score of 7-5. The first round began slowly, with Huang pulling ahead with a score of 1-0. In the second round, Sagastume gained steam as he and Huang exchanged blows with metronomic regularity, finishing the round with a 4-4 draw. In the final round, Huang adjusted his tactics and adopted a conservative approach, allowing Sagastume to initiate an attack before landing devastating counterblows on his opponent to pull ahead with a four-point lead, which was later reduced by two points on penalties. \nMeanwhile, Chi beat her first opponent with a score of 8-0 in the preliminary round, during which she displayed her lightning-fast roundhouse kicks, also twice landing axe kicks on her opponent. \nHowever, she fought too cautiously during her quarterfinal match with Thailand's Nootcharin Sukkhongdumnoen, resulting in her defeat by one point, with a narrow score of 1-2. \nMeanwhile Thursday's gold medal winners, expressed their appreciation for the support of their countrymen, vowing that they will continue to develop their taekwondo careers to bring the nation further glory. \nHundreds of Taiwanese, who attended the competition at the Pavillion Stadium to cheer on the nation's taekwondo athletes, excitedly yelled the slogan "Taiwan No. 1" to celebrate Chu and Chen's victories. \nThese were Taiwan's first Olympic gold medals. \nThe victory ceremony to raise Taiwan's Olympic flag and sang the National Flag Song which was regulated by International Olympic Committee since 1981, also attracted international media's question of "why couldn't Taiwan use its national flag and national anthem?"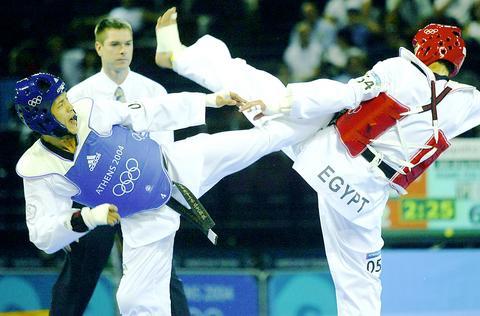 Taiwan's taekwondo fighter Huang Chih-hsiung, left, beats Egypt's Tamer Hussein 8-1 during the first round of the men's under-68kg taekwondo competition yesterday afternoon at the 2004 Athens Olympic Games.
PHOTO: LIN CHENG-KUNG, TAIPEI TIMES
Comments will be moderated. Keep comments relevant to the article. Remarks containing abusive and obscene language, personal attacks of any kind or promotion will be removed and the user banned. Final decision will be at the discretion of the Taipei Times.