Taiwan readies for Typhoon Mindulle
STORM WARNING As fishermen flocked to ports in southern Taiwan, local governments around the nation tested their preparations and told people to be careful
Typhoon Mindulle is expected to cause serious damage to southern Taiwan today and residents should avoid carrying out activities in coastal areas in the southern, southeastern and southwestern parts of the island, according to the Central Weather Bureau yesterday.
All city and county governments announced last night, however, that offices and schools would remain open today.
Nevertheless, late last night the typhoon appeared to have changed course and was likely to head north, directly up the island, perhaps the most dangerous path that it could take.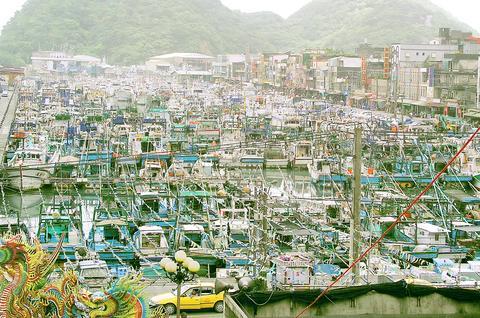 Fishing boats crowd into the fishing port of Nanfangao in Ilan in expectation of rough weather as Typhoon Mindulle approaches the nation.
PHOTO: CHIANG CHIH-HSIUNG, TAIPEI TIMES
Yesterday morning, the bureau issued a land warning for areas including the Hengchun Peninsula, Taitung, Green Island and Orchid Island. In addition, vessels operating in the Bashi Channel, the waters off southeast Taiwan, or in the southern part of the Taiwan Strait should be on high alert against the typhoon, weather forecasters said.
According to the bureau, with a radius of 250km and packing maximum sustained winds of up to 180kph, Mindulle made landfall on Hengchun Peninsula last night and would further bring heavy rains to southern and eastern Taiwan today.
Yesterday morning, more than 20 fishing boats carrying more than 1,000 foreign fishermen were allowed to enter port in Tungkang, Pingtung County, to take shelter from the storm.
Since Kaohsiung was also listed as one of the seriously affected areas as a result of Typhoon Mindulle, Kaohsiung City Government yesterday set up a special task force to tackle possible emergencies.
Residents were reminded of the danger of entering certain coastal areas, including Shitzuwan (西子灣) beach, Chichin and some fishing ports. Those who unwisely insist on carrying out activities near the beach and have to be rescued by the city's task force will be requested to reimburse the government, in addition to being fined up to NT$250,000, officials said yesterday.
Mayor Frank Hsieh (謝長廷) yesterday inspected construction sites for the city's mass rapid transit project. Last month, subsidence at an MRT construction site caused surrounding structures to sink 20cm.
Due to strong winds and high waves outside Kaohsiung Harbor, the ferry services between Kaohsiung and offshore Penghu County were canceled.
The Soil and Water Conservation Bureau under the Council of Agriculture yesterday also established a special task force to monitor rainfall at potentially dangerous sites in mountainous areas and deal with possible emergencies involving landslides and mudflows.
Wu said that people living at such sites should pay serious attention to rainfall readings.
"Once the danger level is reached, evacuation under local government instructions will be the safest choice," the bureau's director-general Wu Huei-long (吳輝龍) said yesterday.
Meanwhile, Water Resources Agency (WRA) Deputy Director Chen Shen-hsien (陳伸賢) yesterday ordered all river administrators be on the alert.
Earlier this year, it was discovered that 95 steel water gates around the nation had been stolen. By yesterday, only four water gates were not in place. However, WRA officials said the situation should cause no immediate danger.
"We've made 49 mobile pumpers available in order to mitigate the danger of possible flooding," Chen said.
Chen said abundant rainfall might ease the impending drought in the south.
Memories of the floods that inundated half of Taipei City during the passage of Typhoon Nari in September, 2001, spurred the Taipei City Government to be on the alert. To determine whether flood prevention measures have been implemented, Mayor Ma Ying-jeou (馬英九) yesterday toured a sewer under Chunghua Road. Last week, nearby streets were flooded suddenly due to heavy afternoon showers.
"The city government will announce potential danger areas vulnerable to floods once the Central Weather Bureau lists Taipei as a seriously affected place," Ma said.
Comments will be moderated. Keep comments relevant to the article. Remarks containing abusive and obscene language, personal attacks of any kind or promotion will be removed and the user banned. Final decision will be at the discretion of the Taipei Times.