`Direct links by the end of 2004': Chen
CROSS-COUNTRY TOUR President Chen Shui-bian said he has a three-stage plan for cross-strait ties. He also wants a higher government debt limit
President Chen Shui-bian (陳水扁) said yesterday he is confident the cross-strait relationship will greatly improve after next March's presidential election and that he has a three-phase project to realize direct links by the end of next year.
"The normalization of the trade relationship between Taiwan and China is a road we must take, especially cross-strait direct flights and shipments," Chen said during a trip to the south with nearly 50 editors-in-chief from local newspapers, magazines and TV and radio stations.
"Now we are in the first stage of preparation on the facilitation of consignment," he said. "And after next year's presidential election, I am confident that I can remove all the barricades and resolve hesitation on the Chinese side [to direct links]."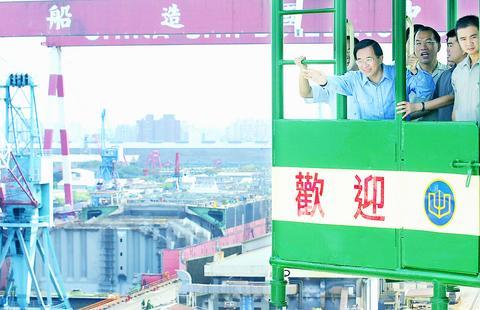 President Chen Shui-bian waves from a cable car during a visit to the China Shipbuilding Corp in Kaohsiung yesterday.
PHOTO: CHANG CHUNG-YI, TAIPEI TIMES
"I believe that the negotiations will be conducted under the principles that Taiwan's security will be preserved and Taiwan's status be respected on an equal level," Chen said.
"In the final stage, both sides will accomplish all negotiations on the direct-links issue and begin to carry out our plans step-by-step. And that time, I believe, will come before the end of next year," he said.
Chen implied that the stagnation of cross-strait relations since he took office was not his fault but should be blamed instead on the pan-blue camp's actions.
The pan-blue camp worked to block the government's cross-strait policy and that was the crucial factor in preventing negotiations on direct links, according to Chen.
"If the KMT and PFP had not tried to have me recalled in 2000, creating instability in society, I believe the situation between both sides of the [Taiwan] Strait would not be what it is today," Chen said.
As a result of political posturing on either side of the Strait, there is little possibility of direct flights or shipments between Taiwan and China before the March election, Chen said.
He said he believes that he will win reelection and that Beijing will then have no choice but to deal with him.
"I think after March 20 everything will be better and then, it [cross-strait stagnation] will change," he said.
As for the economy, Chen said the government should be allowed a higher debt limit in order to increase public spending to boost the economy and create more jobs.
The total national debt amounts to one-third of GDP, far lower than that of several major countries, Chen said.
"It will not be a problem if the government borrows another NT$1 trillion under the current circumstances," he said
The government has drafted a five-year infrastructure plan costing NT$500 billion, which, if approved by the Legislative Yuan, would be mainly funded with money from the private sector.
The Public Debt Law (公債法) allows the central government to borrow up to 15 percent of its annual budget, but the government deficit is projected to amount to 17.04 percent of this year's budget.
Chen's trip with top media officials was part of an effort to showcase the government's progress on infrastructure and economic development over the last three years.
Chen reiterated that the government would strengthen its efforts to attract foreign investment.
He announced on July 7 that the government would, in the near future, scrap a US$3 billion cap on single qualified foreign institutional investors (QFII) in the nation's stock market.
As a small economy, more foreign investment would greatly help the process of internationalization and liberalization of Taiwan's economic development, Chen said yesterday, adding that he continued to work on this issue.
Comments will be moderated. Keep comments relevant to the article. Remarks containing abusive and obscene language, personal attacks of any kind or promotion will be removed and the user banned. Final decision will be at the discretion of the Taipei Times.