KMT seeks to recall new Kaohsiung council speaker
FIASCO The party has been trying to dissociate itself from `black gold' politics, so its chairman was not pleased to see councilors vote for Chu An-hsiung
KMT Chairman Lien Chan (連戰), yesterday ordered his party members to unseat the newly-elected Kaohsiung City Council Speaker Chu An-hsiung (朱安雄), citing his controversial "black-gold" background and alleged vote-buying in his campaign for the speakership. \nChu, an independent city councilor, was elected as the council's speaker Wednesday with support from KMT, PFP and independent councilors. \nBoth Lien and PFP Chairman James Soong (宋楚瑜) made public apologies for the behavior of their city councilors in supporting Chu. \nLien ordered an investigative task force led by party vice chairman Vincent Siew (蕭萬長) to report within a week concerning any part played by KMT councilors in rumored election-related bribery. \n"For the past three years, it has been the KMT's primary reform task to eradicate relations with the `black-gold' circles," Lien said yesterday in a press conference. \n"Several ... city councilors, however, broke the party's anti-black-gold rule and this has caused tremendous harm to the party as well as the country," Lien said. \nKMT Secretary-General Lin Fong-cheng (林豐正) said the party would pull out all the stops in the campaign to recall Chu. \nLin stressed that "if any KMT councilor refuses to sign the recall motion, he or she will have problems." \nMany KMT and PFP lawmakers also backed Lien's demand for Chu's recall. \nAccording to the Local Government System Law (地方制度法), however, a city council speaker can be recalled only if he has been in office for more than one year. \nThe KMT's legislative caucus yesterday said it would propose a revision of the law to change this requirement. \nMeanwhile, the KMT's re-elected Taipei Mayor Ma Ying-jeou yesterday said he felt bitter about the alleged election bribery. He said this was a setback for the KMT, which has made an effort to separate itself from groups peddling influence through tainted funds. \n"No matter how bad an administrative performance the ruling DPP has shown, if we cannot succeed [in eradicating "black-gold" politics], people will not support the KMT," Ma said. \nHe also voiced support for Lien's decision to punish severely those involved in vote-buying in the council speaker election. \nJames Chen (陳健治), director of the KMT's Organizational Affairs Department, yesterday resigned to take responsibility for the speaker election fiasco. His resignation was approved by party headquarters. \nThe director of the KMT's Kaohsiung office, Pan Chia-sen (潘家森), also resigned for failure to pass down the party's instructions telling the councilors to vote for themselves instead of Chu. \nPFP Chairman Soong agreed to support the KMT's campaign to recall Chu. \nSoong also ordered the suspension of the party memberships of all six Kaohsiung PFP councilors, as well as the immediate halting of the operations of the PFP's Kaohsiung City Council caucus and the setting up of a group to investigate alleged vote-buying. \nHe also announced that the party's secretary-general, David Chung (鍾榮吉), would resign to shoulder the responsibility. \n"The PFP's six councilors voted in a way that is seriously contrary to the public's expectations. The party will dole out severe punishments to negligent councilors and even expel them from the party," Soong said in a press conference. \nIn response to Lien's move to initiate a recall, the newly elected Chu yesterday said that "there is nothing to say about it... as I have just been elected." \nAlso see stories: \nLegislators blame leaders for crisis \nChu crisis shows the people hate black-gold politics \nDPP slams KMT proposal to fire Chu \nChu's poll victory sparks battle over slow court cases \nVote-buyers allegedly used code words while `shopping' \nEditorial: Black gold is a hard habit to break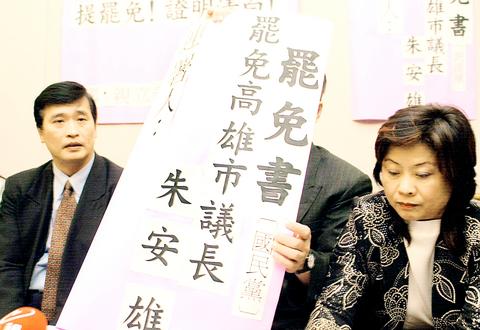 PFP and KMT lawmakers present their plans to initiate a signature campaign for the recall of Kaohsiung City Council Speaker Chu An-hsiung yesterday.
PHOTO: LIAO CHENG-HUEI, TAIPEI TIMES
Comments will be moderated. Keep comments relevant to the article. Remarks containing abusive and obscene language, personal attacks of any kind or promotion will be removed and the user banned. Final decision will be at the discretion of the Taipei Times.