Excited E Timorese raise world's newest flag
BIRTH OF A NATION After three centuries of Portuguese colonial rule and 24 years of brutal Indonesian occupation, East Timor officially became independent last night
East Timor, a land long brutalized by foreign occupiers, was declared independent last night in a joyous ceremony in the seaside capital of Dili, and took its place among the community of nations.
The world's newest country came into being with a solemn declaration of independence by parliamentary speaker Fransisco Guterres and a speech by UN Secretary General Kofi Annan.
"I declare the establishment of the Democratic Republic of East Timor as an independent and sovereign state," Guterres said. "Glory to the heroes of our liberation."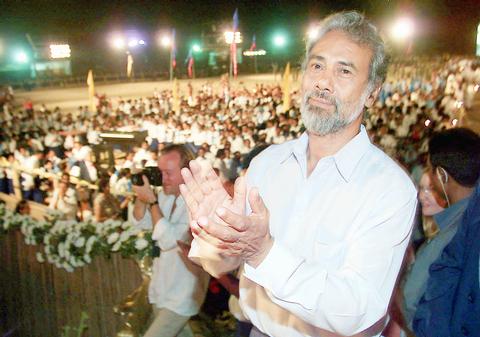 Former East Timor guerrilla leader Xanana Gusmao stands on stage during a special independence-day mass near Dili yesterday. Gusmao later was sworn in as the first president of the new nation.
PHOTO: REUTERS
Minutes later, former guerrilla commander Xanana Gusmao was declared the country's first president. Last month, the 55-year-old poet won the overwhelming majority of votes in a UN-supervised presidential election.
"Independence! As a people, as a territory, as a nation! One body, one mind, one wish!" Gusmao said, in a prepared speech. "Our independence will have no value, if all the people in East Timor continue to live in poverty and continue to suffer all kinds of difficulties."
The blue UN flag was lowered by a peacekeeper. The new national flag was escorted into the arena by a platoon of soldiers from East Timor's nascent defense force. It was raised as a choir sang East Timor's national anthem.
"I salute you -- people of East Timor -- for the courage and perseverance you have shown," Annan told an exuberant crowd as the UN officially transferred authority over the half-island territory.
"Yours has not been an easy path to independence," Annan said. "You should be very proud of your achievement. That a small nation is able to inspire the world and be the focus of our attention is the highest tribute that I can pay."
Thousands of East Timorese smiled, cheered and hugged each other in an outpouring of emotion marking the end of four centuries of Portuguese colonial rule, 24 years of brutal Indonesian occupation and two and a half years of interim rule by the UN.
Thirty minutes earlier, Indonesian President Megawati Sukarnoputri arrived at the venue accompanied by Gusmao. They held hands and raised them aloft, as the crowd cheered and clapped.
Attending the festivities were former US president Bill Clinton, who officially represented the US, Australian Prime Minister John Howard and Portuguese President Jorge Sampaio.
Jose Ramos-Horta, the new East Timorese foreign minister who shared the 1996 Nobel Peace Prize with Bishop Carlos Ximenes Belo, told reporters that now is a time for "peace, tolerance and forgiveness."
"We are very happy. We are a proud and simple people who deserve peace, who deserve freedom," he said.
Comments will be moderated. Keep comments relevant to the article. Remarks containing abusive and obscene language, personal attacks of any kind or promotion will be removed and the user banned. Final decision will be at the discretion of the Taipei Times.