Fire disrupts shopping at megamall
A fire disrupted business at the Core Pacific City (京華城) shopping mall in Taipei yesterday afternoon, renewing questions about the facility's safety.
Taipei City Fire Department officials have ordered the shopping center to remain closed until the cause of the blaze is confirmed and an emergency safety inspection is carried out.
The facility is forbidden to open its doors until the inspection is complete, Chang Po-ching (張博卿), the fire department director said.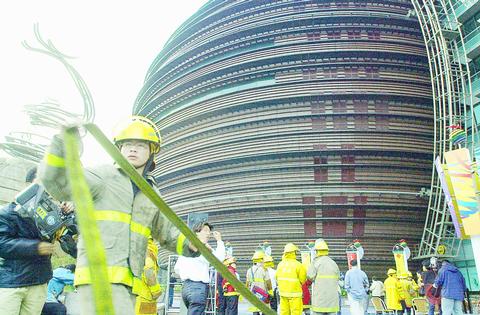 A firefighter organizes his equipment outside the Core Pacific City shopping mall in Taipei after a fire was put out yesterday afternoon.
PHOTO: CHIANG YING-YING, TAIPEI TIMES
The blaze was the first in the mall since it opened at the end of last year.
After the mall's fire alarm system was triggered, the shopping center was evacuated. No casualties were reported.
The Taipei City Fire Department deployed ladder trucks to put out the blaze as heavy smoke filled the 15-story, sphere-shaped shopping mall.
The fire department confirmed that the blaze broke out in the electricity room on the third floor of the center and that it was extinguished about 30 minutes later.
There were an estimated 20,000 people in the mall when the fire broke out, Juan Hsin-yi (阮信義), deputy director of the mall's business department said.
Juan said there were fewer people than normal in the center at the time because the Lunar New Year holidays had just ended and it was not peak shopping time.
On weekdays, the average number of customers in the center is 60,000, while that figure jumps to over 100,000 during weekends and on holidays, according to a Chinese-language report.
The 44,000-ping (145,000m2), 1,000-retailer Core Pacific City has attracted a great deal of attention since it opened its doors last year amid some controversy.
The facility opened to the public despite lacking an operating license.
The mall then failed to pass the city's safety inspection one month before its "official" opening day on Dec. 20.
The mall was finally granted an operating license by the city government on Dec. 19.
It was the first shopping center in Taiwan to provide round-the-clock service.
Comments will be moderated. Keep comments relevant to the article. Remarks containing abusive and obscene language, personal attacks of any kind or promotion will be removed and the user banned. Final decision will be at the discretion of the Taipei Times.