DPP to mull independence stance
DPP heavyweights announced yesterday that they intend to propose amendments to the party's charter that would remove its founding pro-independence principles.
Senior officials said the proposal would be taken up at the party's central advisory committee meeting today, where they would put the removal of the "independence guidelines" on the table in an attempt to counter claims made during the election that the DPP's policies were dangerous.
"The independence guidelines should be regarded as a historical document and words such as `establishing the Republic of Taiwan' should be deleted," said Chen Chao-nan (陳昭南), a member of the central advisory committee.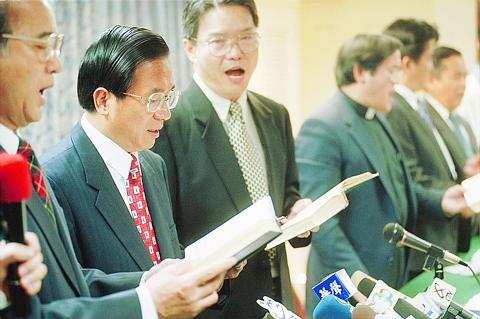 President-elect Chen Shui-bian sings psalms with pastors and their congregation at the Presbyterian Church yesterday.
PHOTO: CHEN CHENG-CHANG, TAIPEI TIMES
He stressed that Taiwan's independent sovereignty has already been carried out by democratic developments, under which Taiwan-ese can now elect their own president freely and have already established a democratic legislature.
Chen said that the independence guidelines had become a weakness for the DPP, forcing its candidates onto the defensive in elections.
It is also a thorny issue in President-elect Chen Shui-bian's (陳水扁) efforts to improve cross-strait relations.
"The main point of our guidelines is `to use plebiscite measures' to establish an independent sovereign Republic of Taiwan," Chen said.
"Now we only need to delete `Republic of Taiwan' and `to rewrite the constitution' and then add `to firmly establish an independent sovereign and autonomous country, while any changes to the status quo should be decided by plebiscite.'"
Vice President-elect Annette Lu (呂秀蓮) echoed the same view yesterday by saying the Taiwanese people should encourage the DPP's plans to change its tactics, so that it can react better to the international community.
"It proves that the DPP is not a rigid party and realizes the importance of changing in order to face both the rest of the world and Taiwan's own society," Lu said.
President-elect Chen, meanwhile, made an appeal to Chinese leaders yesterday during a Presbyterian Church service in Taipei, saying that only with a considerate, humble heart can they truly seek peace in the Taiwan Strait.
Leaders of the DPP's Justice Alliance faction, organized by the president-elect in 1993, said that they agreed with the proposal to modify the pro-independence guidelines, but that the proper thing to do would be to revise all the party's guidelines, instead of focusing on one particular part.
"We should not only solve problems after they occur," said DPP legislator Chen Chi-mai (陳其邁).
"We should offer a complete plan to modify our party guidelines in order to create a new image," he said.
Comments will be moderated. Keep comments relevant to the article. Remarks containing abusive and obscene language, personal attacks of any kind or promotion will be removed and the user banned. Final decision will be at the discretion of the Taipei Times.