Tunghsing rescue arouses hopes
SURVIVORS For nearly six days, two brothers stayed alive on rotten fruit, stale water and their own urine, deep beneath the ruins of Taipei's Tunghsing building
For nearly 130 hours, Liu Luan (柳鑾) had been praying, without a moment's sleep, next to the site of the collapsed Tunghsing building (東星大樓) in Taipei. Yesterday, she said, Buddha had answered, as her two missing sons were both pulled from the rubble -- just as rescue workers had all but given up hope of finding any more survivors.
Rescuers must have certainly thought that what they were seeing was a manifestation of divine intervention, as Sun Chi-kuang (孫啟光), Liu's 20-year-old son, walked out unaided through a tunnel dug by them to announce his presence at 11:15am.
Sun's father, Sun Cheng (孫証), said he could hardly recognize the man -- half-naked and clearly emaciated -- as his youngest son.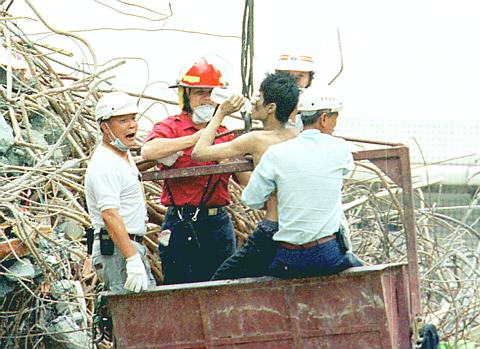 Sun Chi-kuang gets a drink from rescue workers after crawling out of the rubble of the Tunghsing building yesterday in Taipei, where he was trapped for 130 hours.
PHOTO: YEH JEN-HAO, LIBERTY TIMES
Even Deputy Mayor Ou Chin-der (歐晉德), who was in charge of the rescue operation at the site, said he had mistaken the young man for a fire crew member when he saw him standing at the entrance to the tunnel.
"I was stunned for a while when I saw him. Then he shouted out that his brother was still inside. Then I asked him who he was," Ou said. "He told me he was Sun Chi-kuang, a survivor."
Sun looked in fairly good health as he flashed a smile to rescuers and his approaching relatives, before being lifted down off the rubble by a crane.
About 20 minutes later, his elder brother, Sun Chi-fong (孫啟峰), 25, was lifted out of the rubble by rescue workers to a loud cheer from relatives and friends of those who may still be trapped in the wreckage.
Mayor Ma Ying-jeou (馬英九), after a brief chat with Sun Chi-kuang, quoted the young man as saying that the pair had been playing poker when the destructive quake hit their home last Tuesday. They had dived under a table, which had spared them injury from falling debris.
"He told me that he and his brother survived by eating rotten apples from a refrigerator buried with them, and by drinking mineral water and rain -- actually, it was the water we sprayed on the site through fire hoses -- as well as their own urine," Ma said.
Su Tsun-jeng (蘇忠仁), a doctor at the Armed Forces Sungshan Hospital where the brothers were sent, said that aside from smoke inhalation, dehydration and low body temperatures and blood pressure, the two were in a stable condition.
The rescue raised hopes among other relatives standing at the site that their loved ones could still be saved, and reinvigorated rescuers continued to fight against the clock, even with the specter looming of frightening aftershocks, which rocked the site yesterday.
The deputy mayor, who had been responsible for saving the lives of at least two people on the operation's first day, said the Sun brothers' survival had raised the morale of the rescue team. "We were greatly encouraged. We've always had hope. But as we saw bodies lifted from the rubble hour by hour, it was disheartening," he said.
"Now that we have seen these two men emerge from the rubble in sound health, our fatigue accumulated over the past 100 hours is gone," he said.
Ou said he had asked the younger brother to help identify his precise position in the wreckage and whether he had heard any sounds from other possible survivors still trapped in the darkness. "He said he heard the voice of an old woman, as well as the sound of how she opened a bottle of mineral water coming from a certain direction, about one or two days ago," he said.
Although doubts were obviously raised about Sun's orientation, especially in the dark, the rescue team threw its weight into pushing through the ruins in the direction Sun had pointed, in the hope of finding other survivors.
News of the recovery even prompted the Japanese team to return to the site at around 2:30pm.
But as waiting relatives moved out of an indoor resting area to sit directly opposite the wreckage, craning their necks to look for any more signs of life, they were to be disappointed as four more bodies were pulled from the ruins.
As of 10pm yesterday, the death toll at the site had reached 51, with about 50 believed to be still trapped, city officials said.
With night falling, however, no one was about to give up and rescue teams continued their toil. Anxious relatives continued to pray, hoping against the odds that the next miracle would be theirs.
Sun's mother, who later returned to the site to encourage her counterparts, brought them a message of strength: "I simply want to tell those who are still waiting that we've got to have hope."
Comments will be moderated. Keep comments relevant to the article. Remarks containing abusive and obscene language, personal attacks of any kind or promotion will be removed and the user banned. Final decision will be at the discretion of the Taipei Times.