Highways & Byways: Exploring Nantou's 99 peaks
Jioujiou Peaks Nature Reserve, created after the massive destruction of the 921 Earthquake, immerses hikers in nature
Last week, I went to Jioujiou Peaks Nature Reserve (九 九峰自然保留區) in Nantou County's Caotun Township (草屯鎮). At least, I think I did. I can't be sure, because I haven't been able to find a sufficiently detailed map of the reserve, and during the morning I spent in the area, I didn't see any unambigious boundary markers.
Not knowing precisely where the reserve begins wouldn't matter so much, but for the warning I saw on a bilingual signboard. Those who enter without authorization may be fined between NT$30,000 and NT$150,000, while those who "damage or alter natural conditions" or collect specimens face an additional fine of NT$200,000 to NT$1 million.
So even if I was positive I'd been inside, I'd be wise not to admit to the fact in a newspaper article. Or perhaps it wouldn't matter in the slightest. I've browsed several Chinese-language blog posts about this corner of Nantou, and none mentions getting a permit.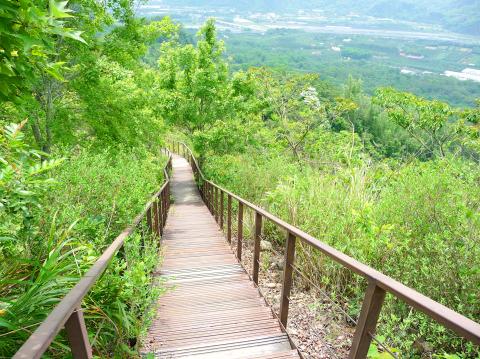 The well-maintained 99 Peaks Forest Trail includes sections of wooden stairs.
Photo: Steven Crook
I approached the area from the southwest by bicycle. Avoiding the busier roads in the center of Caotun, I joined Highway 14 where it points directly at the distinctively steep hills of Jioujiou Peaks. The Chinese toponym implies there are 99 peaks; there are certainly more pinnacles than I could count.
Highway 14 crosses the Wu River (烏溪), runs parallel with Freeway 6 for just under 2km on its northbank, then crosses back over to the southbank. Just east of Shuangdong Police Station (雙冬派出所), I found the turnoff to Shihjhuo Bridge (石灼橋). Crossing the river once again, I followed the signs for the Caotun Bike Trail Jioujiou Peaks Branch (草屯自行車道九九峰支線) and made my way north up a rough, steep and narrow road called Jhongsin Lane (中心巷).
There was a dry-as-dust creekbed to my left. To my right, some of the land was used to grow fruit. I stopped to examine a pile of sawdust-like matter dumped beside the road. When I spotted a few mushrooms mixed in with it, I realized that it was spent substrate from a mushroom farm, a concoction that usually includes rice bran, and which some farmers use to improve soil texture.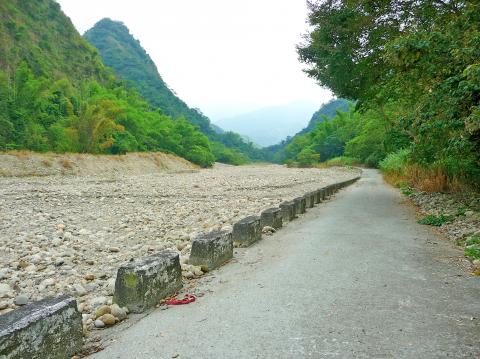 Looking downstream near (or perhaps within) Nantou's Jioujiou Peaks Nature Reserve.
Photo: Steven Crook
Some 1.6km beyond Shihjhuo Bridge, I came to the signboard and another bridge. By crossing the bridge, was I entering the nature reserve? A sign said the biking route ended here, but there was no gate or barrier. I kept going on a concrete track that stayed very close to the creek, slowing often to avoid small rocks, distracted by the sheer number and variety of butterflies.
I felt immersed in nature. I couldn't see another soul, and I couldn't hear a single motor vehicle. But the garbage made me think I hadn't yet reached the nature reserve — or, if I had, that it isn't well maintained or policed. Later, when I was leaving, I took with me more than a dozen plastic bottles, plus several coffee cans.
After another 1.7km, the road began to climb away from the creek. I parked my bike and proceeded on foot. In darker corners of the forest, I found a variety of ferns and several fine specimens of Elephant Ear. According to a Forestry Bureau Web page, the canopy here includes longan and lychee trees, Trema orientalis (a relative of the hemp sometimes called the Indian charcoal-tree), Taiwan copperleaf (Acalypha angatensis) and bamboo.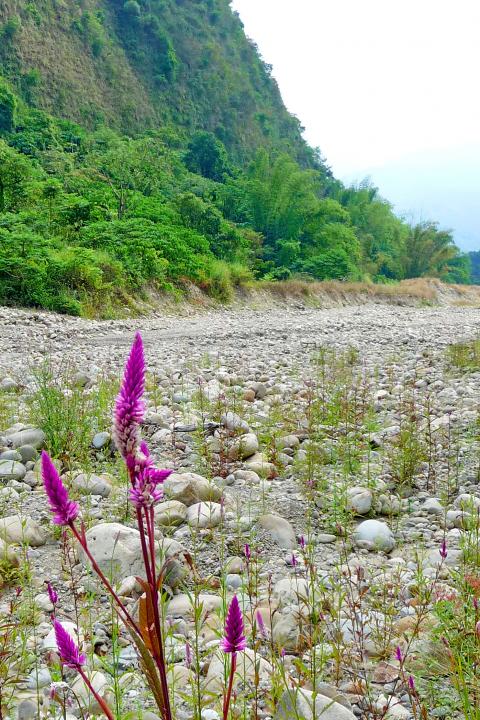 Despite the creek drying up, colorful wildflowers thrive around the nature reserve.
Photo: Steven Crook
AFTER DARK
If you were to explore the reserve at night, you might spot a Taiwan ferret badger (Melogale moschata subaurantiaca). Some years back, researchers were surprised to find here the goat-like Taiwan Serow (Capricornis swinhoei), which usually lives at higher altitudes and further from humanity. I didn't see any Formosan rock macaques (Macaca cyclopis), but I heard them crashing through the canopy, and I saw their feces on the road.
I hiked as far as I could, which was less than a kilometer. Freewheeling back toward civilization, I stopped again at the signboard to see what else I could glean from it. In some respects, it's very informative. The 921 Earthquake, which ravaged central Taiwan just over 20 years ago, shook loose layers of compacted gravel. When they slid, they dislodged topsoil and foliage. Overnight (the quake struck at 1:47am) the once-verdant Jioujiou Peaks became mostly bald.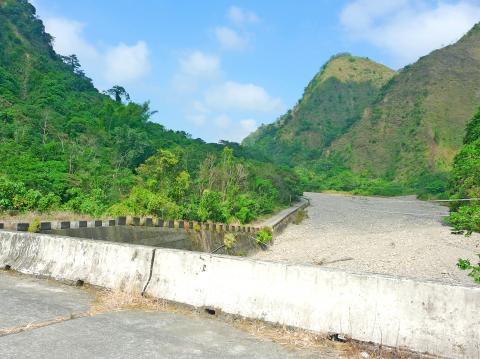 Jhongsin Lane, which provides access to the nature reserve, is ideal for mountain bikes.
Photo: Steven Crook
Recognizing the distinctiveness of the landscape, and realizing that the environment wouldn't recover unless it were protected, less than a year after the disaster the Council of Agriculture created this reserve. The highest point is 780m above sea level, the lowest is at 200m, and the entire reserve covers 1,198 hectares.
The authorities also created an official hiking trail, which I visited before the summer. This 1.93-km-long path begins near Pinglin Elementary School (平林國小), around 3km to the west of Shihjhuo Bridge as the crow flies; look for signs reading "99 Peaks Forest Trail" (九 九峰森林步道).
The 99 Peaks Forest Trail climbs from 280m above sea level to an elevation of 485m. I spent about two hours doing a full circuit, which gave me plenty of time to enjoy views toward the nature reserve and also over central Caotun. There's a good amount of shade along the way, and enough steps to give your legs a proper work-out.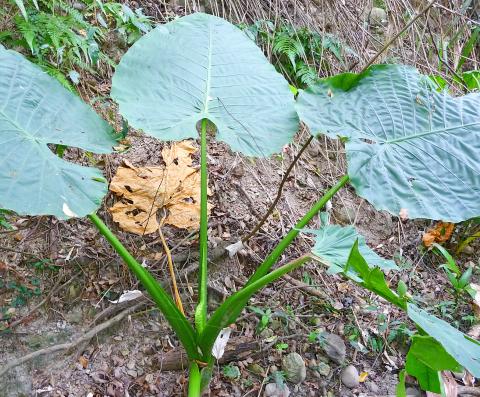 Elephant ear growing inside the forest at Nantou's Jioujiou Peaks Nature Reserve.
Photo: Steven Crook
Located between the trailhead and Highway 14, Yu-Hsiu Museum of Art (毓繡美術館) is sometimes worth a look. Even if the art isn't your thing, you'll appreciate the air-conditioning and clean bathrooms. For details of current and upcoming exhibitions, visit www.yu-hsiu.org.
Steven Crook has been writing about travel, culture, and business in Taiwan since 1996. He is the co-author of A Culinary History of Taipei: Beyond Pork and Ponlai, and author of Taiwan: The Bradt Travel Guide, the third edition of which has just been published.
Publication Notes
IF YOU GO
GETTING THERE
>> If you're not driving or riding, the #6670 bus from Taichung High-Speed Railway Station is one of the more convenient ways of getting to Shuangdong Elementary School (雙冬國小), a few hundred meters from Shihjhuo Bridge, or to Siapinglin (下坪林), a 20-minute walk from the start of the 99 Peaks Forest Trail. Travel time is around 45 minutes. When boarding the bus, make sure it'll take Highway 14, as some #6670 services use Freeway 6 and bypass these stops.
Comments will be moderated. Keep comments relevant to the article. Remarks containing abusive and obscene language, personal attacks of any kind or promotion will be removed and the user banned. Final decision will be at the discretion of the Taipei Times.