Restaurant Review: Like home, but fancy
Three options that elevate humble local favorites to restaurant settings
Visitors to Taiwan tend to come with high expectations of the food, satisfying them in night markets, rechao restaurants and around vats of molten mala hotpot. These are all time-tested gems essential to the local gastronomic experience, especially washed down with Gold Label Taiwan Beer.
We all need our casual, chaotic regular haunts, but that's far from the complete picture of Taiwan's cuisine. Lately, when friends come to town, I've been looking for places where they can see a different side to local food and culture — one that's a little more urbane and inventive, while remaining rooted in local ingredients and cooking techniques.
I visited three joints that take homely foods from roadside stalls and paper lunchboxes into the air-conditioned refuge of a restaurant to answer the question: are they making substantive changes, or are they just putting old wine in new bottles?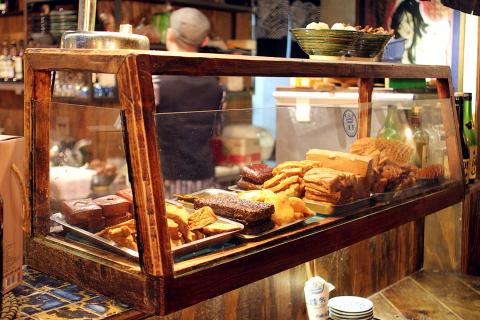 Luwei ingredients are laid out in an old-fashioned display counter at Zhanan Bistro.
Photo: Davina Tham, Taipei Times
MEOWVELOUS TAIPEI FAN CLUB
Meowvelous' crew of service staff — dressed in the vests, bow ties and bistro aprons of Parisian waiters — is possibly the highest concentration of "T" (or butch) ladies in one place, second only to the pride parade's lesbian after-party.
This is not at all a bad thing. It has given the decade-old Meowvelous staying power in the hearts of young queer and queer-adjacent hipsters, who invariably cause a full-house situation on Friday and Saturday nights. Reservations are a must.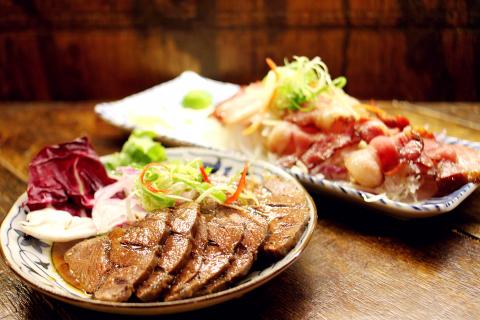 Chase the drinks with luwei braised beef and grilled Iberico pork belly at Zhanan Bistro.
Photo: Davina Tham, Taipei Times
To be precise, the space actually consists of two parts — the restaurant, Meowvelous Taipei Fan Club, and bar, Club Boys Saloon — although in practice they operate seamlessly within the same large dining hall.
A prime example of the kind of innovative home-style dishes that Meowvelous excels at is the chicken chopped salad (NT$340), a refreshing presentation of local "saltwater" poached chicken (鹹水雞) that's been helpfully deboned and mixed with crunchy raw cucumbers and a light scallion, ginger and soy sauce dressing.
Another is the hotpot rice, actually a kind of Asian risotto, topped with savory green pesto and fresh seafood (NT$380). And thinly-sliced salty and spiced pork rump (NT$360), paired with pickles and mayonnaise, whets the appetite for a light Sunmai Pilsner brewed exclusively for Meowvelous.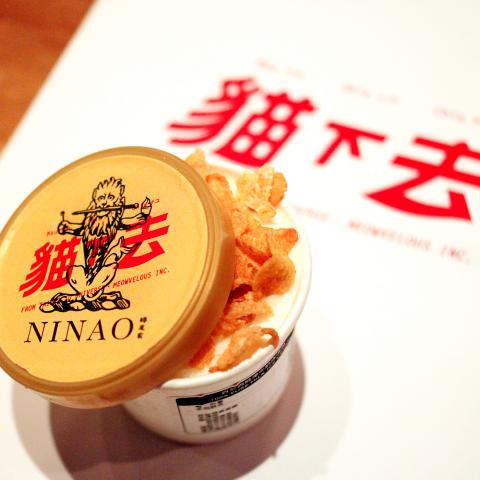 Milk ice cream from Tainan's famed Ninao Gelato at Meowvelous.
Photo: Davina Tham, Taipei Times
Classics are done well too. Taiwanese-style roast chicken (NT$680 for half a bird) is a reliably impressive main, while the meaty mapo tofu (NT$340) begs for a bowl of white rice.
Others are less successful. Deep-fried pork chop on rice cooked in chicken stock (NT$360) is just a little too ordinary, while "signature" egg noodles with roasted duck (NT$340) lack springiness and depth of flavor.
The cocktail menu is literally a work of art. Aside from long, irreverent names, each drink also gets a customized illustration. I feel vaguely insulted just reading about the "chubby nerd and her red red raspberry" cocktail (NT$360) — accompanied by a drawing of a woman's topless torso — but order it anyway, enticed by the combination of whiskey, cilantro kaoliang, raspberries, Earl Grey syrup, lime juice and orange bitters.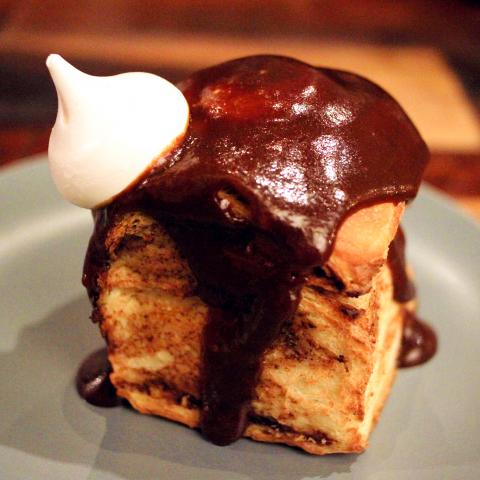 Dessert at Peacock Bistro is a cinnamon roll from neighboring bakery Salt Peanuts.
Photo: Davina Tham, Taipei Times
It ends up tasting sweet in an unpleasant, cough-syrupy way, and I gather from my dining companions that some other cocktails also tread that line. Similarly, a dessert of milk ice cream with cornflakes — a collaboration with famed Tainan ice cream shop Ninao Gelato (蜷尾家) — is too sugary.
Despite the hit-and-miss nature of Meowvelous' menu, I've been back several times just by the fact that some dishes here can't be found anywhere else, and I've yet to finish exploring the extensive menu. The playful atmosphere also makes it one of the quirkier dining experiences through which to welcome friends to Taipei.
Mewovelous Taipei Fan Club (貓下去敦北俱樂部), 218, Dunhua N Rd, Taipei City (台北市敦化北路218號); open Tuesdays to Sundays, 11am to 3pm and 5:30pm to midnight, closed Mondays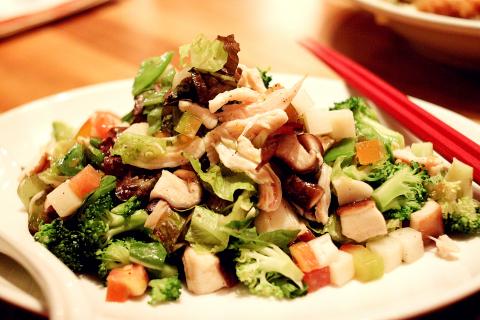 Chopped "saltwater" chicken salad is a refreshing fusion dish at Meowvelous.
Photo: Davina Tham, Taipei Times
ZHANAN TAIWAN BISTRO
Zhanan (渣男) is a colloquialism used to describe a bad boy, and it seems no coincidence that the gastropub is a favorite among girlfriends. With the chiaroscuro of a Japanese speakeasy and a background soundtrack of Jacky Cheung ballads (張學友), it's the perfect place to chase down heartbreak with a drink.
My lychee and plum cocktail (NT$250) has an appetizingly tart edge delivered by a rim of puckering sour plum powder. There is also a wide selection of bottled beers, fruit-infused spirits and whiskeys.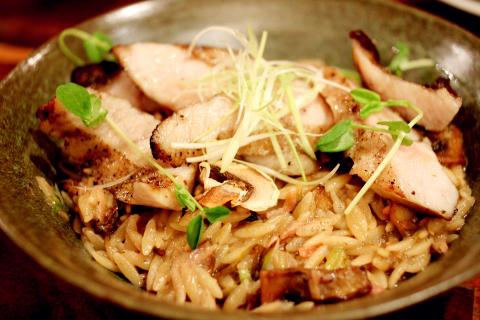 Smoked pork neck with orzo pasta at Peacock Bistro.
Photo: Davina Tham, Taipei Times
Zhanan specializes in grilled and braised foods, contributing its own clean and careful cooking and presentation of old-school dishes. Luwei (滷味) braising liquid has imparted deep flavor to beef shank (NT$120), which is artfully sliced and shingled on a plate. Groups of luwei lovers can go for the platter (NT$360 or NT$540), which includes beef tripe, tofu and pig's blood cake, among others.
Grilled pig's intestines (NT$120) are crispy and fatty at first, their chewiness becoming more prominent over time. The food is aggressively salted, as can be expected from a watering hole, and pairs well with the velvety sweet potato rice gruel (NT$50).
I also appreciate the fact that there is a wider selection of vegetables than just overcooked boiled greens, which tends to be the case in most mom-and-pop joints. Crisp red tomatoes dressed with gingery brown sugar (NT$60) are a combination I haven't seen before, but they work well together.
Zhanan Taiwan Bistro (渣男), 2, Alley 3, Lane 179, Nanjing E Rd Sec 4, Taipei City (台北市南京東路四段179巷3弄2號); with other locations in Wenshan (文山), Xinyi (信義) and Zhongzheng (中正) districts; open daily, 5:30pm to 1:30am
PEACOCK BISTRO
The best thing Peacock Bistro has going for it is its location in the heart of Dadaocheng, shoulder-to-shoulder with other purveyors of modern-spun tradition. Walking beyond the street-facing entrance into a balmy, leafy courtyard, the restaurant sits farther inside, in a dignified stone building. The food and drink, unfortunately, are far less inspired than the location.
Peacock Bistro has the lazy habit of introducing Eastern and Western elements to each other, and then not doing much more to make sure they actually hit it off. Take for example the salted pork hock salad (NT$350), which remains a disparate meeting of leaves and large chunks of pork with a five-spice dressing. They might as well be two separate dishes.
There's an effort to showcase the best of local produce even in basic sides like the fried wedges (NT$280), with the menu detailing the use of Tainong (台農) 57 golden-skinned potatoes, Tainong 66 red-skinned potatoes and mountain bittergourd pickles. But instead of creamy interiors, the wedges taste powdery.
The menu leans more heavily toward the Italian, with insertions of local ingredients. The lack of harmony becomes especially egregious with pasta, which relies on a seemingly effortless — but actually difficult to execute — melding of pasta and sauce. Spaghetti alla bottarga (which has a local equivalent in cured mullet roe) with fish fillet (NT$420) is shoddily plated, and would probably make an Italian angry.
A more satiating dish is the sakura shrimp orzo with smoked pork neck (NT$420), although with more misses than hits at this point, it doesn't quite do enough to mend first impressions.
Peacock Bistro (孔雀餐酒館), 197, Dihua St Sec 1, Taipei City (台北市迪化街一段197號); open Wednesdays to Mondays, 11:30am to 10:30pm, closed Tuesdays
Comments will be moderated. Keep comments relevant to the article. Remarks containing abusive and obscene language, personal attacks of any kind or promotion will be removed and the user banned. Final decision will be at the discretion of the Taipei Times.