Margaret Atwood: 'She's ahead of everyone in the room'
The Canadian author's new novel, 'The Testaments,' is the sequel to her dystopian novel 'The Handmaid's Tale'
On the evening of Sept. 9, 400 people will gather outside the doors of Waterstones' Piccadilly store in London for the midnight release of Margaret Atwood's The Testaments, the sequel to The Handmaid's Tale, her dystopian novel-turned-feminist touchstone-turned-meme-machine.
Fans, invited to dress up in the regulation ankle-length cloaks and bonnets worn by the handmaids in Atwood's fundamentalist republic of Gilead, will snake round the block waiting for what Waterstones is calling a "one-night festival" of, immersive theater, political speeches and themed cocktails. At 8:15pm doors will open to a four-storey Gileadean Glastonbury, featuring guest appearances from actor Romola Garai, activist Caroline Criado-Perez, Guilty Feminist podcaster Deborah Frances-White, plus a discussion of Atwood's legacy with authors Jeanette Winterson, Elif Shafak, Neil Gaiman and AM Homes.
It's an inventive, slightly surreal programme of events that — like Atwood — is a bit political, a bit geeky, a bit cerebral and unapologetically big on silly hats. It's the ultimate hashtaggable celebration of a novelist who in the sixth decade of her career, having written more than 50 books of fiction, poetry and criticism, has mastered both Twitter (1.9 million followers) and Instagram (82,300).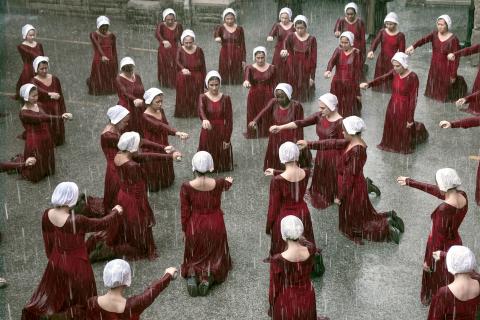 This image released by Hulu shows a scene from the series, The Handmaid's Tale.
Photo: AP
You know a writer has become a global phenomenon when the support act for their launch event includes two rivals for this year's Booker prize. Winterson and Shafak's novels were both longlisted, along with The Testaments, back in July.
At 11pm on the night of the launch, the tiny, sprite-like 79-year-old Canadian author will emerge to read the first extracts of a 432-page book that has been kept under the tightest of wraps. Only her closest associates have glimpsed the manuscript — apart from the Booker judges, who have described it as a "terrifying and exhilarating" follow-up to her 1985 novel.
Publisher Liz Calder, who was one of Atwood's longest-standing editors, is on this year's judging panel. While she's not allowed to reveal anything about the book's content, she will say: "It represents not the work of a writer who might be at the end of her career but it's like her peak, it's amazing in that sense."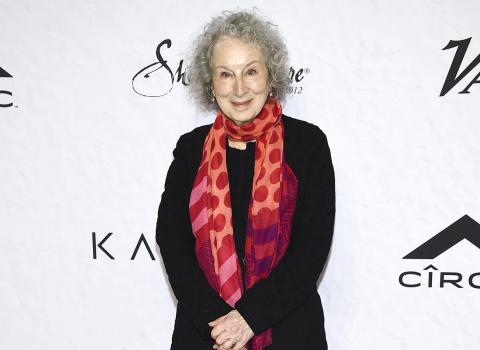 Margaret Atwood at Variety's Power of Women: New York event in New York last April.
Photo: AP
All we know is that The Testaments is set 15 years after the final scene in the first book, in which narrator Offred is hauled into a van by heavies, who might be from the resistance or the regime that extinguished so many of the human freedoms we take for granted. When Atwood leaves the stage at midnight, fans will finally lay their hands on a book many have waited 34 years to read.
Atwood's books have sold millions. She has won the Booker, for The Blind Assassin in 2000, and had five other novels shortlisted. She has yet to be given the Nobel prize for literature but that is widely seen as an error to be righted. When an embarrassed Kazuo Ishiguro was honoured with the award in 2017, he apologised to the Canadian writer:
"I always thought it would be Margaret Atwood very soon; and I still think that, I still hope that."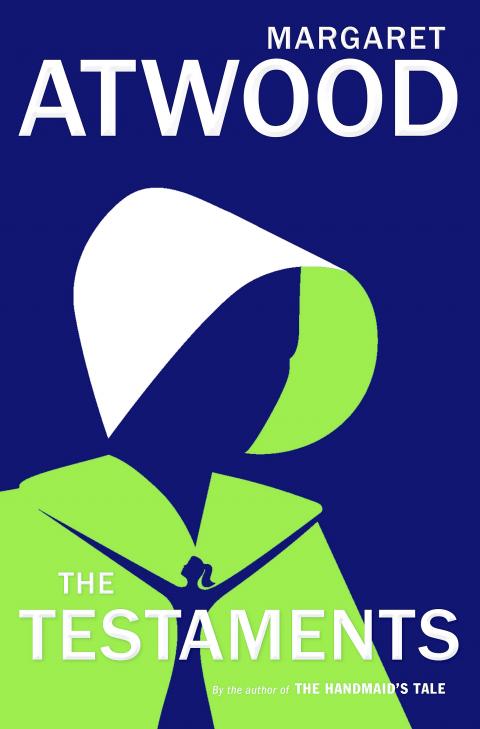 The Testaments, a novel by Margaret Atwood, will be released on Sept. 10.
Photo: AP
While she has been prolific throughout her career, there is little doubt that the Emmy award-winning TV adaptation of The Handmaid's Tale has helped make Atwood a superstar. It has connected the novelist to a vast new audience fascinated by her vivid nightmare of an America in ecological meltdown and a totalitarian regime that is systematically stripping women of hard-won rights, leaving many as little more than walking wombs. The timing has been crucial. Since the election of President Trump, the novel's depiction of misogyny and witch-hunts feel chillingly prophetic and the red-cloaked handmaids have become an international symbol of women's resistance.
But even before these developments, the novel had become a modern classic, translated into more than 40 languages, studied in schools and adapted into a film, an opera, a ballet and a graphic novel.
"I'm a serious writer," Atwood once said. "I never expected to become a popular one."
"She couldn't have seen that The Handmaid's Tale would do what it did," Winterson says. "She's just got on with her work right from the beginning and allowed all this success to happen. But The Testaments has come at the right moment for her as well as us because she's now a real sage."
Sage she may be but this level of ceremony, cosplay and cult worship — involving no fewer than 120 Waterstones branches — is usually reserved for long-dead authors or Harry Potter. Certainly, the craft sessions and costume competitions celebrating her new novel seem a little kitsch, especially for a writer who delivers such apocalyptic prophecies about environmental havoc, predatory capitalism and overnight assaults on human rights. However, Atwood wouldn't necessarily see the contradiction:
"She always takes herself seriously, but she has a great respect for play and inventiveness," says her British agent, Karolina Sutton. She recalls an occasion three years ago when she accompanied Atwood to the basement of a King's Cross pub for the Kitschies, awards that celebrate speculative fiction. The prize was a knitted octopus tentacle, so Atwood insisted they wear homemade orange molluscs on their heads.
"That's what's unusual about her, to have someone so intellectual who is so playful."
Still, when you're reading about totalitarianism in The Handmaid's Tale or man-eating mutants in the Oryx and Crake trilogy or child sexbots in her 2015 novel, The Heart Goes Last , you may relish her wit and verve, but you never lose the eerie feeling that each feature of her dystopias might soon materialise in our own society — if they haven't already.
In recent years, Atwood has been hailed a prophet for creating stories about climate disaster, lab-manufactured meat, the western fertility crisis and human organs grown inside pigs, as well as societies increasingly ruled by misogynistic strongmen, years before they were on most people's radar.
Carmen Callil, founder of Virago Press, the publisher of books by women, was the first back in the mid-1970s to bring Atwood's work to a UK readership.
"She's always before her time. Each novel is about something people become incredibly interested in half an hour later," Callil says.
Comments will be moderated. Keep comments relevant to the article. Remarks containing abusive and obscene language, personal attacks of any kind or promotion will be removed and the user banned. Final decision will be at the discretion of the Taipei Times.