'Addicted' to giving
Tom Chen is among a number of faithful platelet donors who have provided blood centers with hundreds of units, which motivates him to keep healthy so as to remain an eligible donor
Tom Chen (陳建嘉) still shakes with fear at the sight of needles, but looking at the track marks on his arm you wouldn't know it.
"When I see the doctor, sometimes they think I'm a drug addict," Chen quips.
The 55-year-old Taipei resident is, however, addicted to something else: visiting a blood center every four weeks to donate blood, which involves inserting a needle into his arm for up to two hours. As of last month, he has donated 450 units of platelets at a rate of two units per visit. By comparison, blood donors can only contribute one unit every two months.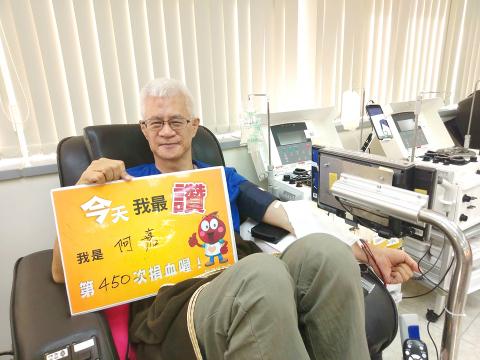 Tom Chen poses for a congratulatory photo after reaching 450 units of platelet donation.
Photo courtesy of Tom Chen
"My figures are not that impressive. There's probably a couple hundred of us," he says, wasting no time naming three people who have exceeded 1,000 donated platelet units.
What started as a desire to do something good following the death of his father (which had nothing to do with blood donation), has become an integral part of Chen's life, volunteering twice a week at the Guandu Blood Donation Room. It additionally makes him health conscious, as a simple cold can result in him being unable to donate.
"There are things that society can do without, but blood isn't one of them," Chen says. "So I can't let anything happen to my body. When I can't donate, it not only disrupts my routine, I start worrying that there's something wrong with my health."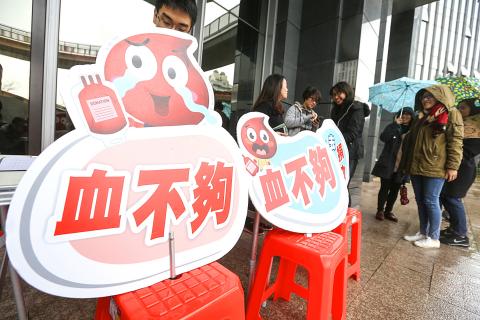 A sign that reads "Not Enough Blood" is pictured last January in response to the nation's low blood reserves.
Photo: Hsieh Chia-chang, Taipei Times
YOUNG DONORS NEEDED
People like Chen contribute to Taiwan having the highest rate of blood donation in the world — 74.9 per 1,000 people, according to a Taiwan Blood Services Foundation (TBSF) report. A 2016 WHO report, which doesn't include Taiwan, has Germany at the top with 50 per 1,000 people.
Tu Wen-ching (杜文靖), a spokesperson for TBSF, says that the country has experienced a drastic turnaround from the early days where hospitals relied on "professional" blood donors, also known as blood cows (血牛). The practice of selling blood was banned in 1987. By 1991, five percent of the population were donating blood, a number that rose to over eight percent in 2011, but since then has steadily declined.
TBSF points to a strong social campaign promoting voluntary blood donations in the 1970s and 80s involving celebrities, politicians, military units and medical associations as an important factor in Taiwan's high rates.
However, Chen laments that young people today are less likely to donate, noting that the first time he donated blood was during college with a group of friends. Last October, TBSF reported that blood donations by young adults have decreased by about 40 percent over the past decade, mainly because of lifestyle changes and their habitual consumption of caffeinated beverages, which affects the body's iron absorption rate. Some overprotective parents also discourage their children from donating blood, according to TBSF.
People over the age of 65 are not allowed to donate without a doctor's approval, and 70 is the absolute cut off age. An aging society means fewer donors and more people requiring blood, and Chen tries to convince any young person he comes across to join the ranks. His daughter has donated three times so far.
Chen says that while hospitals know how much blood they need per day, they still have to keep at least seven days' worth in reserve. In May, this number dipped to 4.3 days, with O-type down to 3.7 days, which Chen says is very alarming.
"People ask me if it hurts. Sometimes it doesn't, sometimes it's bad. And I'm scared everytime I see the needle," Chen says. "But I encourage everyone to try."
The platelet donation that Chen does is a different story. Platelets are used to form blood clots, which are not only useful in case of serious injury, but also can help cancer patients, who generally suffer from a low platelet count, and those with blood disorders and transplants.
Chen says platelets are always in demand, since they can only be stored for five days. However, due to the time and cost of each extraction, he needs to get his blood pressure, height and weight measured as well as a blood test before each donation, the kind of arduous tasks that decrease the number of potential donors. Also, not many people have the time or patience to sit still for two hours, compared to a blood donation which takes at most 20 minutes. Consequently hospitals rely on faithful donors for platelets.
"I see familiar faces quite often at the blood room," Chen says.
MONTHLY PRIVILEGE
Chen learned about platelet donation in 2004 when he received an award for donating 30 units of blood. He noticed that some recipient numbers were in the hundreds, and wondered how that was possible.
His father had died earlier that year, and he suddenly had this urge to do more to help society.
"Since I didn't have much money at the time, I felt the easiest thing to do was donate blood. But I can only donate two units every three months, which wasn't enough," he says.
He started donating platelets every two weeks, but as he got older, his wife convinced him to cut down to once per month.
Due to all the health screening and requirements for platelet donation, his endeavor has drastically changed his lifestyle. He recalls being turned away once for having high white blood cell count, and that night he came down with a severe headache.
About two years ago, Chen failed the tests for fat levels in his blood, forcing him to improve his diet.
"For people like us, if we can't donate, we get very anxious," he says.
From then on, he watched what he ate and would eat especially light meals the day before he was to donate, keeping a diet of breads, soy milk, crackers and vegetable-and-fruit smoothies.
"You can't just think about how many times you donate blood — the point is donating usable blood," he says. "Platelet donors get checked before they donate, but blood donors don't. People shouldn't hide their conditions, otherwise their blood will go to waste. Don't try to be a hero when you can't."
Chen hikes and bikes frequently, and every month's donation is like a health checkup that gives him peace of mind.
"If you want to live long, you have to live well too," he says. "I don't want to give all the money I earned to the hospital. And blood donation — it's a responsibility, it's also a privilege."
Comments will be moderated. Keep comments relevant to the article. Remarks containing abusive and obscene language, personal attacks of any kind or promotion will be removed and the user banned. Final decision will be at the discretion of the Taipei Times.