Standing up for Taiwan
Hundreds march in Manhattan to rally for UN membership and call out China's aggression
As the UN General Assembly convenes in New York, supporters of Taiwan hit the streets of Manhattan Saturday to protest the country's exclusion from the UN amid China's ramped-up efforts to shrink Taiwan's space on the international stage.
The annual march, which began near the People's Republic of China consulate on 42nd Street, was expected to attract between 300 and 500 people, said Gloria Hu (胡慧中) of Keep Taiwan Free, a grassroots movement that helped organize the event.
It attracted a mix of young and old Taiwanese Americans and Canadians, overseas Taiwanese, supporters of Tibet and others, who walked together to Dag Hammarskjold Plaza, a space fenced in by New York Police Department metal barricades just a few blocks away from the UN building.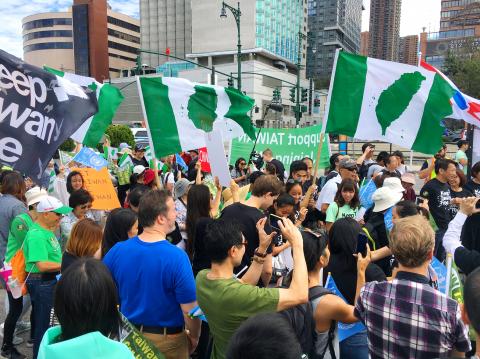 Supporters of Taiwan gather near the Manhattan consulate of the People's Republic of China to rally for Taiwan's inclusion in the UN and protest China's aggression.
Photo courtesy of Chris Fuchs
Also in attendance were New Power Party Legislator Hsu Yung-ming (徐永明), as well as Democratic Progressive Party legislators Lin Ching-yi (林靜儀), Lee Li-feng (李麗芬) and Chen Man-li (陳曼麗).
The march and rally, held annually for more than 20 years, comes as the 73rd regular session of the UN General Assembly kicked off on Sept. 18.
CHINESE OPPOSITION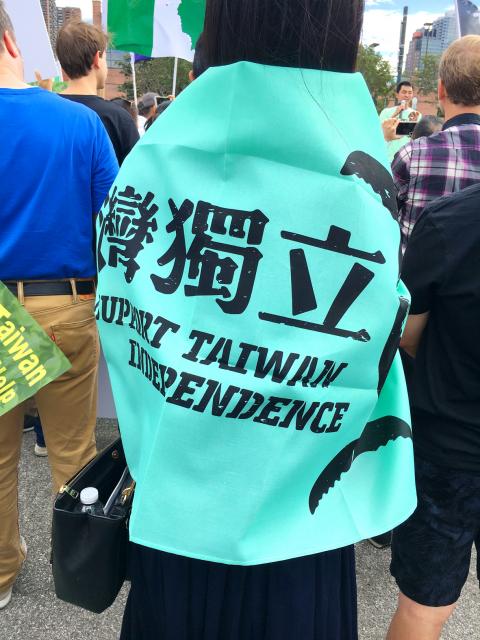 A woman drapes a "Support Taiwan Independence" banner around her as she listens to speakers at Saturday's UN rally.
Photo courtesy of Chris Fuchs
While Taiwan's government has maintained an approach of not actively seeking UN membership, demonstrators said they were still hopeful that the island nation — one of just a few countries excluded from the UN — would someday get back the seat it lost in 1971, when it was given to China.
"We would like to see a harder push, especially now with this escalating aggression from the Chinese government," Hu said.
That aggression includes China pressuring international airlines to exclude references on their Web sites to Taiwan as a country, jailing Taiwanese human rights advocate Lee Ming-che (李明哲) and escalating military action around Taiwan.
China has also been poaching allies from Taiwan, bringing the number of countries that have diplomatic relations with Taiwan to just 17.
Beijing has repeatedly opposed Taiwan's entry into the UN, claiming it as its own and saying Taiwan is not a sovereign state.
Joshua Wang (王中煒), a 30-year-old raised in Taiwan who marched for the first time Saturday, said he came to protest what he called the "Chinese Communist Party's repression against Taiwan."
He said China's demand that foreign airlines eliminate references to Taiwan as a country on their Web sites and in marketing materials was what jolted him into action.
"I had to stand up and do something for my motherland, Taiwan," Wang said.
This year, Hu said they also organized a series of events for the week leading up to the march.
STAND UP TO CHINA'S BULLYING
One was a joint rally with groups including Tibetans, Southern Mongolians and Uyghurs, who protested against Chinese President Xi Jinping (習近平) last Tuesday outside UN headquarters, according to Hu.
They also launched a bike ad campaign last Monday. Large billboards, five in all, have been towed by bikes in parts of Manhattan to raise awareness about China's treatment of Taiwan.
"How have five countries been coerced to cut diplomatic ties with Taiwan since 2016?" one of the ads reads. "Find out at taiwanmatters.com. Stand up to China's bullying across the globe."
Hu said the bikes had been going out for five hours a day, every day since last Monday, targeting foot and commuter traffic. They've made the rounds near Penn Station, the Port Authority Bus Terminal, the UN, in Midtown and the Flatiron District, as well as Washington Square Park, according to Hu.
"I think people are stopping to pay attention," she said.
The group also brought in two exhibits, including one called "Hospital Without Borders," which was featured at Washington Square Park, Hu said.
"Hospital Without Borders" appeared in May near the World Health Organization headquarters in Geneva, Switzerland, ahead of the World Health Assembly, in an effort to showcase the value, achievements and contributions of Taiwan's public healthcare system.
After getting invitations to attend the annual meetings as an observer for eight consecutive years, Taiwan was not invited last year or this May.
"We want people to know all the things Taiwan does, not just the things China does to us," Hu said, explaining the importance of the educational exhibits.
Despite not making a push for UN membership this year, Taiwan did send cabinet officials to attend a series of events in New York showcasing the nation's efforts to achieve the UN's Sustainable Development Goals and lobby for support for Taiwan's participation in UN events.
For the older hands who showed up to Saturday's rally, they said they still come out year after year because they believe Taiwan will one day make it back into the UN.
"Everything takes time," said Doris Liu (張秀美), speaking in a mix of English and Mandarin.
Now in her 70s, Liu has attended the march for a few decades. She said she and her husband, Vincent (劉照男), were gladdened and proud to see so many younger men and women of Taiwanese descent in attendance.
"There is hope," Liu said.
Comments will be moderated. Keep comments relevant to the article. Remarks containing abusive and obscene language, personal attacks of any kind or promotion will be removed and the user banned. Final decision will be at the discretion of the Taipei Times.