Art exhibition listings
Currently on view at Hong Gah Museum is Liu Yu's (劉玗) solo exhibition, The History of the Concave and Convex (凹凸史). The show features Liu's most recent project, which reflects on the gold mining histories of the US and Taiwan. The title refers to the traces of excavation left on rocky landscapes during the process of mining, the "concave and convex" appear to be opposites but are actually interrelated and complementary, writes the museum in a press release. Liu has developed this project over the last two years, traveling through ghost mining towns on the west coast of the US as well as several research trips to Jiufen (九份) and Jinguashih (金瓜石) in New Taipei City. Liu seeks to open alternative ways of seeing history and the lingering memories that remain of the sites and their past residents. The exhibition presents two three-channel videos, filmed interviews, items from various personal collections and an original publication by the artist. One of the films, The Stone Player, is about a homeless man arranging rocks on the Santa Monica beach. His intense concentration suggests a great seriousness. Salvation Mountain is another film that surveys depleted mines and ghost towns in American from a birds eye view.
■ Hong Gah Museum (鳳甲美術館), 11F, 166 Daye Rd, Taipei City (台北市大業路166號11樓), tel: (02) 2894-2272. Open Tuesdays to Sundays from 10:30am to 5:30pm
■ Until Sept. 23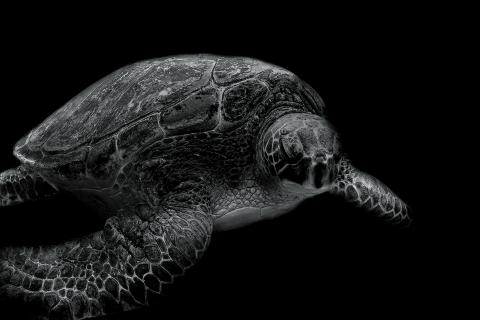 Tomoyuki Baba, ACRYL (2009).
Photo Courtesy of G.Gallery
Japanese artist Tomoyuki Baba is a photographer who ponders existential questions such as: What is this world we live in? How do we live in it? What are we doing on this planet? His solo exhibition, ACRYL, focuses on a series of photographs depicting living organisms in aquariums. The artist describes aquariums as spaces in acrylic boxes that inhabit "gestures of existence." In isolated spaces, domesticated water creatures live with man-made furnishings, such as artificial waves and rocks. "[These creatures] look the same to those living in nature, but may be becoming quite different," according to the preface of Tomoyuki's photography publication of the same name. The artist draws a parallel between aquarium life and city life, suggesting that humans who live in an equally artificial world "may [also] lose things that make us human." The photographs on view are dark and ominous; ghostly creatures float in dimly lit spaces as if traversing through obscure spaces. In one photograph, a lone tortoise shimmers against a black background, mysterious and decontextualized. In another photograph, a penguin swims horizontally across the picture plane. "I focus on things in the familiar world, and I consider what kind of essence it has," says the artist.
■ G.Gallery (居藝廊), B1, 3, Ally 3, Lane 227, Nongan St, Taipei City (台北市農安街227巷3弄3號B1), tel: (02) 2501-8326. Opens Wednesdays from 12pm to 7pm, and Thursdays to Sundays from 11am to 7pm
■ Until Aug. 19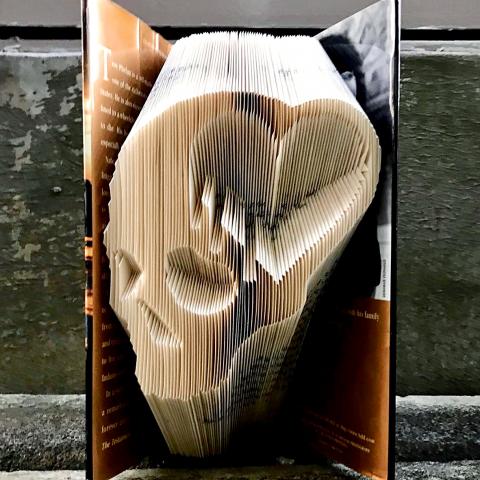 Yuto Yamaguchi, Melting Heart Inside Skull (2016-2018).
Photo Courtesy of INF
Mind Set Art Center presents Lemniscate, the first solo exhibition of Indonesian artist Syaiful Garibaldi in Taiwan. The exhibition features a new series of acrylic works on canvas that continues to expand the artist's ongoing interest in science and art. Garibaldi was born in Jakarta and has a background in agricultural studies and printmaking. Drawing from both realms, he creates mesmerizing images of intricate patterns and textures that resonate with the structures of natural life. The artist is particularly interested in microorganisms, such as fungi and different life forms that serve as decomposers in the biosphere. The process of decomposition "represents a cycle of death, decay, regeneration and birth that repeats incessantly," writes the gallery in the show preface. The artist draws from his observations of microscopic worlds seen under the microscope and creates images that propose visual and philosophical inquiries. Porculen Microorganisms #5 depicts a cluster of multicolored fluid lines entangled like an organic system. Porculen Microorganisms #3 is a more orderly assembly of abstract forms; the contrasting dark and light elements suggest a visual pulsation. His works offer a poignant commentary on the existential state of being for all things living and dead," writes the gallery.
■ Mind Set Art Center (安卓藝術), 7F, 180, Section 1, Heping East Road, Da'an District, Taipei City (台北市大安區和平東路一段180號7F), tel: (02) 2365-6008. Open Tuesdays to Saturdays from 11am to 6pm
■ Until Sept. 1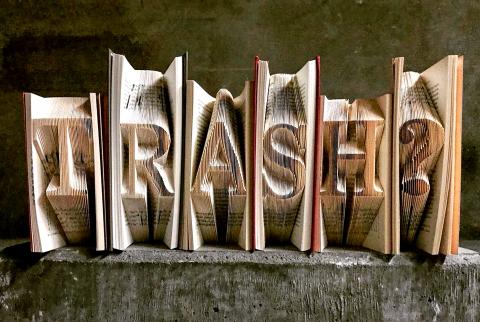 Yuto Yamaguchi, Trash (2016-2018).
Photo Courtesy of INF
Ghosts on the Island (島嶼的曾在) is a solo exhibition by Shake at the Museum of Contemporary Art, Taipei (MOCA, Taipei). Shake is an artist whose recent works explore the history of Asian geopolitics. She primarily works with video and defines her practice as a process of "liberating the interpretive space of sounds and image," writes the museum in a press release. Experimenting with various narrative forms that blend the fictional and non-fictional, the artist engages in acts of cinematic writing that re-interpret history through her own distinct perspective. The artist refers to the theories of American historian Hayden White: "past incidents and events, in his opinion, exist in a state of quantum superposition, and only the participation of narrators (observers) can render them meaningful and part of history." Shake draws from various historical archives of Taiwanese history, taking elements of cinema, literature, historical imagery and text to create new imagined narratives that speak to the questions: "what is the connection between these past events and our present? How do they factor into the construction of our knowledge system, and influence our reality now?" Exhibition highlights include Return and Taipei Park, two videos that explore the changing representation of the Taiwanese people in different periods of time.
■ Museum of Contemporary Art, Taipei (台北當代藝術館, MOCA, Taipei), 39 Changan W Rd, Taipei City (台北市長安西路39號), tel: (02) 2552-3721. Open Tuesdays to Sundays from 10am to 6pm
■ Until Aug. 5
Liu Yu, Notes on Stones (2018).
Photo Courtesy of Hong Gah Museum
INF x Orufun is a delightful exhibition about the vigorous style of origami called Orufun. Orufun was invented by Japanese artist Yuto Yamaguchi, who became passionate about the art of origami in 2013. His style focuses on folding book pages to create three-dimensional patterns. Based on traditional origami techniques, Orufun emphasizes precision and utilizes computer technology to make exact markings. To date, Yuto has amassed a large following of fans for his origami work, including 40,000 Instagram users. The show features a selection of old and new works by Yuto, each of which focuses on a particular icon, text, geometrical shape or portrait of a film character. His style resonates with street culture aesthetics, often taking on clear and decisive contours and bold messages. Melting Heart Inside Skull depicts a organically sculpted skull containing a cartoon shaped heart melting on its side.
■ INF, Room 13, 1F, Maji Square, 1, Yumen St, Taipei City (台北市玉門街1號Maji市集1樓13室), tel: (02) 2599 8981. Open Mondays to Sundays from 1pm to 9pm
■ Until Aug. 5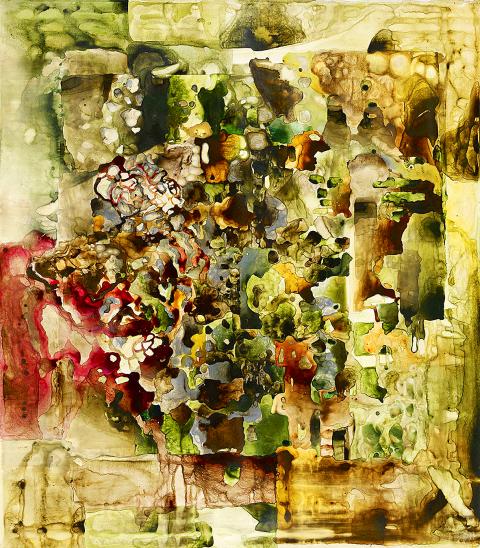 Syaiful Garibaldi, Porculen Microorganisms #8 (2018).
Photo Courtesy of Mind Set Art Center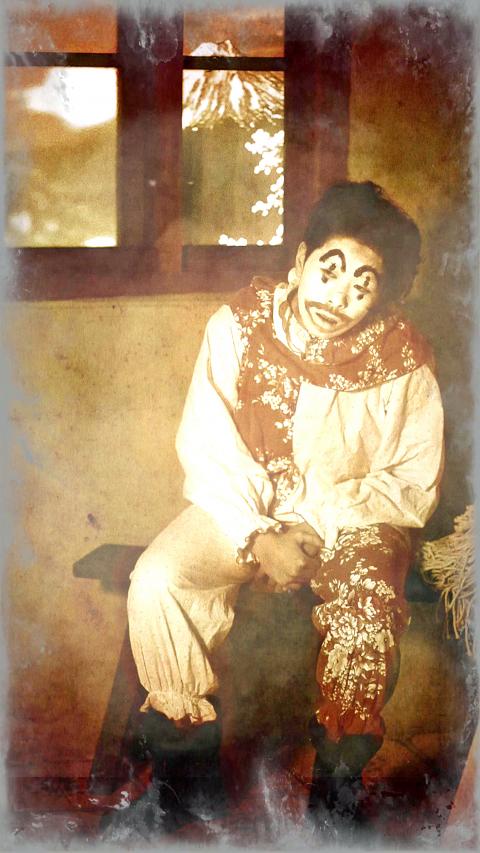 Shake, Return (2015-2016).
Photo Courtesy of Museum of Contemporary Art, Taipei
Comments will be moderated. Keep comments relevant to the article. Remarks containing abusive and obscene language, personal attacks of any kind or promotion will be removed and the user banned. Final decision will be at the discretion of the Taipei Times.