Following Alana
Despite being born deaf, Alana Nichols' travel show has been going strong, recently winning two international awards as it enters its fifth season
Pineapple does not belong on pizza — at least according to Alana Nichols, who proceeds to ask the rest of the room to weigh in.
When the interviewer asks her if it's something she asks people often, she replies with a hint of mischief, "No, you just asked me if there was anything else I wanted to say."
Even though Nichols is wearing 15cm heels doing a formal interview in a television studio, she seems just as energetic and in her element as when she built a makeshift shelter and camped under the stars among spiders and snakes. Nichols, who was born deaf in both ears, is in a celebratory mood as her travel show, Follow Alana, recently won a Silver Remi at WorldFest Houston. She also picked up a finalist certificate at the New York Festivals Awards — TV & Film Awards.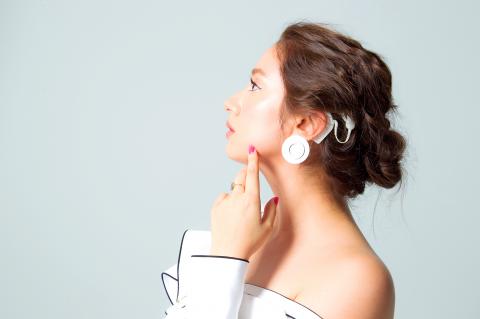 Alana Nichols was born deaf and her cochlear implant in one ear allows her to have some hearing.
Photo courtesy of Follow Alana
Not bad for a program that's only been around for more than a year.
"It's a reminder to celebrate as well as a powerful motivator to get better and do more," she says.
COMMUNICATION STRUGGLES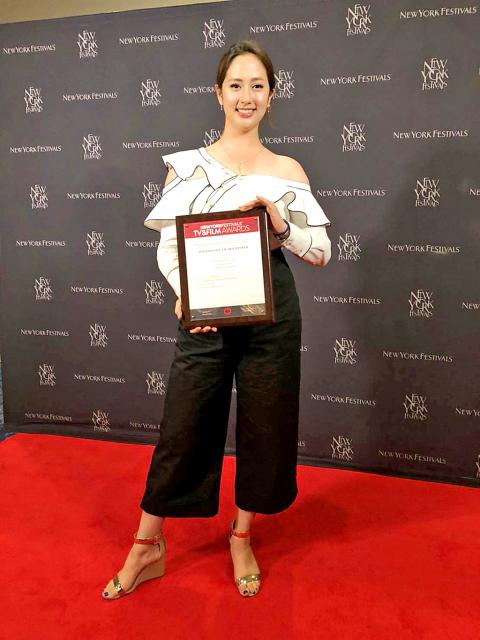 Alana Nichols displays her finalist certificate for the New York Festivals Awards — TV & Film Awards during the awards ceremony in April.
Photo courtesy of Follow Alana
Nichols wants her cochlear implant, visibly located behind her ear with a wire that extends to the side of her head, to be visible during the shoot. She did not have deaf role models growing up, so she had no choice but to become one.
"It was important for me to be a representation of a successful person who is — some people don't like the word but I don't mind it — disabled," she says.
And so she launched her show, even though her only prior on-camera experience was in a school play.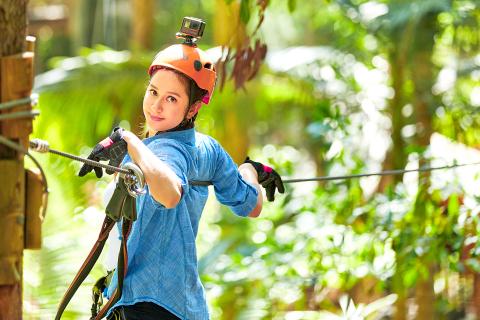 A scene from Follow Alana's previous seasons in Taiwan. Her latest season takes her show abroad for the first time to Australia.
Photo courtesy of Follow Alana
"I had three lines and I messed it up," she says.
Communication remains the biggest challenge, and in addition to her deafness she doesn't speak Chinese despite growing up in Taiwan. Since her condition made it difficult to discern the tones in Chinese, her family raised her speaking English only.
"Every single conversation I have is a challenge," she says. "For example, right now I'm concentrating very hard and making sure I can understand you as well as I speak. It's something I work at every day, like a muscle you train at the gym."
She also credits her family for being open about her condition.
"They knew it was going to be a lifelong struggle, so instead of trying to hide it or sweep it under the rug, they taught me how to see it in a positive light so I don't get discouraged," she says. "It's become an automatic reflex to want to overcome the obstacles."
REDIRECTING ATTENTION
Follow Alana kicks off its fifth season on July 14, the first time Nichols will be bringing her audience outside of Taiwan, this time to Australia. Nichols says she is a longtime vegetarian and her show also embodies her passions of animal welfare and environmentalism. But she avoids preaching.
"I learned that when you are the canary for something for too long, you lose your effect," she says. "[When] I see issues related to pollution, I try to point them out... issues related to deafness, I try to point them out. But I try not to emphasize that my audience has to follow one issue, because everyone can help in different ways with different skill sets."
Nichols is also learning from the show, and as she meets different people with different goals and passions, she firmly believes that there's always a way to make an impact somehow.
"There's so much that needs to be done, so many areas in this world that need help, so many innovations waiting to be discovered," she says. "I've observed that some people may feel hopeless or feel their work doesn't matter."
Nichols says she is enthralled by Alishan at night when fireflies come out and the clear sky reveals an ocean of stars. As a big swimmer, she enjoys visiting the outlying islands. But when the time comes for her to take a vacation, she stays home.
"I don't have to pack my luggage, I don't have to sleep in my hotel room, that's a vacation for me," she laughs. "Even though I go to these amazing places and meet people, it's important to recognize that you're still working and it's not vacation."
As far as the future of the show, Nichols says that she doesn't want to place any limitations on it. After all, she's only venturing out of Taiwan after four complete seasons.
"It's really easy to get distracted by social media and people's opinions," she says. "I hope that in my own small way I can redirect attention to things that matter."
Like whether pineapple belongs on pizza.
The fifth season of Follow Alana begins on July 14 at 6pm on TVBS and 7pm on CtiTV.
Comments will be moderated. Keep comments relevant to the article. Remarks containing abusive and obscene language, personal attacks of any kind or promotion will be removed and the user banned. Final decision will be at the discretion of the Taipei Times.