Bountiful South: Heading south, one click at a time
Taiwanese startups have found success in Southeast Asia's vibrant e-commerce ecosystem, often with Malaysia as a landing pad and Thailand the prize market
Butt masks — facial masks for your butt — are the hottest new thing in Thailand.
By claiming to moisturize, tone and "lift" your booty using a special formula, the invention is quickly creating buzz around Unicorn, the Taiwanese startup behind it — just the kind founder Johnny Shih (施凱鈞) strives for.
"The Thai market sets the trends for Southeast Asia," he says, "especially in e-commerce."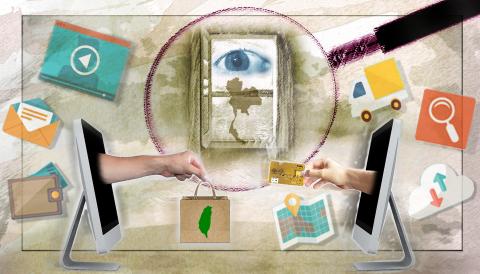 Illustration: Kevin Sheu
Strategically released to coincide with his company's entry to the Thai market, Shih believes the waves Unicorn's unique flagship product is making there will ripple across the region.
Unicorn is one of many Taiwanese
e-commerce enterprises expanding to Southeast Asia and finding success. With Malaysia acting as a landing pad and Thailand the strategic target market, many young Web-based enterprises are drawn to the region not only for its growth potential but also as an arena to evolve their business models. Their experience offers insight into the changing dynamics of the e-commerce sector as well as how the government may offer more effective support strategies to develop the nation's next wave of e-commerce stars.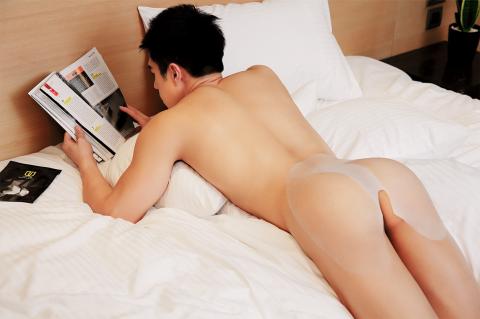 A model flips through a magazine in a promotional photo for Taiwanese e-commerce startup Unicorn's butt mask, which tones and cleanses one's buttocks. It is the flagship product for the startup as it enters the Thai market.
Photo Courtesy Of Unicorn
MALAYSIA: TAIWANESE LANDING PAD
CC Chang (張家甄), co-founder of FunNow, a mobile booking platform for the hospitality industry, says now is the time to expand southward. Not only is Taiwan's market too small, Chang says, but Taiwanese companies have a competitive advantage in Southeast Asia thanks to the early development of e-commerce here.
Over the past 12 months, Taiwanese ventures Unicorn, FBBuy and FunNow have all expanded to Southeast Asia, choosing Malaysia as their point of entry due to wide use of the Chinese language (Unicorn is also opening in Singapore).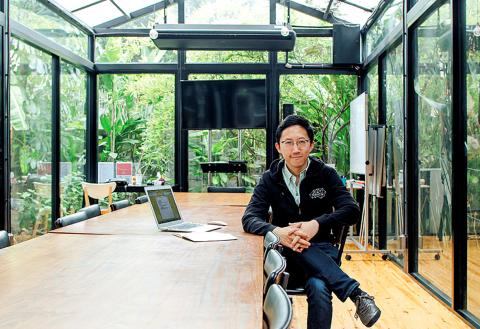 Amarit Cheonphon poses for a photo in a HUBBA coworking space in Bangkok in 2016. Cheonphon is active in the Southeast Asian startup scene and regularly visits Taiwan to coach local startups.
Photo Courtesy Of Amarit Cheonphon
"Being able to rely on Chinese as well as English really lowers the barriers for market entry," says Ivy Yang (楊雅如), whose company FBBuy provides an automated backend software system for Facebook sellers that allows people to place orders through commenting on a post.
Chang says Taiwanese startups often have a technological advantage over local competitors in app development.
"Many of our local competitors in Malaysia have apps which offer a search function without booking, or a booking system without a payment method. We've been able to integrate an all in one solution quickly thanks to our skilled team," she says.
The different cultural environment also led Chang to discover a more effective business model.
As an outsider and newcomer, FunNow found it difficult to sign on individual retailers to their platform as they had done in Taiwan. Unsure how to best communicate with vendors, it instead went through mall operators who introduce the service to their tenant shop owners — with almost all of them getting on board. She says that by the fourth quarter this year, they expect to have over 1,000 Malaysian entertainment and leisure outlets on their roster.
Chang says hospitality business owners like FunNow not only because the app provides a new base of customers, but also offers a solution to the issue of no-show bookings by having the users pay first.
Chang's team plans to supercharge this model in Bangkok, which has an even higher density of top-end shopping malls, aiming to capture the huge tourist as well as local market.
"For us, Thailand is the prize or crucible market," she says "We really want to make it there."
KOREA OF THE SOUTHEAST
Shih says the reason so many startups make Thailand the focus of their Southeast Asia strategy is due to its design talent, pop culture credentials and unique market dynamics.
"In online shopping, optics drives everything," he says, "Demand grows from landing pages and products that are irresistible to the eye. If you have the x-factor that can spur traffic volume, your backend logistics and e-payment systems will sustain themselves."
He says Thai-designed products are the only ones in the Southeast Asia that can match the level of Japan or the West, hence the rest of the region follows them closely.
Amarit Chareonphan, founder of HUBBA — Thailand's first coworking space — and Techsauce Media, which hosts the biggest startup conference in Southeast Asia, says Thailand's aesthetic eye has a historical precedent.
"The traditional arts such as Thai dance were refined in the royal court right through the Ayutthaya period from the 14th to 18th centuries," he says, "Each society creates conditions for certain professions or skills to flourish and for Thailand. Design is one of them."
He says that Thailand's pop media is gaining traction abroad, especially TV dramas, adding that an advertisement bought in Thailand has a higher return on investment being priced based on its domestic audience, but often reaching far more viewers abroad through Youtube.
Shih says this spillover effect can also be seen in the domestic market thanks to Thai consumers' tendency to recommend products to people around them, expanding the reach beyond the target demographic.
SHIFTING CONSUMER HABITS
Despite their advantages, obstacles remain for the Taiwanese newcomers.
Both Shih and Chang say many Southeast Asian consumers still insist on paying in cash at the door, a headache for vendors whose profits mostly come from transaction fees.
However, Chareonphan says cash payments are steadily decreasing as the e-payment infrastructure becomes more robust, gaining the trust of comsumers.
"Long standing consumer habits take time to change, but things are now moving quickly on this front," he says.
Another factor driving change is "social commerce," or sales derived exclusively through social media channels.
According to a special report by Techsauce, around 16 percent of online buyers have shopped directly via social media. In Thailand specifically, it is estimated that social commerce is worth more than US$500 million per year.
While Facebook usage is widespread across the region, shoppers in different markets take to a variety of platforms, Chareonphan saying messaging app Line's dominance in Thailand gives Taiwanese another advantage in the market.
"In choosing a target market, you need to always be looking for your unfair advantage — if a Taiwanese startup already has a buyer base on Line, it can be transferred when they enter Thailand."
Within this social commerce space, using Facebook Live to broadcast auctions or whole sales is becoming increasingly popular, with FBBuy's Debby Lu (盧欣怡) saying that online vendors in Thailand and Vietnam are leading the trend.
GOVERNMENT ASSISTANCE
Taiwan's government has several programs across a range of departments that aim to support the development of Taiwan's startup ecosystem.
FBBuy and FunNow both received subsidies from various agencies in their early days, but both owners say there is a lot of room for improvement in the government's strategy.
Yang says the rigid criteria that requires applicant startups to reach expense quotas in certain areas is at odds with the needs of an e-commerce company.
"They require us to spend a certain amount of our budget on stationary. But we don't need stationary — we need servers," she says.
Shih agrees, saying that funding initiatives are outdated as they still prioritize capital intensive investments over Web-based services.
Chang says most of the panel who overviewed their startup's subsidy application for had no direct experience in the e-commerce industry, making for an inaccurate evaluation. She adds that this has recently started to change with agencies inviting more industry experts to join panels, a trend she hopes continues.
Shih also suggests creating a tax exemption scheme for both corporations and pop culture personalities who cooperate on promoting Taiwanese brands, pointing to how product placement in Korean dramas has delivered far higher sales for its leading retail brands than conventional advertisement.
"This could make a big difference to Taiwan's image in the region, and give a boost for e-commerce platforms," he says.
Despite the success of Taiwan's e-commerce startups in Southeast Asia, regulatory uncertainties for the region lie ahead. According to legal intelligence database, Lexology, the Thai government's temporary tax scheme that gives breaks to venture capital firms that invest in key tech sectors, such as e-commerce, is due to conclude at the end of this year, potentially stunting access to vital funds.
The National Development Council has invested US$15 million in venture capital funds for startups and over US$13 million in the AppWorks accelerator with an incentive mechanism for the promotion of Taiwanese startups. When the fund's investment in a Taiwanese startup reaches a certain quota, the Council shares a certain level of its profits with management and other fund investors.
To date, there is no such mechanism for Taiwanese startups active in the New Southbound Policy target countries. Such a pairing would be an effective way of strategically linking the innovation initiatives with the New Southbound Policy and could pave the way south for the next wave of Taiwanese e-commerce startups.
Bountiful South is a fortnightly column that covers Taiwan's cultural, diplomatic, business and tourism connections with New Southbound Policy nations. Liam Gibson is a freelance reporter based in Taipei, where he researches regionalism as a postgraduate student at National Taiwan University's Graduate Institute of National Development. You can reach him at liamtaipei@gmail.com
Comments will be moderated. Keep comments relevant to the article. Remarks containing abusive and obscene language, personal attacks of any kind or promotion will be removed and the user banned. Final decision will be at the discretion of the Taipei Times.