Answering the call
With an invitation to this year's World Health Assembly increasingly unlikely, Taiwan and Taiwanese Americans find ways to highlight their health aid to the international community
Haiti, one of Taiwan's 20 diplomatic allies, is the poorest country in the Western Hemisphere. It's also a place where roughly two in five Haitians lack access to essential health and nutritional services, according to the US Agency for International Development, which administers civilian foreign aid and development assistance.
Universal health coverage happens to be the theme of this year's World Health Assembly (WHA), which meets in Geneva, Switzerland, between May 21 and May 26.
Yet Taiwan — whose universal healthcare system is frequently touted as a successful model — still hasn't received an invitation to attend as an observer, a snub that's been seen as China's attempt to limit Taiwan's international space.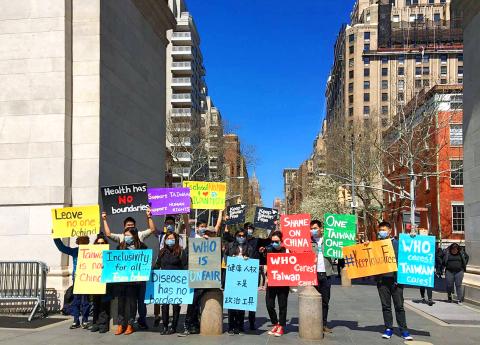 Members of the Taiwanese American Association of New York and Keep Taiwan Free gather for a small rally in Manhattan to advocate for Taiwan's inclusion in the WHO.
Photo Courtesy of Keep Taiwan Free
Experts say participating in the WHA would allow the nation to share its own health expertise and knowledge about topics like public sanitation and disease prevention, a boon to the 194 member states of the WHO, including China.
It would also help give Taiwan access to information about international health emergencies.
"As we see right now, there are talks about trade wars, but in between those headlines, there needs to be a headline about what Taiwan is doing as well," said Frantz Lubin, director of operations for Operation Grace for Haiti, a nonprofit providing social assistance to the Caribbean country.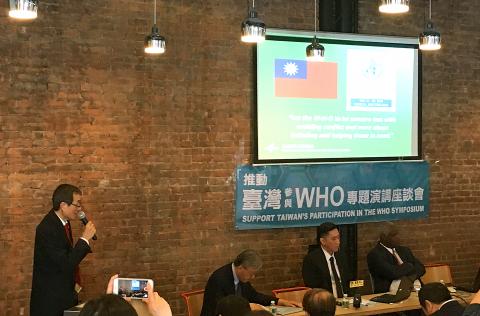 Participants last weekend discuss the partnership between Taiwan and Haiti, and why Taiwan should be invited to this year's World Health Assembly.
Photo Courtesy of Keep Taiwan Free
TAIWAN'S CONTRIBUTION TO GLOBAL HEALTHCARE
As it turns out, Taiwan and Taiwanese-Americans have been doing a lot.
Details of that work emerged during a symposium this past weekend in New York City called Support Taiwan's Participation in the WHO (推動台灣參與WHO), where Lubin was one of the speakers.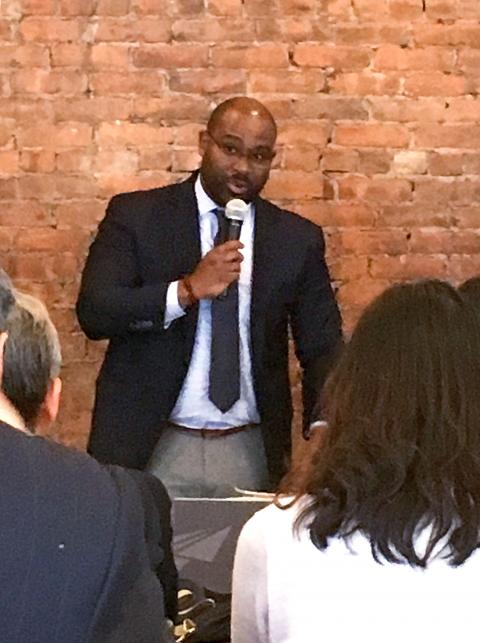 Frantz Lubin, director of operations for Operation Grace for Haiti, a nonprofit providing social assistance to the Caribbean country, talks about Taiwan's contributions to the health needs of people in Haiti at a forum held last weekend.
Photo Courtesy of Keep Taiwan Free
The North American Taiwanese Medical Association (北美臺灣人醫師協會), whose New York chapter helped organize the Saturday afternoon event, has spearheaded medical missions for the last 15 years to underserved countries including Haiti, Panama, the Dominican Republic and Myanmar, according to Tsai Jung (蔡榮聰), a physician and moderator of the symposium.
Taiwan supplies medical equipment and medicine, while the 1,400-member physicians' association provides the manpower, which includes medical specialists, Tsai said.
Overall, Taiwan has invested over US$6 billion in international medical and humanitarian aid efforts since 1996 in more than 80 countries, according to the government.
Steve Lee (李致一), president of the association's New York chapter, said the WHO's mission is aimed at helping everyone, regardless of their political system, economic condition, religious belief or ethnicity.
He said he was surprised that Taiwan had yet to be invited to this year's assembly — the decision-making arm of the WHO, which includes committees to debate technical and health matters, as well as financial and management issues.
"We simply ask that the WHO recognize that the people of Taiwan are facing the same healthcare issues that affect every other individual in any other country, and permit the participation of Taiwan in this year's conference," Lee said.
CHINA'S OBSTINACY
But the increasingly strained relationship between the People's Republic of China (PRC) and Taiwan has made an invitation less and less probable, experts say.
After being invited to attend the annual meetings as an observer for eight consecutive years, Taiwan was passed over for the first time last year.
"Clearly, Taiwan has potentially a significant role to play in international health issues, and it's obviously trying to expand those opportunities where it can," Richard Bush, a senior fellow at the Brookings Institution, a Washington-based think tank, told the Taipei Times.
"But unfortunately the government in Beijing is able, in a number of international organizations including the WHO, to block Taiwan's participation," he added.
Taiwan's last invitation came in 2016 in the final weeks of Ma Ying-jeou's (馬英九) presidency, a period that fostered closer ties between Taiwan and China.
That invite was passed on to Democratic Progressive Party candidate Tsai Ing-wen (蔡英文), who was sworn in as Taiwan's new president a few days before the assembly met that year.
The invitation, to attend as an observer under the name "Chinese Taipei," differed from previous ones in that it mentioned the "one China" principle — China's view that it has sovereignty over the mainland, Hong Kong, Macau and Taiwan.
It also cited a UN resolution passed on Oct. 25, 1971, that recognized the People's Republic of China as the only legitimate representative of China to the UN.
The WHO is a specialized health agency of the UN.
The Tsai administration's refusal to accept the so-called "1992 consensus" has resulted in China blocking Taiwan from participating in the assembly.
The term, which former Mainland Affairs Council chairman Su Chi (蘇起) admitted making up in 2000, refers to a supposed understanding between the Chinese Nationalist Party (KMT) and the Chinese government that both sides acknowledge there is "one China," with each side having its own interpretation of what "China" means.
IMPROVING LIVES
Even with its exclusion from the WHO, Taiwan has found ways to work to improve the lives of people in countries such as Haiti. Taiwanese-American medical doctors like Tsai Jung and others have played a part as well by traveling to Haiti and elsewhere to offer their expertise.
Dyna Louise Pierre, a physician involved in the efforts, said the North American Taiwanese Medical Association participated in opening an outpatient medical center in the Croix-des-Bouquets community of Haiti, around 13km northeast of Port-au-Prince, the capital.
It is the only one in the area, serving more than 23,000 people, she said. Owing to a lack of health services in the region, nine out of 10 births are performed at home, while children under one experience a low vaccination rate, according to Pierre's presentation.
Haiti's already frail health system had taken on additional strain following a January 2010 massive earthquake that struck near Port-au-Prince, killing more than 220,000. A cholera epidemic broke out soon after, infecting around 814,000 and claiming almost 9,700 lives by July last year.
Hurricane Matthew further worsened things in October 2016, causing flooding and widespread damage. Around a thousand people died.
From the last medical mission to Haiti last year, Pierre said 159 patients were seen in just two days, mainly children and women. Upper respiratory infections, intestinal parasites and anorexia accounted for the top three diagnoses of patients up to 17 years old, Pierre said.
Doctors also saw many cases of vaginitis in patients 18 to 30 years old, while untreated high blood pressure was common among those over 30, according to Pierre.
"We have a lot of patients waiting for us every year to treat them," she said. "We are introducing that just to prove that Taiwan is sufficiently competent to help Haiti."
INTERNATIONAL SUPPORT
A number of Taiwan's diplomatic allies have petitioned the WHO to invite Taiwan to this year's assembly.
The Foundation of Medical Professionals Alliance in Taiwan has said the European Union, US and UK, Canada, France, Germany, New Zealand, Australia and Japan are also planning to speak up in favor of an invitation.
Legislation has also been introduced in both chambers of the US Congress, which calls on the US secretary of state to develop a strategy for Taiwan to regain observer status in the WHO.
Meanwhile, groups continue to raise awareness in and outside of Taiwan for the country's inclusion in the international body.
A small rally was held in Manhattan ahead of Saturday's symposium, attended by members of the Taiwanese American Association of New York (大紐約區台灣同鄉會) and Keep Taiwan Free.
But despite all the support and enthusiasm, experts aren't optimistic that a WHA invitation will be forthcoming next month.
As long as China pursues a hardline cross-strait policy toward Taiwan, Bush said, it will do everything it can to block Taiwan's participation in the WHA.
He added that China "has a lot of friendly countries in Africa and Latin America and other parts of the world that it can leverage to get the decision it wants."
"This has become, for better or for worse, the litmus test of the PRC's minimum willingness to permit Taiwan to have a role in international governmental organizations, and a litmus test of its minimum willingness to afford Taiwan a degree of dignity about its international role," Bush said.
Comments will be moderated. Keep comments relevant to the article. Remarks containing abusive and obscene language, personal attacks of any kind or promotion will be removed and the user banned. Final decision will be at the discretion of the Taipei Times.