Moving India-Taiwan ties in a new direction
A discussion with foreign policy specialists on the potential for an Indian military attache in Taiwan sheds light on the benefits closer collaboration with South Asia's emerging power could bring the nation
When former Taiwanese diplomat stationed in India, Fang Tien-sze (方天賜), called on India to send a military attache to Taiwan in a 2015 article for India Defense Review, the proposal was warmly received among Delhi's policy think tanks.
"A lot of people have been floating the idea here," says Namrata Hasija, research fellow at the Delhi-based Center for China Analysis and Strategy. "And I think it's high time the Indian government act on it."
Were it to occur, India, after the US and Singapore, would become the third country to officially have military advisers or trainers stationed in Taiwan.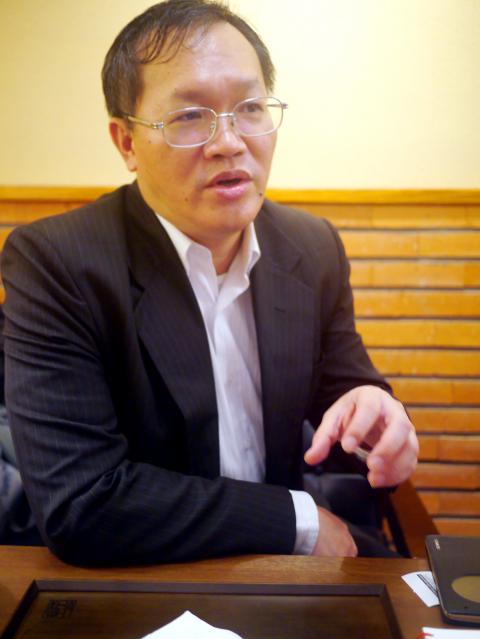 Fang Tien-sze, a former diplomat stationed in India, discusses at a Taipei cafe last month the benefits an Indian military attache stationed in Taiwan would bring for the two sides.
Photo: Liam Gibson
Specialists from both countries say there is vast potential to expand bilateral defense relations and with the two nation's foreign policy agendas — India's Act East and Taiwan's New Southbound Policy — dovetailing in their aim to build new regional partnerships, as well as shared concerns over Chinese military expansion, the time may be ripe for a new level of engagement.
ATTACHE
Shen Ming-shih (沈明室), adjunct associate professor at Tamkang University's Graduate Institute of International Affairs and Strategic Studies, says there is a good chance India will send an attache to Taiwan, noting that Indian Prime Minister Narendra Modi is more focused on relations with Taiwan than his predecessors.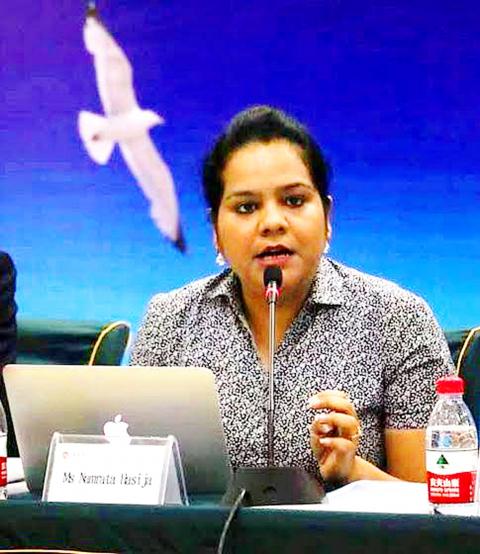 Namrata Hasija talks at a conference on the One Belt One Road initiative at China West Normal University in Nanchong, China in April last year.
Photo: Ramesh Bhattarai
Shen adds that Taiwan has had military attaches stationed in its Taipei Economic and Cultural Center in Delhi since 2000, which has gradually raised the level of strategic cooperation between the nations.
"The rank of the officers that have been deployed there [Delhi] has gotten higher and higher over the years, reflecting the country's closer strategic relationship," Shen says.
Shen adds that India's military must stand to gain in some way from sending an attache, just as Taiwan has benefited greatly from having advisers in Delhi.
Hasija, who is currently writing a book on the history of India-Taiwan relations, says that having an attache based in Taiwan would give India access to the latest intelligence on development of military facilities in China as well as deeper insight into China's Peoples Liberation Army (PLA), which Taiwan's military has researched in great depth.
"Taiwan is the best China-watcher," Hasija says, adding that after last year's Doklam border incident, a military stand off between the Indian army and the PLA, India must learn from Taiwan's experiences in how to deal with territorial disputes with China.
Yet Hasija puts the current likelihood of an attache being sent at around 50 percent, saying concerns over a backlash from China remain.
"The shadow of China still looms large over Taiwan-India relations," Hasija says.
She says that for many years, India requested a letter of approval from Chinese embassy officials in Delhi for any policy developments with Taiwan, but this has changed in recent years, especially since Modi took office in 2014.
Fang adds that after last year's Doklam incident, India has grown more assertive in its dealings with China.
Fang says he recommends sending a retired officer to fill the attache post, as it would make the move less contentious for China.
MUTUAL BENEFITS
But attaches are not the only way forward. Fang adds that in lieu of direct weapons transactions, there is great potential for products that can be used for both civilian and military purposes, such as hi-tech fabrics, to be traded between the nations.
Hasija says submarine building is an area where India can further aid Taiwan, having had considerable success with their program, launching a second indigenous nuclear sub late last year.
Shen adds that further intelligence exchange and military-industrial cooperation would also be beneficial, especially in regard to missiles. He says that the technology behind India's anti-naval cruise missile BrahMos and Taiwan's new Hsiung Feng III are highly complementary and co-development of new missiles between the two nations may prove fruitful.
LACK OF VISION
Yet despite these opportunities, Fang says Taiwan isn't proactive enough in its engagement with India.
"We lack a long-term plan," he says. "This is evident from the fact that there is no graduate institute of Indian studies in Taiwan."
Fang says Taiwanese students are keen to learn more about South Asia as shown by a summer course titled "India Studies," that was held at Tsinghua University last year and attracted over 200 applicants.
Shen agrees that Taiwan's research on India is insufficient and that to create a broader diplomatic vision for India, higher levels of education exchange with the South Asian power are required.
He adds that in a broader sense, Taiwan needs to diversify its strategic alliances and India is a natural partner as it shares democratic values with the nation.
At a time when the direction of US foreign policy is shrouded in uncertainty, fostering closer defense ties with other powers in the Indo-Pacific region is in Taiwan's best interest. With both Delhi's and Taipei's strategic goals closely aligned, this is an optimal time for the two sides to collaborate further, such as with an attache deployment. Yet for a committed partnership or even alliance to be achieved, Taiwan needs to craft a long-term plan for engagement with India and invest deeply in education resources and research on the South Asian region.
"We cannot afford to ignore Taiwan… Until now, India's Act East Policy has been based around trade, but now we must include defense strategy too… and Taiwan should be a part of that," Hasjia says.
Comments will be moderated. Keep comments relevant to the article. Remarks containing abusive and obscene language, personal attacks of any kind or promotion will be removed and the user banned. Final decision will be at the discretion of the Taipei Times.