Taiwan's first Christians in the 17th Century
The first Dutch missionaries not only brought Christianity to Taiwan, but also made contributions in education, health and agriculture
The last surviving written document of the Siraya language, once widely spoken by Siraya Aborigines (西拉雅族) in the area that surrounds present-day Tainan, is a translation of the New Testament's Book of Matthew from Dutch.
Compared to later Scottish and Canadian Presbyterian missionaries James Laidlaw Maxwell and George Lesley Mackay, little is known about the earlier waves of Dutch missionary activity in the 17th century, which led to the conversion to Christianity of thousands of Siraya people. These missionaries not only played a crucial role in spreading Christianity, but also in establishing a rudimentary education and health care system as well as agricultural innovation, importing the water buffalo now common throughout Taiwan.
FIRST WAVE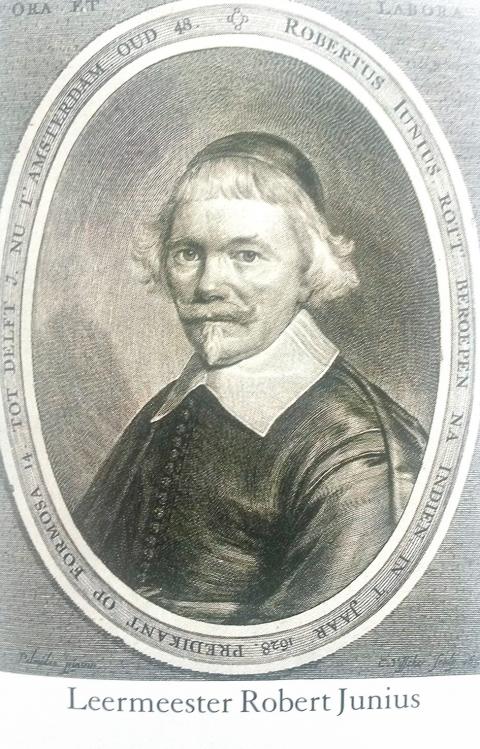 A portrait of Reverand Robertus Junius, one of the first missionaries to arrive in Taiwan during the Dutch colonial era.
Photo courtesy of Wikimedia Commons
Not long after the Dutch established a foothold on the sandy bank of the Tayouan peninsula in 1624 and started to build Fort Zeelandia in what is today's Tainan, the Dutch authorities conducted missionary work among the Aboriginal people. They assigned Reverend George Candidius, who arrived in 1627 but refused to live at the fort, and instead made Sincan in present-day Sinshih District (新市) in Tainan, his home. He learned the Siraya language, and was so successful that on Christmas 1628 said there were 128 locals "who knew the prayers and were able to answer in the most satisfactory manner with regard to the principal articles of our Christian faith."
Candidius also traveled up and down the island and did a population survey. In 1628 he wrote a report about his travels, describing the life of the Aboriginal population of approximately 200,000 who lived in fortified villages, engaging in hunting, gathering and basic agriculture. Headhunting was still a common practice, while the village inips (female fortune tellers) wielded a lot of power. Candidius counted only a few hundred Chinese fishermen and traders from China's Fujian Province along the coast.
In 1629, Candidius got reinforcement: Reverend Robertus Junius, who not only learned Siraya, but translated some books of the New Testament into the language. Junius stayed closer to Fort Zeelandia, living in the village of Sakam, near the small Fort Provintia in today's Tainan. He was more closely involved with the Dutch pacification campaigns against hostile villages such as Mattau, present-day Madou District (麻豆) in Tainan, and even led a military expedition.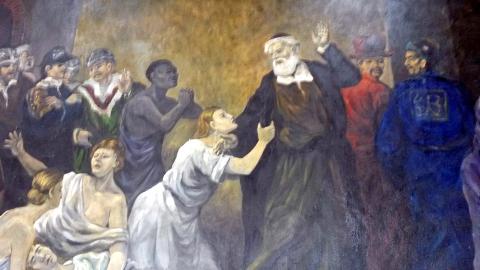 This painting depicts the scene of pastor Anthonius Hambrouck leaving his daughters behind in Fort Zeelandia, in today's Tainan, to deliver the message of no surrender from Dutch Governor Frederick Coyett to Koxinga, who had laid seige to the fort in 1661. The artwork hangs on the walls of Anping Fort today.
Photo courtesy of Wikimedia Commons
Around 1635, after the "Pax Hollandica" or Dutch peace, was established, more and more migrant workers from Fujian came and started growing rice and sugar, leading to abundant crops and their export to far-away places such as Persia and Japan.
Junius established the first school in Taiwan in 1636, teaching a class of 70 boys to write their mother tongue in the Roman alphabet. The system of schooling spread quickly and by the early 1650s, there were 40 schools in the region, some with Dutch schoolmasters, but many also hiring Aboriginal teachers.
During this period, the Dutch authorities hired four more ministers to do missionary work in the region, eventually resulting in some 5,000 converts among the Siraya population. Junius returned to his home country in 1644, became a pastor in Delft, and taught the Siraya language to aspiring theology students for many years.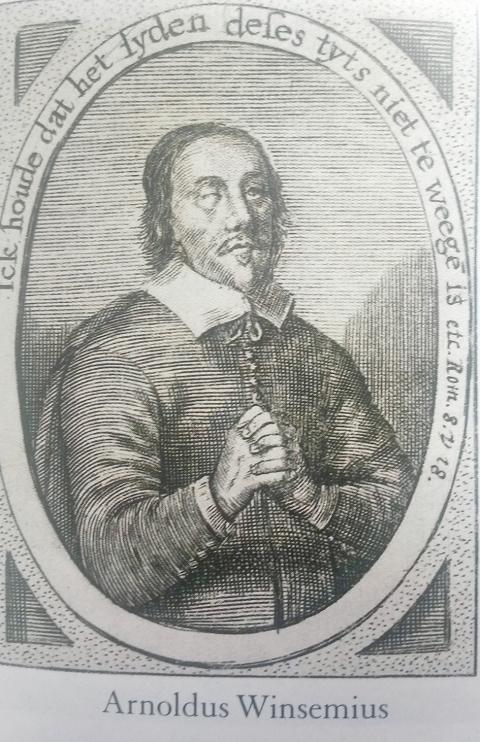 A portrait of Arnoldus Winsemius, who studied the Siraya language under Robertus Junius in Amsterdam before heading to Taiwan in 1655.
Photo courtesy of Wikimedia Commons
SECOND WAVE
There were two stand out missionaries among the second wave who arrived in Taiwan in the 1640s: Daniel Gravius and Anthonius Hambrouck.
Reverend Gravius was stationed in Siaolang (蕭瓏), north of present-day Tainan, and had extensive contact with the new immigrants from Fujian, who were trying to eke out an existence in the frontier territory that was Taiwan in those days. He observed their relatively basic method of cultivation and decided to help: in 1649, he imported 121 black water buffaloes from the East Indies, where he had observed the local population use the oxen to successfully cultivate rice. Today the water buffalo is the symbol of traditional agriculture in Taiwan.
A portrait of Reverend George Candidius, one of the first Christian missionaries to arrive in Taiwan during the Dutch colonial era.
Photo courtesy of Wikimedia Commons
Gravius was also responsible for the translation of the New Testament's Book of Matthew from Dutch into the Siraya language, reportedly the only written document of the language still in existence.
THE MESSENGER
Reverend Hambrouck became most famous in his role as intermediary after the landing of Cheng Cheng-kung (鄭成功), also known as Koxinga, in late April 1661. Koxinga and his 25,000 invading troops were able to occupy the countryside area around Fort Zeelandia, but not the heavily defended fort itself.
Koxinga arrested and imprisoned some 500 Dutch who lived in the 40 villages around Fort Zeelandia, and ordered Hambrouck to go to the fort and convince Governor-General Frederic Coyett to surrender. Koxinga kept Hambrouck's wife, one daughter and son as hostages. His other two married daughters lived at the fort.
When Hambrouck met Coyett, he urged him not to surrender, but to hold out for reinforcements from Batavia to arrive. His two daughters at the castle begged him to stay. But Hambrouck wanted to safeguard the lives of his wife, son and daughter, and returned to Koxinga's headquarters at Fort Provintia, handing Koxinga the negative answer of Coyett.
Initially, Koxinga had treated the nearly 500 Dutch who remained outside the Fort reasonably well, but as the siege of Fort Zeelandia dragged on, the situation became grim, with Koxinga imposing increasingly strict conditions on the incarcerated civilians, mostly teachers, civil servants, medical personnel and half a dozen pastors. Also, reports reached the fort that in some outlying villages, Koxinga's troops tortured and even crucified the remaining Dutch and their Siraya supporters.
FIRE AND FURY
The worst was to come in mid-September 1661, when Koxinga flew into a rage and rounded up nearly 500 men, women and children (including the pastors), first torturing them by slicing off their ears, nose and hands before finally beheading them. A number of Dutch women and girls were kept as sex-slaves by Koxinga and his officers.
History books mention two possible reasons for Koxinga's rage — the previous week 10 Dutch ships unexpectedly appeared off the coast, bombarding Koxinga's camp and killing many of his soldiers before returning to Batavia after bad weather stopped them from landing.
The other possible reason was that to the northeast of Fort Zeelandia, Aboriginal supporters of the Dutch laid siege to Koxinga's troops and killed 2,000 of his soldiers. Either way, the massacre brutally ended the existence of what had been a burgeoning Christian community around Tainan.
The siege of Fort Zeelandia ended on Feb. 1 1662, when Coyett finally had to surrender. To his credit, Koxinga granted safe passage to the remaining 1500 to 1600 Dutch who had lived in the fortress for nine months. Under the 18-point agreement between Coyett and Koxinga, the Dutch were allowed to "march out of Fort Zeelandia with drums beating, banners flying, guns loaded and fuses lit." That happened on Feb. 12 1662, when they boarded the Dutch ships waiting to return them to Batavia.
Thus ended the first presence of Christian missionaries on Taiwan. In total, some 30 Dutch pastors served in the various towns in and around present-day Tainan. Koxinga ordered his troops to systematically destroy the churches, small hospitals and schools built by the Dutch, but the local Siraya would continue to recite Bible verses for many years to come: 150 years later, Roman Catholic missionaries visiting the region recounted that they found a number of local groups still speaking rudimentary Dutch and reciting the Dutch Catechism.
Gerrit van der Wees is a former Dutch diplomat who also served as editor of 'Taiwan Communique,' a publication in Washington DC. He currently teaches history of Taiwan at George Mason University.
Comments will be moderated. Keep comments relevant to the article. Remarks containing abusive and obscene language, personal attacks of any kind or promotion will be removed and the user banned. Final decision will be at the discretion of the Taipei Times.