Book review: If worst comes to worst
In this landmark work, US scholar Ian Easton outlays what a cross-strait invasion scenario would look like and what should be done now to safeguard Taiwan's sovereignty
Taiwan and its future are always sensitive topics, in the US, China and in the nation itself.
Its complicated history is often a source of confusion to policymakers around the world, who for many decades only heard the two opposing and conflicting "one China" narratives from Mao Zedong's (毛澤東) Chinese Communist Party (CCP) and Chiang Kai-shek's (蔣介石) Chinese Nationalist Party (KMT).
However, in the late 1980s and early 1990s, the people of Taiwan forged a momentous transition to a dynamic and vibrant democracy, eager to cast off the bonds of the past, and anxious to be accepted in the international community as a full and equal member.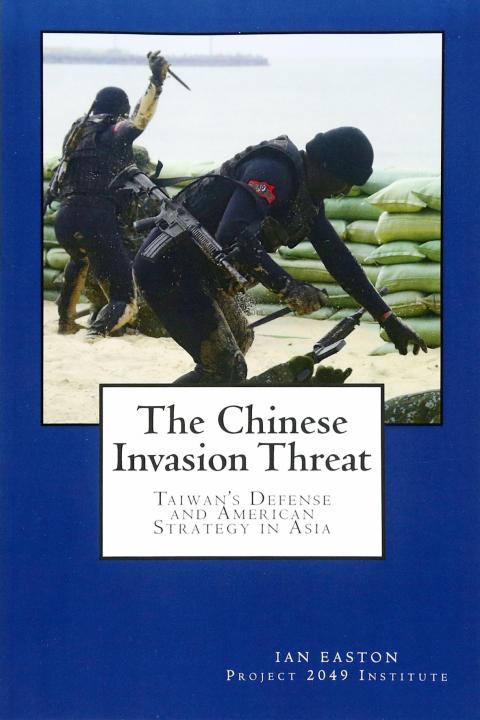 The Chinese Invasion Threat: Taiwan's defense and American strategy in Asia, by Ian Easton.
However, Mao's political descendants in Beijing still perceive Taiwan as an unfinished piece of business from their Chinese Civil War against the KMT, and thus Taiwan still dangles in international isolation. Most nations, including the US, have refrained from normalizing relations with Taiwan for fear of offending authoritarian China.
Since the founding of the Peoples Republic of China (PRC) in 1949, Beijing has been attempting to isolate Taiwan and pull it into its orbit, with the purpose of eventual "unification" — which is odd because Taiwan was never part of the PRC, as prior to its 1945 occupation by the KMT it was a Japanese colony.
Beijing is utilizing a wide range of tools to try to achieve its goals: political, diplomatic, economic and military. In this book, US scholar Ian Easton focuses on the military aspects — based on internal documents of the Chinese Peoples' Liberation Army (PLA). He describes a detailed scenario of how the PLA plans to go about an amphibious invasion of Taiwan.
While the threat of a Chinese invasion has been bandied around by analysts for decades, this is the first time a scholar has pieced together how it could actually work — and how it could fail.
Easton starts by giving a sobering picture of the PRC's intentions and capabilities regarding Taiwan. He then goes through a detailed scenario (down to the level of individual army divisions, brigades and regiments, navy and air force squadrons) of how the PLA would go about planning and implementing an invasion — under ideal circumstances.
Easton then details what could go wrong with an invasion of such massive scale (up to 1 million men) across such a wide body of water — the 177km-wide Taiwan Strait is known for its treacherous weather and Easton argues that there are only two brief periods, April and October, when the weather conditions would be favorable to such a large-scale operation.
HOME ADVANTAGE
In addition, Easton describes Taiwan's rocky coastline as quite inhospitable to an invading force, while the few beaches that would lend themselves to large-scale landings are heavily defended. He points to areas in intelligence, personnel and equipment where an invasion would be likely to go wrong.
Easton then describes how Taiwan would prepare, and fight such an attack. He details three phases: mobilization and force preservation, joint interdiction and homeland defense. He emphasizes that although the invading PLA forces would have numerical superiority, the Taiwanese defenders would have the home advantage and would likely hold off or even severely cripple the invaders. He concludes an invasion is likely to fail, even in the absence of US intervention.
This brings us to the US role in a potential conflict. Easton devotes a whole chapter to the American strategy in Asia. He describes how Taiwan, not only because of its location but also due to its shared liberal values and position as a key trading partner, is of strategic importance to the US.
Easton argues that US obligations under the 1979 Taiwan Relations Act (TRA), while not as binding as a mutual defense treaty, would strongly compel the US to side with Taiwan in case of a military attack by China. The TRA even specifies that the US will maintain the capacity to resist "any effort to determine the future of Taiwan by other than peaceful means, including by boycotts or embargoes," or "…any resort to force or other forms of coercion that would jeopardize the security, or the social or economic system, of the people on Taiwan."
REDEFINING RELATIONS
Easton recommends the US think through its response to a possible invasion, but also understand how China "thinks about war so they [the US] can effectively induce or coerce [China] away from it, to do things that make it less tempting."
"Calculations of possible war outcomes in all possible scenarios must always be so unfavorable to Chinese leaders that they do not perceive any incentive to initiate an attack," he adds. "Elevating the role of Taiwan in US strategy would likely prove to be the single most effective means of signaling resolve and purpose, diminishing the likelihood of a potentially cataclysmic regional conflict."
Easton argues that it is essential to redefine the political framework of relations with Taiwan for such a defensive strategy to work. He suggests Washington rephrase its official position along the lines: "The status of Taiwan remains to be determined, by peaceful means. The objective reality is that Taiwan's democratic government exists, and our policy is to treat Taiwan with respect and dignity, and provide it more international space."
He concludes that under such a framework, the US government could continue to maintain unofficial relations with Taiwan, while gradually normalizing diplomatic contacts over time.
"Incrementally," he adds, "improving bilateral relations between Washington and Taipei is the best available way to avoid military confrontation with China while advancing the American interest in securing Taiwan from hostile takeover."
The book is concise, prescient and a must-read for policymakers and military planners alike.
Publication Notes
Publication Notes
The Chinese Invasion Threat: Taiwan's defense and American strategy in Asia
By Ian easton
406 pages
The Project 2049 Institute
Paperback: US
Comments will be moderated. Keep comments relevant to the article. Remarks containing abusive and obscene language, personal attacks of any kind or promotion will be removed and the user banned. Final decision will be at the discretion of the Taipei Times.