Gettin' down to the nitty-gritty
As Grandma Nitti's, a Shida Road institution and favorite among long-term expats, serves up its famed brunch for the last time, owner Rainbow Lin shares why now, after almost 30 years, its time is up
Grandma Nitti's is a buzz. Patrons flow through the front door, old friends call out to each other across the room and some customers are standing by the kitchen, crying.
Owner Rainbow Lin (林虹惠) is seated in the corner, surrounded by three other restaurateurs who are desperately trying to get her to reconsider.
"Why don't you move to another location? Why not become a shareholder and let someone else run the business?" they ask. Rainbow shakes her head wearily.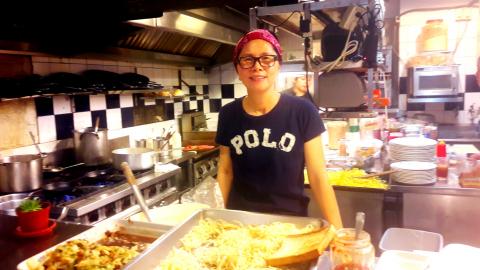 Rainbow Lin cooks in the kitchen of Grandma Nitti's on its last day of trade yesterday.
Photo By Han Cheung
After running it for almost 30 years, Grandma Nitti's, one of Taipei's first Western-style restaurants, yesterday permanently closed its doors.
Renowned for it's authentic home-style cooking, it won a loyal following among locals and homesick expats. But with Rainbow's best apprentices having left for China, there is no one left to replace her. Added pressure from recent changes to the labor law have lead her to call it quits. Reflecting on the generational changes she's witnessed in the service industry, Rainbows' story shows that the best way to achieve your own success is to start by caring for other people.
"They've been coming here since they were children," Rainbow says, looking toward the teary patrons. "I would never have thought I would last this long."
BORN TO CARE
Growing up the only daughter in a poor family in Taipei's Wanhua District (萬華), Rainbow says she spent her childhood cooking, cleaning and looking after her three brothers.
"In those days, daughters weren't valued as much as sons so that was what was expected of me," she says. Rainbow says this upbringing taught her to rely on no one but herself and at 16 she left home and started working.
"I haven't owed anyone a penny since," she says.
Rainbow says she started Grandma Nitti's in 1989 after her husband complained of the lack of authentic Western food in Taipei.
The menu grew as customers requested different dishes that reminded them of home. Soon, these customers were calling it their "home away from home," a phrase that became the restaurant's slogan.
"I enjoy caring for people," she says. "When someone asks me for something, I find a way to provide it for them."
TALENT SHORTAGE
Rainbow says her struggle to find staff has only gotten more difficult in recent years.
"The talent has all left Taiwan," she says.
She says she's trained a number of apprentice cooks who have all moved to China and are doing well in various sectors of the hospitality industry there.
"I'm proud of them," she says. "I taught them that to succeed in this business, you have to have both strong determination and self-reliance."
Rainbow says many young employees aren't willing to work hard, regardless of pay incentives.
She says the government is partially responsible in failing to address skill shortages and for deceiving young people with empty promises to win their votes.
"They use these empty phrases like be yourself and use love, but what do these actually mean?" Rainbow says.
She adds politicians avoid telling young people the hard truth about career success — "there's no shortcut, you have to work hard."
Rainbow says recent labor law changes have added to the burden of running an understaffed kitchen.
"If I need my cooks to work overtime, I have to pay double, triple," she says. "I end up doing more of the work myself."
Rainbow says these laws are well-suited for white-collar professionals, but disastrous for the hospitality sector.
"I'm near breaking point," she says.
WORDS OF WISDOM
Her mother passed away in March and, having looked after her to the very end, Rainbow says now she has a chance to rest.
"You need to make sure you take care of yourself if you want to keep caring for others," she says.
An animal lover and pet-owner many times over, Rainbow says she wants to use the Grandma Nitti's brand to do more volunteer work for stray animal rescue organizations. She says she also has to get around to doing some long-postponed travel.
"I want to see the Northern Lights," she says, referring to the Aurora Borealis.
Looking back, Rainbow says it's the many friends she's made over the years that have made running the restaurant so fulfilling.
Her advice to the next generation of entrepreneurs is simple .
"Think first about how you can help others."
Comments will be moderated. Keep comments relevant to the article. Remarks containing abusive and obscene language, personal attacks of any kind or promotion will be removed and the user banned. Final decision will be at the discretion of the Taipei Times.