Taiwan should be represented in the UN: Expert
Panelists at East Asian Democracy Forum see Taiwan as a model and cite legal precedent for the nation to join UN
A leading US specialist on Chinese law and government said last week that Taiwan should have representation in the UN.
The remark by Jerome Cohen, who taught former president Ma Ying-jeou (馬英九) at Harvard Law School, came just minutes into his talk last Monday at the East Asia Democracy Forum held at the Taipei Economic and Cultural Office (TECO) in New York.
It drew prompt applause from the audience.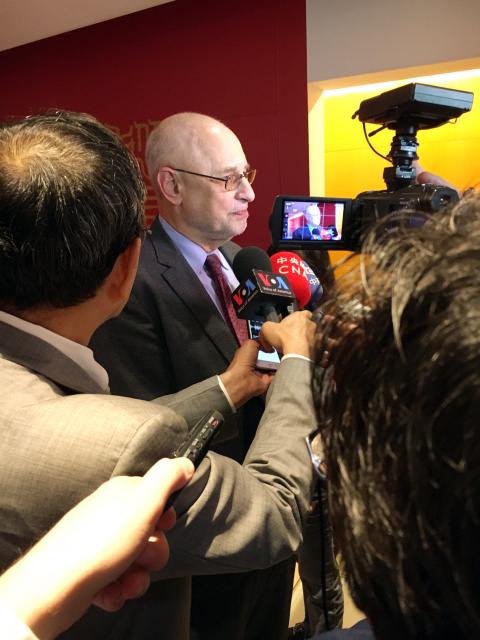 Andrew Nathan speaks to reporters last Monday before the start of the East Asia Democracy Forum in New York.
Photo: Chris Fuchs
"I know the significance of the UN General Assembly getting itself together today," he said. "I think Taiwan should be represented in the UN."
Cohen, a law professor at New York University School of Law since 1990, told attendees he played a role in persuading the US to acquiesce in giving the UN seat once belonging to the Republic of China (ROC) to the People's Republic of China (PRC) in 1971.
"It seemed to me that as between the Chiang Kai-shek (蔣介石) dictatorship on Taiwan and the Mao Zedong (毛澤東) dictatorship that controlled China, that we should have the UN recognize reality and have China represented in the UN by the People's Republic," Cohen said.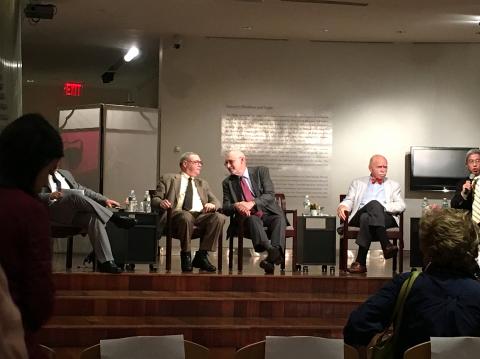 Jerome Cohen, far right, Andrew Nathan, center, and Arch Paddington discuss Taiwan's admission to the UN at a conference on democracy in East Asia in New York last week.
Photo: Chris Fuchs
Looking back, he said he didn't think it was a mistake.
"That was 47 years ago," he said. "But things have changed now. Taiwan is no longer the Chinese Nationalist Party (KMT) dictatorship. White terror ended generations ago. We have seen more progress."
The forum — organized by the Taiwan Foundation for Democracy (臺灣民主基金會), a Taipei-based nonprofit, and Freedom House, an American independent watchdog group — comes just two days after hundreds marched through the streets of New York City calling for Taiwan's inclusion in the UN.
Not far from TECO, meanwhile, leaders from around the world were gathering last week for the 72nd regular session of the UN General Assembly.
OPTIONS ON THE TABLE
Cohen told the Taipei Times he believes the Chinese government could devise a formula with UN member states to allow Taiwan representation in the General Assembly without "compromising the territorial claim that divides them over the status of Taiwan."
He said, for instance, that Beijing might insist that Taiwanese President Tsai Ing-wen (蔡英文) adopt the "1992 consensus" as a concession and that Taiwan could enter the UN under a more acceptable name.
The "1992 consensus" refers to a tacit understanding between the KMT and Beijing that both sides acknowledge there is "one China," with each side having its own interpretation of what "China" means.
Former Mainland Affairs Council chairman Su Chi (蘇起) said in 2006 that he had made up the term in 2000.
"If Taiwan refused that kind of compromise, it could enter perhaps under the rubric of Taiwan-China, which has been used on occasion," Cohen said. "There are many possibilities. International law is full of examples of great flexible formulae that have been worked out to meet various needs."
Last Monday's discussion on East Asian democracy also comes as Taiwan marks three decades since the end of martial law. During that period, which lasted a little more than 38 years, Taiwanese were denied such freedoms as the right to assemble, speak freely and organize political parties.
Former president Chiang Ching-kuo's (蔣經國) decision to lift martial law in 1987 was seen as an important first step toward democratizing the nation, though restrictions on certain freedoms still persisted in the years following.
Andrew Nathan, a political science professor at Columbia University, told the audience that China of late is entering back into the debate on democracy by saying it doesn't work and that its own system is a better alternative.
"This is one of the reasons I think why the experience in Taiwan is very, very important," he said. "It's important because it shows that democracy does work. It shows that democracy is not foreign to Asian cultural systems."
The reason why the Chinese model is supposed to be good, Nathan said, is that it delivers economic growth and results, like the high speed rail.
"The claim by the [Chinese] leadership is you don't need to know what we're doing, you just need to see the results and be satisfied with them," he said.
THE TAIWAN MODEL
"What the Taiwan experience, I think, shows us is that, of course results do matter, but that freedom of speech itself is a result," Nathan added. "It's a human value of its own — maybe even better than the high speed rail."
Arch Puddington, distinguished fellow for democracy studies at Freedom House, said China today is the greatest adversary to democracy.
"They're building up massive economic power," he said. "They're buying influence in their own neighborhood, in Central Asia, in the Balkans, in other parts of Europe, in Africa and in Latin America through a whole series of different initiatives."
In this year's Freedom in the World report, Freedom House labeled China "not free," ranking it "least free" for political rights and close to least free on civil liberties.
The Freedom House report noted that Chinese President Xi Jinping (習近平) is "consolidating personal power to a degree not seen in China for decades."
It also mentioned the continued series of crackdowns on civil society in China, including arrests and prosecutions of bloggers, activists and human rights attorneys.
Xi is expected to be reappointed when the Chinese Communist Party's 19th National Congress gathers in October.
According to one expert, cross-strait relations could change for the better following that meeting, as China's Taiwan Affairs Office Minister Zhang Zijun (張志軍) and Chinese People's Political Consultative Conference Chairman Yu Zhengsheng (俞正聲), who determine China's Taiwan policy, are expected to be replaced.
LEE MING-CHE
Several speakers also brought up the arrest and prosecution of Taiwanese human rights activist Lee Ming-che (李明哲), who has been detained in China by authorities since March.
Lee pleaded guilty this month in a Chinese court to a charge of "subversion of state power" and is to be sentenced at some point in the future. Premier William Lai (賴清德) has called for Lee's swift release.
"Xi Jinping has taken the PRC in the wrong direction, as we all know," Cohen said. "It's shameful, it's disgraceful what he and his regime are doing to the human rights advocates, human rights lawyers."
Nathan said Lee's prosecution is counterproductive to China's efforts to win hearts and minds, which he said China intends to do through economic influence, not by rule of law.
"People in Taiwan of course are concerned about economic growth and about economic welfare," Nathan said. "They very much have their sense of dignity individually [and] as a collective, as a population. This will make it harder for China to get control over Taiwan."
During the forum — which also included Global Taiwan Institute executive director Russell Hsiao (蕭良其) and was moderated by Taiwan Foundation for Democracy president Hsu Szu-chien (徐斯儉) — Cohen pointed out areas where Taiwan can improve.
He urged the adoption of an independent human rights commission and ratification of the UN convention against torture.
Cohen also said Taiwan needs to be more active in letting the world know about its accomplishments.
"I congratulate Taiwan's government on what it has done," he said. "But it can't rest on its laurels."
Comments will be moderated. Keep comments relevant to the article. Remarks containing abusive and obscene language, personal attacks of any kind or promotion will be removed and the user banned. Final decision will be at the discretion of the Taipei Times.