Move over beef noodle soup, vegans are taking Taipei by storm
While practically unthinkable a few years ago, vegan eateries are now a staple of Taipei's foodie scene — a fact confirmed by the recent title of most vegan-friendly city in Asia
It was Christina Kuo's (郭綵婕) daughter's first birthday cake and it was a beautiful sight — layer upon layer of mouth-watering chocolate. To Kuo's horror, the minute her daughter bit into it, her skin broke out in hives, her fingers swelled up and she developed a high fever. Kuo speculates that the bakery forgot about their request and used eggs, which her daughter is allergic to.
Though she recovered quickly, Kuo says the most heart-wrenching moment came when her daughter asked: "Mommy, so does this means I can't eat cake for the rest of my life?"
'VEGAN-FRIENDLY' CITY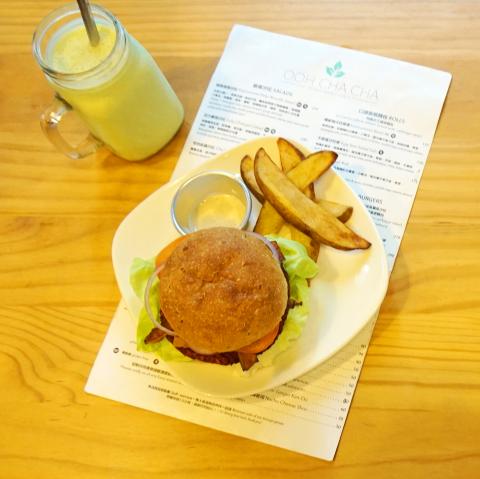 A "bacon cheese" burger at Ooh Cha Cha.
Photo: Dana Ter, Taipei Times
That's when the idea of opening a vegan bakery struck Kuo and her Indian expat husband Ravi Dadlani.
"I just wanted to show people that you can be allergic to dairy... or be a vegan and still enjoy cakes and desserts," says Kuo who opened Fresh Bakery and Cafe in 2013.
The bakery substitutes soy milk and almond milk for regular milk and uses more flour in their cakes instead of eggs.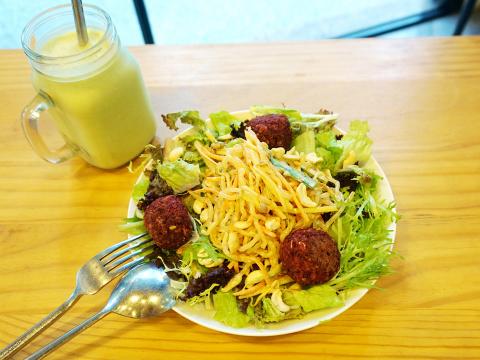 A Vietnamese Kelp Noodle Salad with beet balls at Ooh Cha Cha, Taipei's first vegan restaurant.
Photo: Dana Ter, Taipei Times
The bakery's four-year anniversary falls at an auspicious time. Last month, animal rights group People for the Ethical Treatment of Animals (PETA), Asia, named Taipei the most "vegan-friendly" city in Asia.
Much has changed since 2013. Vegan restaurants like Ooh Cha Cha and Soul R Vegan and bakeries like Vegan Haven and Green Bakery have been popping up all over the city.
"You will never worry about not being able to find... a 'bacon and cheese' burger or mocha and walnut waffles," says Jason Baker, PETA Asia's vice president.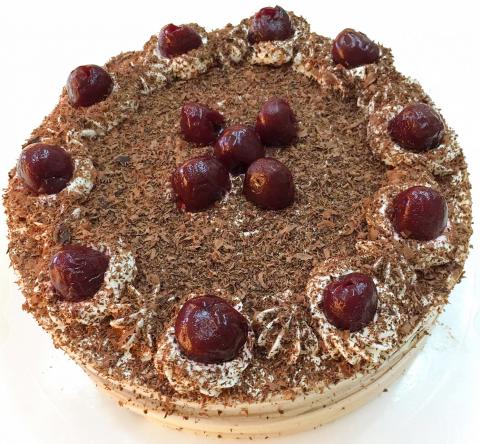 Fresh Bakery & Cafe's chocolate cake.
Photo courtesy of Fresh Bakery & Cafe
"On a recent trip to Los Angeles, people talked about how jealous they were about me being so close to Taipei and having the chance to taste the great vegan cuisine there," Baker says.
Taipei was an easy choice, he says, because of its vegan movement, which has grown exponentially over the last few years.
TRANSPARENCY AND CHIA SEEDS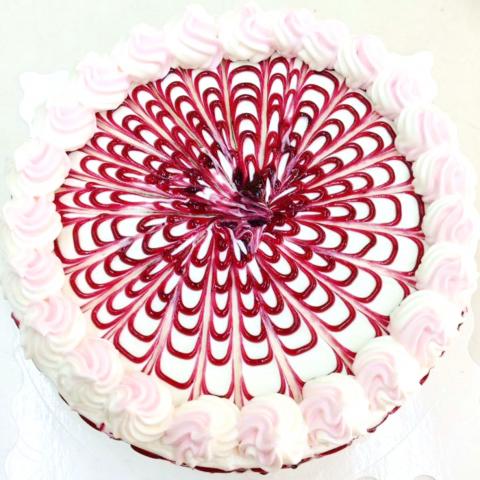 Fresh Bakery & Cafe's blueberry cake.
Photo courtesy of Fresh Bakery & Cafe
When I visit Kuo at Fresh Bakery & Cafe's new location, she says she isn't shocked that Taipei — a city known for its street food and night market delicacies — claimed the title.
Taipei has a large vegetarian community, many of whom are Buddhists, so the transition to veganism — cutting out dairy — wouldn't be too big of a leap. Buddhism also teaches not to be cruel to animals, which is another important tenant of the vegan lifestyle.
A series of nation-wide food safety scandals — which involved restaurants and roadside stalls using recycled oil collected from grease traps — have made consumers wary of the ingredients used in their food.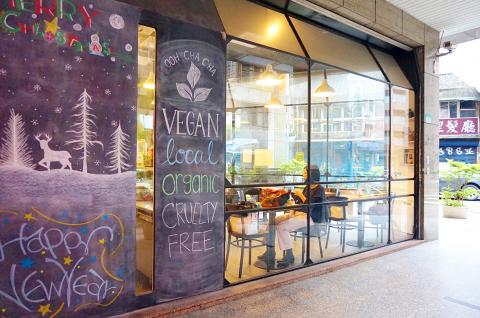 Ooh Cha Cha, Taipei's first vegan restaurant opened in 2013. It serves vegan burgers, salads, smoothies and craft beer.
Photo: Dana Ter, Taipei Times
Mai Bach, founder of Taipei's first vegan restaurant Ooh Cha Cha, agrees that these two factors have contributed to the spread of veganism in Taipei.
"After the food safety scares, consumers are becoming more sensitive to the types of ingredients that restaurants are using," she says.
The sun streams into the floor-to-ceiling windows of Ooh Cha Cha's compact corner shop near Guting MRT station as we chat over smoothies packed with superfoods and a Vietnamese kelp noodle salad with ginger beet balls — "meatballs" made from beet.
When the California native opened her restaurant in November 2013, it was difficult to find ingredients because the vegan market was still finding its footing. Today, you don't have to travel too far in Taipei to find something as rare as chia seeds, a nutrient-rich superfood.
"It was a sure sign that the market was ready to accept veganism," Bach jokes.
Education through social media is a huge part of Ooh Cha Cha's mission — they regularly post about the ingredients they use on their Facebook page.
VEGAN JUNKIES
A hurdle that both Kuo and Bach faced when getting started was convincing consumers that vegan food could be tasty.
"People would walk into our shop and ask if there were any meat options," Bach says. "When we tried to explain to them why we didn't, they sometimes walked out."
Kuo says that much vegetarian food served in local restaurants is bland or greasy.
"We had some problems with convincing people that eating vegan didn't mean that you had to give up all the flavors that you love," Kuo says. "For instance, tofu does not have to be bland. Instead of a black pepper steak, try cooking black pepper tofu."
Bach says the transition from vegetarianism to veganism was a tough one. She found herself craving vegetarian buffets and potato chips. Yes, it turns out potato chips are vegan.
"I was such a junk food addict," Bach says.
And yes, it is possible to be an "unhealthy vegan," she adds. After doing some research and experimenting with recipes, Bach eventually learned how to create vegan meals that were healthy and appetizing. The beet balls are thoroughly delicious — they taste like actual meatballs but with an earthy kick — as is the Saigon Bowl, which includes lemongrass tofu, picked radish and carrot, bean sprouts and walnut pate.
Bach still allows some room for sin, though. On the menu is a wide selection of craft beer — vegan, of course.
Comments will be moderated. Keep comments relevant to the article. Remarks containing abusive and obscene language, personal attacks of any kind or promotion will be removed and the user banned. Final decision will be at the discretion of the Taipei Times.