An unfriendly root
Taro does not make life easy for the cook, but with just a little effort it can be turned into a great source of comfort food that is filling and flavorful
Taro is one of the great staples of Afro-Caribbean and Pacific island food, but it has made few inroads into the culinary traditions elsewhere. Chinese cuisine makes a number of specific uses of taro, which are deservedly famous, but it is not in any danger of replacing any of the better-known starches such as potato or squash. And taro does not make it easy on itself, because it is an unfriendly ingredient, requiring special care in its preparation.
Taro can range in size from that of an oversized potato to something not much bigger than a golf ball. The latter are making their presence felt in Hualien at the moment, as Jian Township (吉安) is a major producer. This small variety, which I use in the recipe below, has a delicate flavor that showcases other ingredients while providing a unique baseline flavor for the whole dish. Their flesh also varies in color from pale ivory, rather like daikon, through to blotchy purple. In Taiwan, taro is associated almost exclusively with the purple variety, which is often seen chopped in chunks and cooked with sugar as a sweet topping for shaved ice, or made into taro balls (芋圓, a particularly Taiwanese preparation using sweet potato flour) and served in a sweet soup. It also comes in the form of taro cake (芋頭糕), which consists of a dense mix of rice flour, taro, sometimes shiitake mushrooms and sausage and is often served fried in thick slices as part of a traditional southern Chinese breakfast. The cake is a standard item on the Cantonese dim sum menu, but should not be confused with taro dumpling, a pastry encasing seasoned pork that is deep fried to create a flaky, flavorful ball of oral delight.
But in my experience, while widely used in a variety of ways within the Chinese culinary tradition, taro is generally a restaurant food rather than something that makes a regular appearance on the home dining table. I can only assume that this is down to its intimidating nature, as handling a raw taro can easily cause skin irritation, and eating taro that has not been fully cooked can lead to mild poisoning.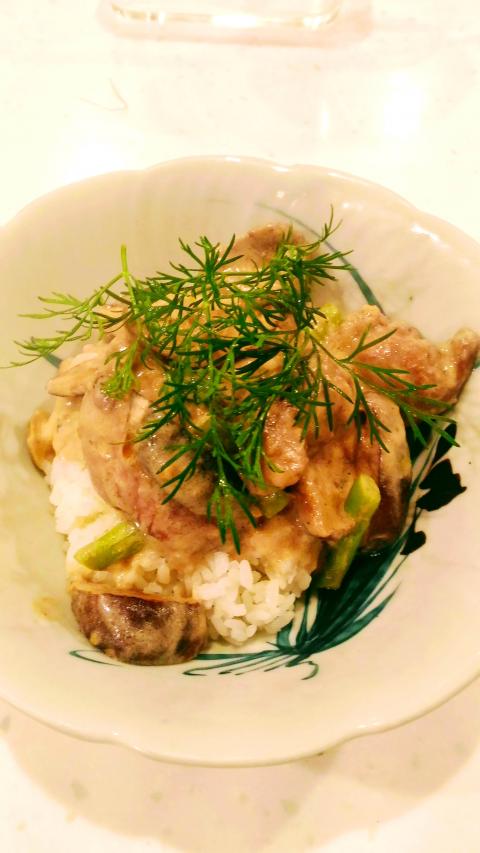 Braised taro with duck breast makes a great meal with white rice.
Photo: Ian Bartholomew
The taro, in its raw state is packed with toxins that will cause discomfort and sickness, which is not a really good start for any kind of food that aims at popular appeal. This is all due to the presence of calcium oxalate, which is stashed just beneath the skin of the taro. This will cause irritation to the skin when peeling the root, and if eaten, may make you feel a choking sensation.
The skin irritation is nothing too dire, but expect significant discomfort for 30 minutes to an hour after peeling taro with bare hands. The slimy coating on the tuber is the culprit, so wear gloves or use a kitchen cloth to avoid direct contact. Simple enough, really. And all the nastiness disappears once the taro is cooked, and what you have is something like a super potato, a starchy root packed with nutrients. It is higher in calories than potato, but has up to three times the dietary fiber, and unlike the potato has a low glycemic index, so you don't get a spike in sugar levels. Taro root is also a great source of potassium, vitamin C, calcium, vitamin E, B vitamins, magnesium, manganese and copper. That said, it is not recommended for those with allergies or inflammations, as it might aggravate these, nor should it be eaten by those with digestive problems. Chinese dietary lore insists that it should not be consumed in conjunction with bananas.
There are those who say that taro does not have much flavor, but as with many starchy foods, it is a great carrier of flavor and is a great accompaniment to quality poultry or pork.
Taros are not lovely to look upon, but have plenty of character that amply makes up for appearances.
Photo: Ian Bartholomew
Braised taro with duck breast
Recipe
(serves four)
Taro and duck are one of those traditional combinations that do not seem particularly intuitive but have stood the test of time, like duck and orange in French cuisine. The earthiness of the taro is a perfect foil for the slight gaminess of the duck. The dish can also be made using chicken, which is also delicious, but presents quite a different flavor profile. The gooey warmth of the taro makes this a perfect dish for the cold winter months providing belly-filling comfort and warmth. The mini Jian taros are not essential to this dish, but larger varieties will provide a more obtrusive flavor.
Ingredients
2 medium duck breasts (about 300g)
4 miniature taros (about 300g)
20g dried shiitake mushrooms
2-3 thin slices of ginger
1 stem spring onion
500ml chicken stock, preferably homemade
100ml milk
Salt and white pepper to season
Fennel tops to garnish
10 or so French beans
Olive oil
Process 1
1. First prepare the taro, remembering to wear gloves or use a towel. Cut away the hairy outer skin and if large, halve or quarter to make large bite-sized pieces (they will shrink a little with cooking).
2. Soak the shiitake mushrooms in hot water. Once soft, remove the stem and cut into thick slices. Clean the French beans and steam over high heat for 3 minutes. Set the mushrooms and beans aside.
3. Using a sharp knife, score the skin of the duck breast into a hatch pattern and season with salt. Add a little oil to a cold pan and fry the duck, skin side down, over low heat. This process should produce quite a bit of oil. Fry until the skin is golden brown and crispy (the duck does not have to be cooked through at this point). Remove the duck to a chopping board.
4. Pour off some of the oil if there is too much, keeping about 3 tablespoons in the pan. Over low heat, fry the ginger and spring onion until fragrant, about 5 minutes. Remove from the pan and discard.
5. Fry the taro pieces in the flavored oil until they begin to turn brown. This helps the taro keep its shape when it is braised with the stock. Add the mushrooms and fry for a minute more.
6. Add the stock, bring to a boil and simmer for 30 minutes until the taro is soft and yielding.
7. Add the milk and bring to a low boil. Slice the duck into thin slices and add to the pot. Stir and cook for about 1 or 2 minutes until the duck is just cooked through.
8. Add the steamed French beans. Serve immediately over rice and garnish with fennel.
Ian Bartholomew runs Ian's Table, a small guesthouse in Hualien. He has lived in Taiwan for many years writing about the food scene and has decided that until you look at farming, you know nothing about the food you eat. He can be contacted at Hualien202@gmail.com.
Comments will be moderated. Keep comments relevant to the article. Remarks containing abusive and obscene language, personal attacks of any kind or promotion will be removed and the user banned. Final decision will be at the discretion of the Taipei Times.