Book Review: A misunderstood crisis
Through debunking misconceptions and providing detailed history and analysis of numerous issues surrounding Taiwan, J Michael Cole's new book calls for the international community to pay attention to Taiwan's plight and its people's wish to continue their way of life
This book is written from a pro-Taiwan perspective by a long-time foreign journalist and researcher residing in Taiwan, and should be read as such. Cole announces his stance in the introduction, stating that he has "strong views on the notion that the 23 million people of Taiwan should be able to determine their own future, a right that far too often is denied them due to Chinese pressure and international complicity."
Few English-language books come from this perspective, not to mention one that is very well-written and researched. There's barely any academic jargon, and the concepts are clearly organized and easy to understand. Cole is opinionated and is not shy to express it, but that is the point of the book -- to provide an opposing perspective from someone who lives and works in Taiwan and is concerned about the country's welfare and future.
That said, Cole does take a few digs here and there at KMT politicians — Lien Chan (連戰) is opportunistic, former president Ma Ying-jeou (馬英九) would shed tears only in memory of (former president) Chiang Ching-kuo (蔣經國) — and appears to be more sympathetic toward the opposition Democratic Progressive Party (DPP). That position is not surprising given his stance, although he does argue that the pro-Beijing faction in the KMT is fading and now both parties, while still at odds with each other, are moving toward a common "Taiwanese nationalism," which he explores at length.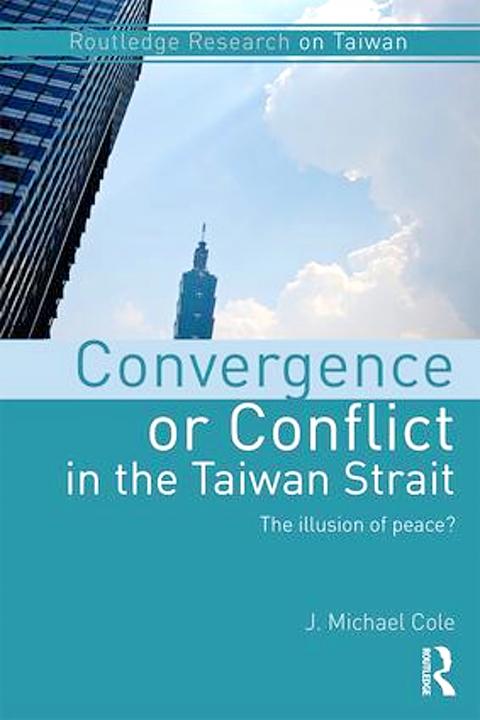 Convergence or Conflict in the Taiwan Strait: The Illusion of Peace, by J. Michael Cole
As the author explains in the first chapter, Taiwan's situation is often misunderstood by the international community for a variety of reasons. This can be due to political, corporate, academic or media self-censorship in fear of angering China, or simply because as a safe, prosperous and stable state that underwent a relatively peaceful democratization process, Taiwan's plight not as dramatic or newsworthy compared to, say, Kosovo, where much blood was shed.
Some even wonder why Taiwan doesn't just give in to Chinese demands of unification, which to them is the logical choice. But as China continues to grow, this "cloud of ignorance" could lead to serious implications down the road for foreign governments, as Cole explains why Taiwan should not be ignored later in the book.
In the chapter, "What Should Taiwan Do?" Cole suggests increasing "counterpropaganda" to dispute Beijing's claims and put forth the Taiwanese viewpoint.
"Ultimately, what Taiwan could do better is to show that opposing Beijing's efforts to annex their country is not irrational but rather legitimate … why the existence of Taiwan as a sovereign state matters to the international community.."
And that counterpropaganda is exactly what Cole sets out to achieve in this book.
Many chapters involve debunking a common misconception, for example, in Chapter 2, Cole argues that despite the Ma administration's markedly improvement in relations with China over the past eight years, "what has developed does not even come close to peace" as this rapprochement mostly took place on a cultural and economic level and rarely involved politics.
Despite improved relations, China is still intent on absorbing Taiwan, and continues its military buildup and political warfare in undermining Taiwan's international status and democracy — hardly signs of peace, Cole argues.
And unfortunately, the "international community liked what it was hearing and chose to believe it," and "had the effect of obviating the one last aspect about Taiwan (the risk of war) that made it newsworthy," noting the people who shared his viewpoint were treated with disdain and branded as "alarmists."
In Chapter 3, Cole criticizes the Western world for turning a blind eye to Taiwan's democracy — values they champion -- and instead choose to side with (or bow to the pressure) from China for their own benefit. It is actually refreshing to read because nowadays there are so few who are willing to speak out so directly on on the issue.
"Free, democratic taiwan is a constant reminder of our double standards as we continue to deal with and in fact rapidly accelerate our trade relations with authoritarian China," he writes. "We know what we're doing is wrong, but we do it nonetheless. And we blame Taiwan for nagging at our conscience."
Here, he makes it clear that Taiwan is, for all purposes and intents, a sovereign state that should not belong to China, disfavoring the term of "reunification" and arguing that "unification" or "annexation" should be used instead.
In the following chapters, extensive background information is provided on Taiwan's democracy — however flawed it is — and China's efforts to undermine it, and describes the buildup to the Sunflower Movement and a formation of the aforementioned Taiwanese nationalism. Cole also explains why unification would not work for Taiwanese and why it is the only option for the Chinese, and takes a look at the possibility of war, complete isolation of Taiwan and finally provides suggestions on what Taiwan should do. Chapter 14 is probably the heart of the book — why Taiwan matters and why it should not be ignored.
Each section is short but to the point and contains abundant evidence and analysis. And despite the number of subjects touched upon, it's a brisk yet informative read in a compact book.
Finally, Cole emphasizes many times that the international community should know that Taiwanese refusal to be part of China does not stem from hatred or a refusal to recognize the Chinese Communist Party's legitimacy. They just don't want their way of life to be taken away.
"China constantly imposes itself on Taiwan, while governments abroad are unable to discuss Taiwanese politics without immediately asking, 'But how will Beijing react?'" he writes. "But in general, most people in Taiwan could care less about how Beijing will react. They just want to live their lives as free men and women. What they want … is normal relations between the two sides."
Cole makes a passionate plea for the majority of the Taiwanese, whose opinions often go unheard, drowned out by Chinese propaganda and Western misconceptions.
"Meeting China halfway on the Taiwan issue should never come at the expense of the will of Taiwan's 23 million people," he writes.
Whether you agree with Cole's views that Taiwan is, and should be recognized as an independent sovereign state, this book is well worth a read — if just to hear the "less popular" perspective.
Comments will be moderated. Keep comments relevant to the article. Remarks containing abusive and obscene language, personal attacks of any kind or promotion will be removed and the user banned. Final decision will be at the discretion of the Taipei Times.