Frenchman on a Taiwanese ship
Born and raised in Taiwan, Joseph Levy's dream of becoming the first foreign Taiwan merchant marine officer was almost dashed due to his nationality
French national Joseph Levy made up his mind when he finished high school: he wanted to be an officer in Taiwan's merchant marine. Although Levy was born in Taiwan and went through the local school system as any Taiwanese student, he still held a French passport, and no foreign national has ever accomplished such a feat.
Levy appeared to be well on his way toward making history as a student in the department of Merchant Marines at National Taiwan Ocean University — even completing internships in Penghu and Japan — but when he reached the third year, school officials took away his marine logbook and certificates.
"They said I was not Taiwanese, I wasn't entitled to the marine logbook as the document is regarded as a kind of passport," Levy says.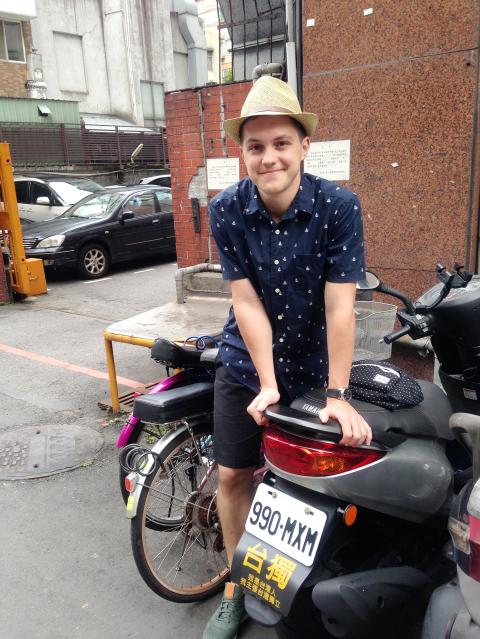 Joseph Levy is training to become an officer in Taiwan's merchant marine.
Photo courtesy of Joseph Levy
Levy's story is not unique. In recent years, more and more foreigners have made Taiwan their home. Taiwanese are well known for their warmth, tolerance and welcoming attitude. Yet legislators have been slow in following the evolution of Taiwan toward a more ethnically diverse nation.
MORE TAIWANESE THAN FRENCH
Levy's parents came to Taiwan in the 1990s to learn Chinese, and decided to settle and raise their two children here. Unlike his elder brother Simon, who attended a variety of school systems in Taipei, Levy was schooled solely in Chinese.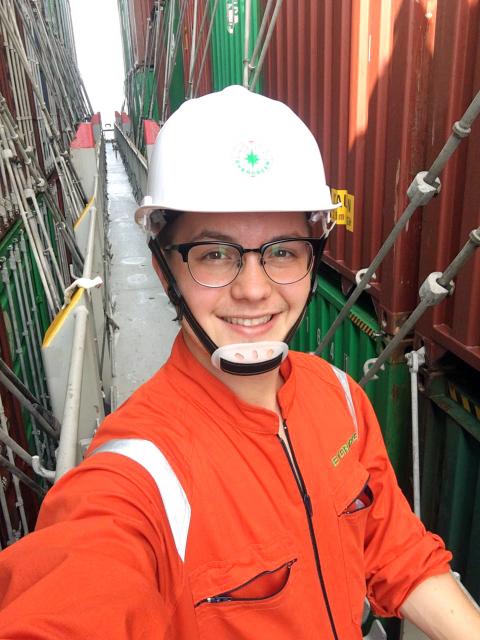 A happy Joseph Levy takes a selfie on board the 99,000-ton Ever Logic earlier this month.
Photo: Laurence Marcout
French was his mother tongue but, just like any second-generation immigrant anywhere in the world will tell you, the language you use to play with your buddies in school soon becomes yours. Today, he says, he feels more comfortable using Chinese than French — so much so that he enrolled in National Taiwan Ocean University in 2010. He took his exams in Chinese just like his Taiwanese classmates — sometimes drawing the ire of his professors.
"It happened more than once that the teacher grading my test became furious when he discovered that I was not Taiwanese," he says. "They would say I should have taken the test for foreigners — that I had no place there."
He also frequently heard remarks such as, "We Taiwanese do whatever we can to send our children abroad, so why on Earth do you want to attend university here?"
But nothing stung as much as his credentials being taken away just because of his nationality. He watched his Panamanian classmates benefit from a university exchange program that eventually provided them with the documents they needed, and wondered why he couldn't do the same.
As a last resort, he pondered the idea of becoming an ROC national — even if it meant serving a year in the army — but the law in Taiwan stipulates that he would have to forfeit his French passport, and that felt a little awkward.
VISA PROBLEMS
Simon also went through his own issues. When he reached the age of 20, he automatically lost his dependent resident visa. He applied for a student visa, but that procedure erased all records of his years in Taiwan, as if he had just arrived, making it pointless for him to apply for an Alien Permanent Resident Certificate (APRC). In the end, his visa troubles were resolved when he married his Taiwanese girlfriend.
The Ministry of the Interior amended the law in 2014 so that children of foreign professionals who have met certain requirements can apply to stay in Taiwan for up to six years after they turn 20. However, it would still be a dependents visa under their parents, which means applicants would not legally be able to work unless they found a company willing to help them apply for a Alien Resident Certificate, which requires a university degree.
At the same time, the ministry issued a new set of rules for these long-term residents who were having difficulties meeting the regular requirements for staying and working in Taiwan. Now, their ability in Chinese or another language and their professional expertise, among other factors, would be taken into consideration when applying for an APRC, and they would be allowed to accept a position with a monthly salary lower than the legal threshold of about NT$47,000 for white-collar expatriates. They would also no longer need two years of documented work experience, which was required before the ministry changed the rules.
Stuck in administrative limbo, and having a lot of free time, Levy did odd jobs, practiced hip-hop and spent one-and-a-half months on a local reality television show. His good looks, blond hair and perfect Mandarin were always a hit.
"Sometimes, I had to pretend my Chinese was not good and that I spoke with an accent to make it look more authentic," he says. "The program's host would ask me to talk about ... [the French game] petanque. But I have always lived here! I can't even play petanque."
Levy's father, Dominique, and other long-term residents who were experiencing a variety of administrative hassles found support from a small group of lawmakers, notably Chinese Nationalist Party (KMT) Legislator Pan Wei-kang (潘維剛), then-president of the Taiwan-France Parliamentary Friendship Association, who were able to help cut through the red tape.
It took two years for Levy's situation to clear up. He returned to school last year, got his marine logbook back but had to retake the certificates obtained the year before, as those had a limited validity. In the spring of this year, his documents in order, Joseph sent out his resume to local shipping companies, eventually landing a trainee position with Evergreen Maritime.
In July, Levy shipped out to Dubai, and he has been traveling ever since on the 99,000-ton Ever Logic, going twice around the Persian Gulf before heading back to East Asia. If things go smoothly on this last year of his professional training, his dream of becoming an officer in the Taiwan merchant marine should finally come true.
Comments will be moderated. Keep comments relevant to the article. Remarks containing abusive and obscene language, personal attacks of any kind or promotion will be removed and the user banned. Final decision will be at the discretion of the Taipei Times.