There's no place like home
An exhibition by Filipino artist Ronald Ventura at MOCA, Taipei explores the experience of Filipino migrant workers in Taiwan
Filipino artist Ronald Ventura turns trite motifs and themes into compelling narratives in his solo exhibition at Museum of Contemporary Art, Taipei (MOCA, Taipei) where boats, suitcases and carousels fill the entire first floor.
The concept behind Project: Finding Home is original enough: exploring the complex and changing notions of "home," using the shared experience of Filipino migrant workers in Taiwan. It's a voice that's easily lost in a cultural sphere where stories of the "foreign" experience are predominantly white, male and middle class.
But the image Ventura projects isn't one that's riddled with crushing tales of an oppressed minority, either. Rather, his message lies somewhere between horror and hope, loss and gain, fatalism and wresting back control. His paintings and installations exhibit how there's neither brooding nor acceptance of displacement, but a mere appreciation of the journey, and by extension, learning to come to terms with the realization that a life lived abroad is one that escapes comprehension.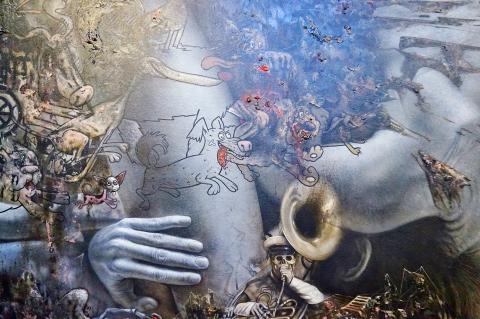 Ronald Ventura Homeland (detail, 2016).
Photo: Dana Ter, Taipei Times
FOND MEMORIES
The exhibition starts outside the museum where Ventura's Rainbow Bridges greets passersby and sets the tone for the rest of the show. Here, Ventura paints rainbow colors over bamboo from Nantou County which is twisted and looped to resemble a giant DNA double helix. Next to it is a bahay kubo, or a traditional Filipino stilt house.
A lot of inferences about the exhibition's main themes can be drawn — journeys, destinations, familial bonds, the idea of interconnectedness. Rainbows almost always have positive connotations and the effect is dreamy, playful even, with parts of the installation looking more like slides and roller coasters.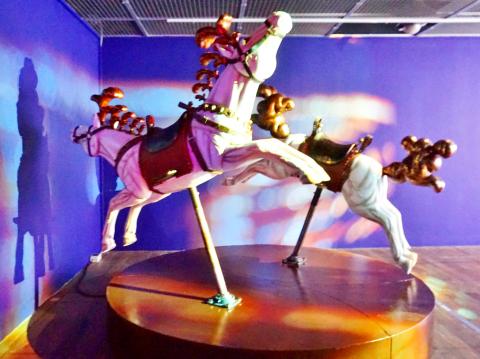 Ronald Ventura, Carousel (Small) (2016).
Photo: Dana Ter, Taipei Times
Ventura, whose work has been exhibited in Taiwan a couple of times, tells me in an e-mail that during his multiple trips from the Philippines to Taiwan, he's always encountered overseas Filipino workers. The frequent encounters inspired him to dedicate the installation to them.
"It's hard to miss them if you are a Filipino traveling outside the Philippines or coming back," Ventura says. "You'll meet them at the airport or sit beside them on the plane."
He hopes that Filipino workers who pass by the museum on their days off on Sundays will notice the bahay kubo and that it'll "bring to mind fond memories of home."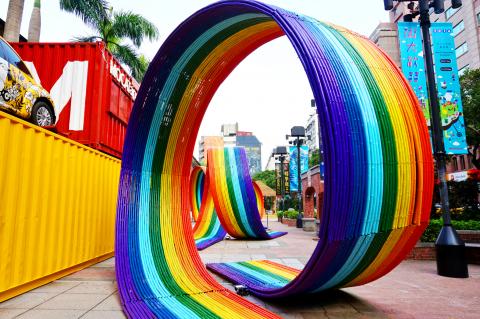 Ronald Ventura, Rainbow Bridges (2016).
Photo: Dana Ter, Taipei Times
This is the only free part of the exhibition that's also in a public space, and arguably, for everyone's consumption. One metro stop away is Taipei Railway Station where Filipino migrant workers gather on weekends. When I visit on a week day, it's mostly Taiwanese teenagers — who do not appear to grasp fully the installation's significance — sitting on the bamboo, taking pictures with their selfie sticks.
SEEKING SOLACE IN THE UNFAMILIAR
Upon entering the museum, the exhibition grows increasingly trance-like with themes and motifs in each room building onto each other and strung together by audio aids such as the sound of waves crashing or the lulling noise of a rotating carousel. I feel like I'm embarking on a journey with Ventura and meeting a slew of characters — both human and otherworldly — along the way.
The ebb and flow mirrors, in many ways, Ventura's own perception of home.
"Home for me is one of most fundamental needs of a human being, but it can be anywhere and it can change through time — it is not something final or fixed to a certain location," he says.
While the idea of "home" once meant his hometown of Malabon, this notion was thrown into flux as soon as Ventura began traveling and living overseas for work and completing artist residencies.
Ventura's sculptures bring flow and cohesiveness to the exhibition. A wooden boat is suspended in the air in Waves and the rower's face, turned downward, suggests humility and masked emotions. The room is dimly lit save for a bright light cast on the boat, illuminating it and giving it a ghost-like presence. The sound of crashing waves in the background evokes feelings of danger but also comfort as if the rower were seeking solace in unfamiliar waters.
OBSCURED FACES
It seems odd at first that Ventura chooses to place Carousel in the entrance hall, as this is perhaps his most sinister work and the rest of the exhibition is not quite as depressing. Monsters, lions, sharks — and an angel and demon hovering above — spin round and round, referencing Charles Darwin's theory of evolution, that only the fittest survive.
Ventura, does, however, loop back to this later in the exhibition, though the second carousel — which consists of two horses bobbing up and down — appears more approachable and conjures up memories of a lost, idyllic childhood.
As Ventura puts it, the carousels mimic the cycle of life, notably "the continuous alternation between opposites, like success and failure, happiness and sadness."
Animal imagery is balanced with Ventura's other work, which features people. Finding Home, is a series of 10 light boxes where an illuminated image is projected onto separate screens. Each screen depicts a suitcase and in each suitcase is a domestic scene unfolding — peeking out from behind wrought iron grills, walking down the narrow hallway of an apartment building, unpacking one's belongings onto a small mattress in a cramped room.
The installation gives a human face to the concepts of migration and travel, though each protagonists' face is strategically covered, either by a suitcase buckle or by having his or her body turned away from the viewer. I find myself wondering what their stories are and why they are wandering.
Diaspora is the unifying theme here. Though it's obvious that the people depicted are poor — dilapidated buildings and cramped quarters hint at this — by having their identities obscured, Ventura also seems to be suggesting that this can be anyone's story.
"Because of the tremendous developments in technology, transportation and communication, diaspora has reached greater heights and has become more widespread and global," Ventura says.
Indeed, anyone who has traveled or lived abroad can relate to the experience of displacement.
BEAUTY IN COMPLEXITY
Ventura's oil paintings, like his installations, are layered and intricate. He paints in a manner that is hyperrealist, overlaying cartoons and graffiti with sketches of people and bodies. In a way, it's alluding to the muddled national identity of the Philippines, a country which has been repeatedly colonized by foreign powers.
Bayanihan (Tagalog for "the spirit of communal unity") demonstrates this in particular. A clash of social classes is seen here — a man in a suit and gas mask and another man who appears to be a tourist with a camera slung around his neck and carrying a backpack. They traverse a farm with men and women toiling in the fields and gathering crops. On the ground are corpses. Yet the bodies all fuse together, becoming one giant entity, suggesting that our social fabric is intertwined, whether we like it or not.
Ultimately, the question is: For whose consumption is the exhibition intended for? Ventura dedicates it to Filipino migrant workers in Taiwan, but most museum goers are Taiwanese or expats (read: white).
Regarding the latter, Ventura says: "I hope that by showing my works, the presence of Filipinos in Taiwan would be felt more either through sheer curiosity or a deeper interest sparked by thought-provoking images."
Not only is the viewer exposed to another side of globalization, but Ventura's works also challenge the common (mis)perception that the lives of migrant workers are mostly dreary and depressing.
He achieves this through exploring common, relatable themes, for instance, that all of us are complex, multifaceted individuals once you peel back the layers. Also, the idea of communalism trumping individualism, that no matter how independent we try to be, our actions will nevertheless have ripple effects in the larger social scheme of things. And, most importantly, that "home" is a convoluted and fluid notion, and that beauty lies in this very complexity.
Publication Notes
Exhibition notes
What: Project: Finding Home (菲常態:尋找家園)
Where: Museum of Contemporary Art, Taipei (台北當代藝術館, MOCA, Taipei), 39 Changan W Rd, Taipei City (台北市長安西路39號), tel: (02) 2552-3720
When: Until Nov. 20. Open Tuesdays to Sundays from 10am to 6pm
Admission: NT$50
On the net: www.mocataipei.org.tw
Comments will be moderated. Keep comments relevant to the article. Remarks containing abusive and obscene language, personal attacks of any kind or promotion will be removed and the user banned. Final decision will be at the discretion of the Taipei Times.